The revolving door
Revolving Doors Matter. By James Kwak It is common fare for people like me to point disapprovingly to the revolving door between business and government, which ensures that every Treasury Department is well stocked with representatives of Goldman Sachs.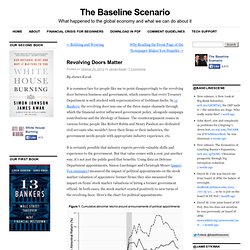 In 13 Bankers, the revolving door was one of the three major channels through which the financial sector influenced government policy, alongside campaign contributions and the ideology of finance. The counterargument comes in various forms: people like Robert Rubin and Henry Paulson are dedicated civil servants who wouldn't favor their firms or their industries, the government needs people with appropriate industry experience, etc. It is certainly possible that industry experts provide valuable skills and experience to the government. » Goldman Sachs: Investing in political influence Alex Jones. David GutierrezNatural News April 15, 2012 (NaturalNews) A Venn diagram released by Harvard law professor and political activist Larry Lessig reveals the shocking connections between our government and banking and investment giant Goldman Sachs.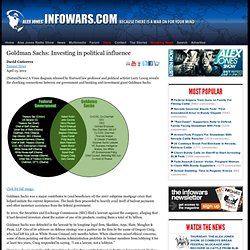 Click for full image. Goldman Sachs was a major contributor to (and beneficiary of) the 2007 subprime mortgage crisis that helped initiate the current depression. The bank then proceeded to heavily avail itself of bailout payments and other monetary assistance from the federal government. In 2010, the Securities and Exchange Commission (SEC) filed a lawsuit against the company, alleging that it had deceived investors about the nature of one of its products, costing them a total of $1 billion. The Political Economy Of Third World Intervention: Mines, Money, And U.S. Policy In The Congo Crisis. Starting from the observation that the Eisenhower administration supported Katanga's secession from the Congo, whereas the Kennedy administration opposed it, this carefully researched and argued study makes the case for a "business conflict" model of foreign policymaking.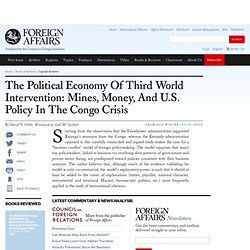 The model supposes that many top policymakers, linked to business via revolving-door patterns of government and private sector hiring, are predisposed toward policies consistent with their business interests. The author believes that, although much of the evidence validating his model is only circumstantial, the model's explanatory power is such that it should at least be added to the roster of explanations (statist, pluralist, national character, instrumental and structural Marxist, bureaucratic politics, etc.) most frequently applied in the study of international relations. J.P. Morgan Banker Selected for FDIC. Summers: "Inside Job had essentially all its facts wrong" In mid-2009, I went on a search for apologies, from the people who laid the intellectual and regulatory foundations for the financial crisis.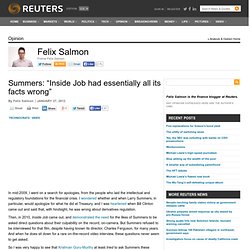 I wondered whether and when Larry Summers, in particular, would apologize for what he did at Treasury, and I was heartened when Bill Clinton came out and said that, with hindsight, he was wrong about derivatives regulation. Then, in 2010, Inside Job came out, and demonstrated the need for the likes of Summers to be asked direct questions about their culpability on the record, on-camera. But Summers refused to be interviewed for that film, despite having known its director, Charles Ferguson, for many years. The new WH Chief of Staff and Citigroup. (updated below) When President Obama last January announced the departure of Rahm Emanuel as White House Chief of Staff, many liberals were furious that his replacement was the Midwest Chairman of JP Morgan and Boeing Director William Daley, who was also an opponent of the Consumer Financial Protection Bureau and a critic of Obama's health care bill as too leftist.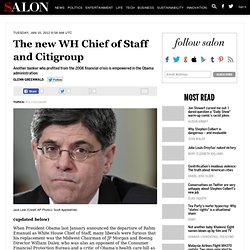 As but one example, Rachel Maddow harshly condemned the choice, noting Daley was a hedge fund manager and "business lobbyist" and "is known for pushing Democrats toward business interests"; said "liberals are banging their heads against the wall as they try to comprehend this choice"; and then sardonically observed: "mmm – a banker and a lobbyist: smells like change."
Yesterday, the White House announced Daley's departure — he will now co-chair Obama's re-election campaign, which basically means raising huge amounts of money from his Wall Street friends — and unveiled his replacement as Chief of Staff: Jacob Lew. Two Former Watchdogs Ring in the New Year on the Other Side of the Revolving Door. By NEIL GORDON Welcome to another episode of "As the Washington Revolving Door Turns.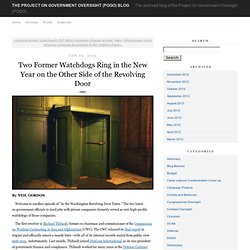 " The two latest ex-government officials to land jobs with private companies formerly served as very high-profile watchdogs of those companies. The first revolver is Michael Thibault, former co-chairman and commissioner of the Commission on Wartime Contracting in Iraq and Afghanistan (CWC). The CWC released its final report in August and officially sunset a month later—with all of its internal records sealed from public view until 2031, unfortunately. Last month, Thibault joined DynCorp International as its vice president of government finance and compliance. Should Bankers Serve on Federal Reserve Bank Boards? - Daniel Indiviglio - Business. A new GAO report finds conflicts-of-interest present.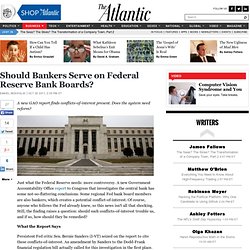 Does the system need reform? What the Report Says Persistent Fed critic Sen. Bernie Sanders (I-VT) seized on the report to cite these conflicts-of-interest. Blue Dogs, decimated by defeats and retirements, turn to lobbying shops. Almost a third of the Blue Dog Democrats who retired or were defeated in 2010 have gone to work for organizations that lobby their former colleagues in Congress, according to an iWatch News review.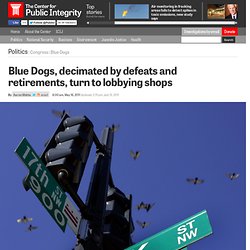 The Blue Dog ranks were devastated by the 2010 election, falling from a high of 54 to 26. Of those no longer in Congress, eight have moved through the "revolving door" to employment with lobbying entities. The conservative Blue Dogs formed a key voting bloc for much of the last congressional session, drawing impressive fundraising from energy, financial and health care industry groups hoping to impact proposed legislation from the Obama administration. Revolving Door Makes Lobbying Cheaper and More Effective. Revolving Door Makes Lobbying Cheaper and More Effective June 14, 2011 - by Donny Shaw The conclusions will probably come as a surprise exactly none of you, but a new study from the International Monetary Fund on the influence of campaign donations and lobbying politics is worth a mention because of the completeness of the research and the authority of its source.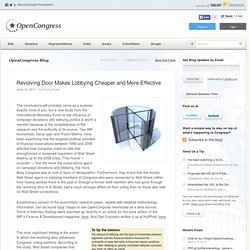 Two IMF economists, Deniz Igan and Prachi Mishra, have been examining how the targeted political activities of financial corporations between 1999 and 2006 affected how Congress voted on bills that strengthened or loosened regulation of Wall Street leading up to the 2008 crisis. They found — surprise! — that the more the corporations spent on campaign donations and lobbying, the more likely Congress was to vote in favor of deregulation.
Study shows revolving door of employment between Congress, lobbying firms. The report, which tallies a greater number of workers moving between Congress and lobbying than found in previous studies, underscores the symbiotic relationship: Thousands of lobbyists are able to exploit experience and connections gleaned from working inside the legislative process, and lawmakers find in lobbyists a ready pool of experienced talent.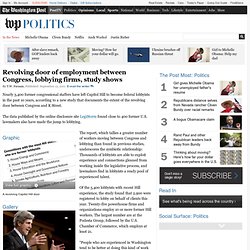 Of the 5,400 lobbyists with recent Hill experience, the study found that 2,900 were registered to lobby on behalf of clients this year. Twenty-five powerhouse firms and organizations employ 10 or more former Hill workers. The largest number are at the Podesta Group, followed by the U.S. Chamber of Commerce, which employs at least 21.
---