The revolving door
Revolving Doors Matter
By James Kwak It is common fare for people like me to point disapprovingly to the revolving door between business and government, which ensures that every Treasury Department is well stocked with representatives of Goldman Sachs. In 13 Bankers , the revolving door was one of the three major channels through which the financial sector influenced government policy, alongside campaign contributions and the ideology of finance. The counterargument comes in various forms: people like Robert Rubin and Henry Paulson are dedicated civil servants who wouldn't favor their firms or their industries, the government needs people with appropriate industry experience, etc. It is certainly possible that industry experts provide valuable skills and experience to the government.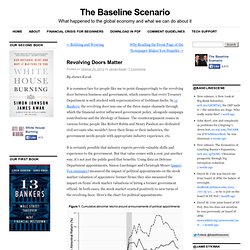 » Goldman Sachs: Investing in political influence Alex Jones
David Gutierrez Natural News April 15, 2012 (NaturalNews) A Venn diagram released by Harvard law professor and political activist Larry Lessig reveals the shocking connections between our government and banking and investment giant Goldman Sachs.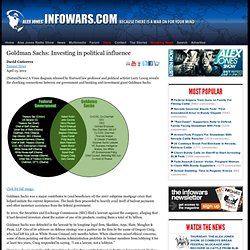 The Political Economy Of Third World Intervention: Mines, Money, And U.S. Policy In The Congo Crisis
J.P. Morgan Banker Selected for FDIC
Summers: "Inside Job had essentially all its facts wrong"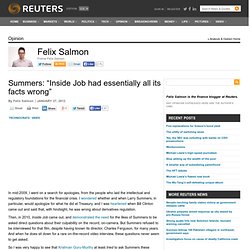 In mid-2009, I went on a search for apologies, from the people who laid the intellectual and regulatory foundations for the financial crisis.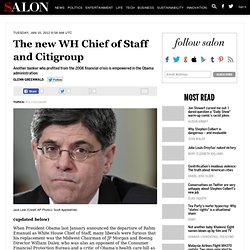 (updated below) When President Obama last January announced the departure of Rahm Emanuel as White House Chief of Staff, many liberals were furious that his replacement was the Midwest Chairman of JP Morgan and Boeing Director William Daley, who was also an opponent of the Consumer Financial Protection Bureau and a critic of Obama's health care bill as too leftist.
The new WH Chief of Staff and Citigroup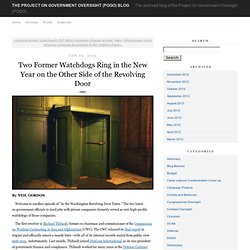 By NEIL GORDON Welcome to another episode of "As the Washington Revolving Door Turns."
Two Former Watchdogs Ring in the New Year on the Other Side of the Revolving Door
A new GAO report finds conflicts-of-interest present.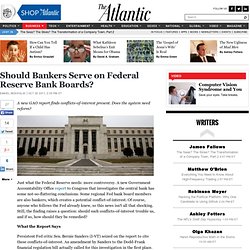 Should Bankers Serve on Federal Reserve Bank Boards? - Daniel Indiviglio - Business
Shadow Congress (2011 Update) | TPM Interactive
Blue Dogs, decimated by defeats and retirements, turn to lobbying shops
Revolving Door Makes Lobbying Cheaper and More Effective June 14, 2011 - by Donny Shaw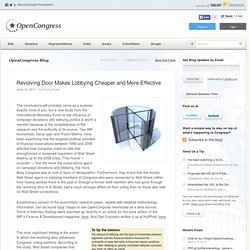 Revolving Door Makes Lobbying Cheaper and More Effective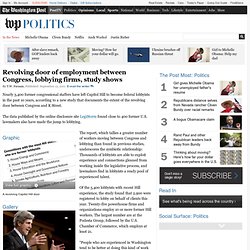 Study shows revolving door of employment between Congress, lobbying firms
The report, which tallies a greater number of workers moving between Congress and lobbying than found in previous studies, underscores the symbiotic relationship: Thousands of lobbyists are able to exploit experience and connections gleaned from working inside the legislative process, and lawmakers find in lobbyists a ready pool of experienced talent.