The illusion of choice...
Media bias in presidential elections: a meta-analysis - D'Alessio - 2006 - Journal of Communication. How the News Media Fail American Voters: Causes, Consequences, and Remedies by Kenneth Dautrich, Thomas H. Hartley. How The News Media Fail American VotersCauses, Consequences, and Remedies Columbia University Press / New York Questia, a part of Gale, Cengage Learning. www.questia.com Publication information: Book title: How the News Media Fail American Voters:Causes, Consequences, and Remedies.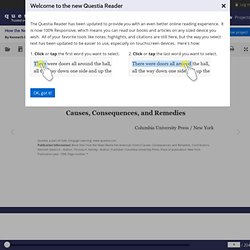 Contributors: Kenneth Dautrich - Author, Thomas H. Hartley - Author. Agents of power : the media and public policy (Book, 1994. Abstract: How powerful are the news media?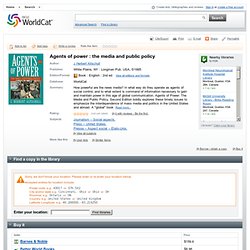 In what way do they operate as agents of social control, and to what extent is command of information necessary to gain and maintain power in this age of global communication. Agents of Power: The Media and Public Policy, Second Edition boldly explores these timely issues to emphasize the interdependence of mass media and politics in the United States and abroad. A "global" book about a "global" world on the brink of the twenty-first century, it focuses on actual political, economic, and cultural events.
Former fellows at conservative think tanks issued flawed UCLA-led study on media's "liberal bias. News outlets including CNN cited a study of several major media outlets by a UCLA political scientist and a University of Missouri-Columbia economist purporting to "show a strong liberal bias.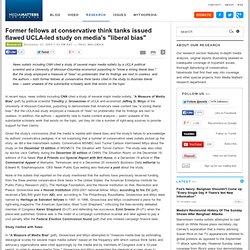 " But the study employed a measure of "bias" so problematic that its findings are next to useless, and the authors -- both former fellows at conservative think tanks cited in the study to illustrate liberal bias -- seem unaware of the substantial scholarly work that exists on the topic. In recent days, news outlets including CNN cited a study of several major media outlets, "A Measure of Media Bias" (pdf) by political scientist Timothy J. Groseclose of UCLA and economist Jeffrey D. Milyo of the University of Missouri-Columbia, purporting to demonstrate that America's news content has "a strong liberal bias. " Stenography Journalism, Oakland Edition.
I want to start with this CNN article: (CNN) – Occupy activists tossed pipes, bottles, burning flares and other objects Saturday at Oakland police, who responded by using tear gas and smoke grenades and arresting more than 100 demonstrators, city and police officials said.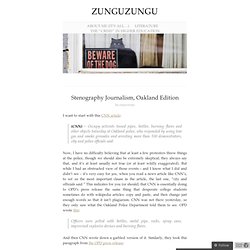 Now, I have no difficulty believing that at least a few protesters threw things at the police, though we should also be extremely skeptical; they always say that, and it's at least usually not true (or at least wildly exaggerated). But while I had an obstructed view of those events – and I know what I did and didn't see – it's very easy for you, when you read a news article like CNN's, to not see the most important clause in the article, the last one, "city and officials said." Ian Fraser: The Economist Loses the Plot With This Shallow, Pro-City Propaganda. By Ian Fraser, a financial journalist who blogs at his web site and at qfinance.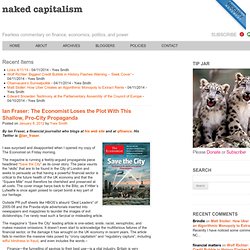 His Twitter is @ian_fraser. I was surprised and disappointed when I opened my copy of The Economist on Friday morning. Occupy and the hostile media. OPINION Every progressive movement in U.S. history was portrayed negatively by mainstream media at the time it was happening.
It's no surprise that the media portray the Occupy Wall Street movement in the same light. During the Montgomery bus boycott, mainstream media outlets interviewed black folks who were against it and talked about how the boycott was misguided and hurt the local economy. The Washington Post's dependence on the government it covers - Glenn Greenwald. (updated below – w/correction) The Washington Post this morning published a lengthy article detailing the fortune — and now the trouble — generated for its parent company, The Washington Post Co., as a result of its acquisition of Kaplan Higher Ed.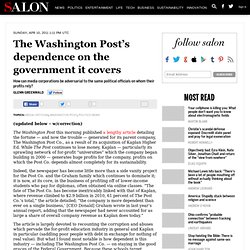 While The Post continues to lose money, Kaplan — particularly its sprawling network of for-profit "universities" which the company began building in 2000 — generates huge profits for the company, profits on which the Post Co. depends almost completely for its sustainability.
---