To sort...
"Whoever is Smoking Weed, Stop It!": Points Blog Occupies Wall Street | Points: The Blog of the Alcohol and Drugs History Society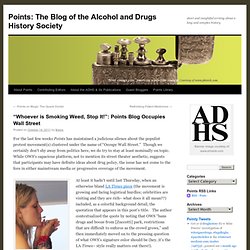 For the last few weeks Points has maintained a judicious silence about the populist protest movement(s) clustered under the name of "Occupy Wall Street."
Occupy Wall Street needs to occupy Congress and lobbyists
There is an unfocused financial rage in the United States.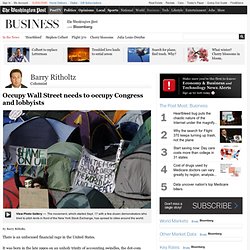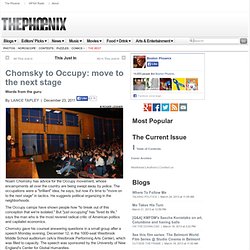 Chomsky to Occupy: move to the next stage - This Just In
Noam Chomsky has advice for the Occupy movement, whose encampments all over the country are being swept away by police.
My Advice to the Occupy Wall Street Protesters | Politics News | Rolling Stone
Occupy Wall Street's Top Priority Should Be to Kill the Bush Tax Cuts - James Kwak - Business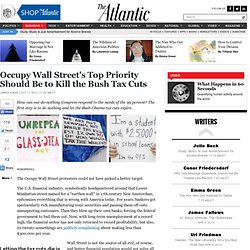 How can our do-nothing Congress respond to the needs of the 99 percent? The first step is to do nothing and let the Bush-Obama tax cuts expire. The Occupy Wall Street protesters could not have picked a better target.
"I always wear a rainbow-colored scarf," said 65-year-old grandmother Sweet Grass Longhouse over the phone. "That's how you'll know it's me." It was Sweet Grass's first time attending a General Assembly of Occupy Oakland, and as she approached the group that gathered before the Sunday afternoon GA at 19th and Telegraph, she wrapped both of her hands around a large paper pad.
How a seedpod led to $400,000 bail and eight felony charges | #OccupyOakland Media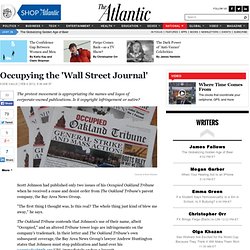 The protest movement is appropriating the names and logos of corporate-owned publications. Is it copyright infringement or satire? Courtesy of Scott Johnson
Occupying the 'Wall Street Journal' - Susie Cagle - National
(On Monday, I asked Rich Yeselson for his thoughts on Occupy Wall Street.
The four habits of highly successful social movements
Bank of America petition
The Oakland Commune
From Occupation to 'Occupy': The Israelification of American domestic decurity
18 November 2011 UC Davis police pepper spray students.(Photo: Reuters/Brian Nguyen)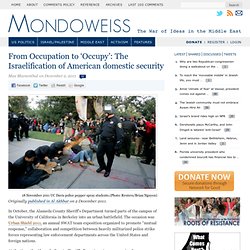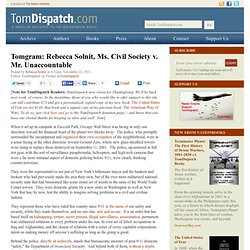 Rebecca Solnit, Ms. Civil Society v. Mr. Unaccountable
[ Note for TomDispatch Readers: TomDispatch now closes for Thanksgiving. We'll be back next week, of course.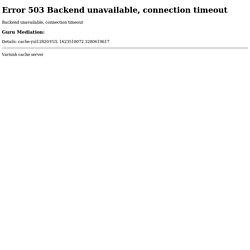 Occupy Wall Street's Livestream Operators Arrested - National
Occupy Wall Street is in the middle of one of its day-long marches in New York Tuesday, protesting the National Defense Authorization Act , but for those following along on the Global Revolution livestream, the real action is happening in the broadcast studio itself. That's because police have apparently just raided the Brooklyn studio of Globalrevolution.tv and taken some of the project's key volunteers into custody. The raid Tuesday follows a notice to vacate that police delivered to the Bushwick studio on Monday night .
Press Release: Anonymous Hacked Documents Reveal Law Enforcement Spied on Occupy and Shared Information with Private Intelligence Company, STRATFOR | Deep Green Resistance
January 26, 2012