Quality Blogs...
U.S. Intellectual History
Finance / Economics Blogs / resources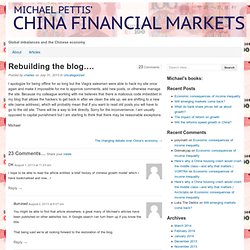 I apologize for being offline for so long but the Viagra salesmen were able to hack my site once again and make it impossible for me to approve comments, add new posts, or otherwise manage the site. Because my colleague working with me believes that there is malicious code imbedded in my blog that allows the hackers to get back in after we clean the site up, we are shifting to a new site (same address), which will probably mean that if you want to read old posts you will have to go to the old site. There will be a way to link directly. Sorry for the inconvenience.
And…. we're back…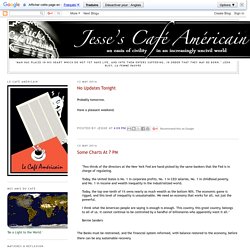 Gold and silver had a little spirit in them today, with gold closing higher than its 50 DMA. The 100 DMA is a more important target, and even more important resistance above that. But the structural buy signal is in place. Now we must see if the chart formations and price confirm it. In almost any other market I would say it was close to a 'lock,' but in the precious metals the true price discovery always seems elusive, as if by intent.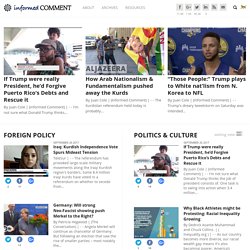 Thousands of Palestinians Rally for Release of 5,000 in Israeli Jails, Including 200 Children As talks between Israel and Palestine falter, thousands of Palestinians demonstrated Thursday on behalf of nearly… Pictures Don't Lie: Refuting #there_was_no_Palestine One of the common assertions one finds in Zionist propaganda is that there "was never any… 5 Ways Nevada Rancher Militia Resembles Pakistan's Taliban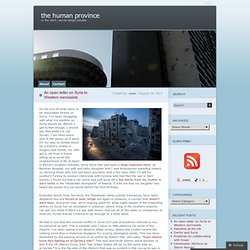 the human province
After a full tally of the UNESCO vote, here's a full tally of this evening's UN General Assembly vote on Palestine. I don't have a whole lot to add, except to note that some countries that generally vote with the US and Israel abstained or even voted "yes" this time. For instance, Vanuatu abstained.
And…. we're back…
I am particularly interested in the idea that we can explain social outcomes by identifying the social mechanisms that (often, typically, occasionally) bring them about. I also find the evolution of science and systems of ideas to be particularly fascinating within contemporary sociology, in that this aspect of human life embraces both rationally directed thought and sociological influences. So it is very interesting to consider what we can discover about the structures, networks, and professional organizations that influence the course that a given discipline or field of research takes. It is therefore interesting to consider the role that reference to social mechanisms has played in recent works of the sociology of science and the sociology of knowledge.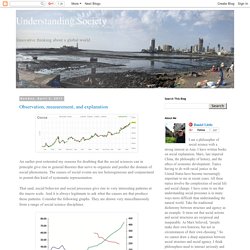 Ph.D. Octopus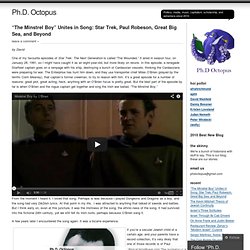 by David In light of the recent article by Peter Beinart on "The American Jewish Cocoon," I composed this post, which may seem a bit dated, on the various "cocoons" in Israel. Diverse Passengers on Jerusalem Light Rail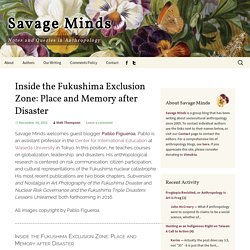 [This is an invited post by Greta Uehling. Greta is the author of Beyond Memory: The Crimean Tatar Deportation and Return published by Palgrave Macmillan in 2004 as well as a number of articles on the Crimean Tatars. She teaches in the Program on International Studies at the University of Michigan in Ann Arbor.]
The Disorder Of Things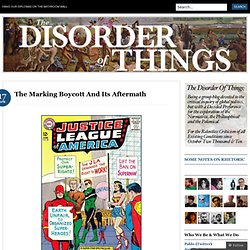 Following earlier interviews with Editors at Ethics & Global Politics and the newly open Cultural Anthropology, we present yet another insight into how to do open access, this time with Professor Kim Weeden of Cornell, a Deputy Editor of the new open access journal Sociological Science, which launched earlier this year. As the name suggests, this is a sociology journal (and a 'general interest' one at that), indicating yet another field in which open access is being taken seriously whilst International Relations languishes (not withstanding para-IR examples like Ethics & Global Politics and our friends at the Journal of Critical Globalisation Studies). So what can we learn from the Sociological Science model? As usual, I've stuck some thoughts on at the end. 1. Who initiated Sociological Science, and why?
One of the most surprising and troubling developments of the last six months, for those of us interested in cultural as well as political life in Egypt, has been the alignment of the overwhelming majority of prominent artists and writers here with the military-backed authorities against the Brotherhood, with the endorsement of state violence and the abandonment of pluralism and human rights that that has entailed. A few recent pieces have focused on this troubled intersection between between art and politics, nationalism and liberalism. At Jadaliyya, Elliot Colla writes about Sonallah Ibrahim's novel al-Jalid ("The Ice") which came out January 25, 2011. Like these other novels, al-Jalid is concerned with Left revolution—its defeats, its disappointments, its erasure—in Egypt and across the globe. And of all Ibrahim's novels, al-Jalid is his saddest. Lacking the laughter of his other works, it offers little more than a laconic lament, a shrug, about the passing of so many revolutions.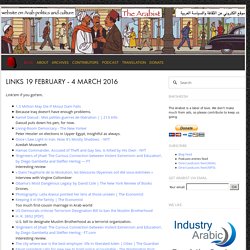 Jewbonics
settler colonial studies blog
Balkinization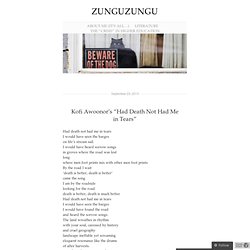 So, last Saturday, I was sitting on a street corner at 3rd and Jackson, typing some notes into my MacBook while I waited for some friends to arrive; the cafe I had been working in had just closed, so I was finishing the thing I was doing while I waited. In that ten minute window, I became the victim of a crime that I've since learned is quite common in Oakland: a kid, about 19 or so (and pretty well dressed), snatched the laptop out of my hand and ran around the corner, where his friend in a getaway car was idling. I tried to chase him, but of course couldn't catch up; I got a look at the license plate — something like "601z159″ — and it was a silver sedan, but that approximation will not get you much, and my laptop has probably already had its memory wiped and been resold by now. It was over very quickly. On Sunday, I went with a friend to Laney flea market, and watched as lots of people's stolen laptops were resold.
zunguzungu
Blogs – Zunguzungu
Strangers are not simply those who are not known in this dwelling, but those who are, in their very proximity, already recognized as not belonging, as being out of place. –Sara Ahmed, Strange Encounters Daily Nation: "Police have arrested 657 suspects in Eastleigh, Nairobi following Monday night terror attack that left six people dead." Somalianewsroom: In one shockingly tweeted photo, a group was shown en masse in a cage, prompting a commentator to ask "Gorme xoloo noqoney?"