Political Economy - academic journals
History of Political Economy. Millennium: Journal of International Studies. Journal of the History of Economic Thought. Journal of Critical Globalisation Studies | Open access academic journal. Review of International Political Economy. Real-World Economics Review. Sanity, humanity and science probably the world's most read economics journal real-world economics review an email-delivered pdf economics journal of the World Economics Association Subscribers: 23,264 from over 150 countries Click here to subscribe for free (it takes 15 seconds) and receive immediate access to the current issue and future issues.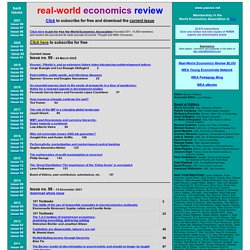 Review of Radical Political Economics.
---