Pakistan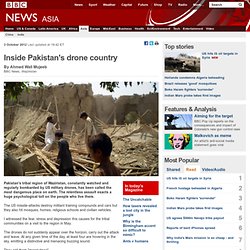 3 October 2012Last updated at 19:42 ET By Ahmed Wali Mujeeb BBC News, Waziristan
Inside Pakistan's drone country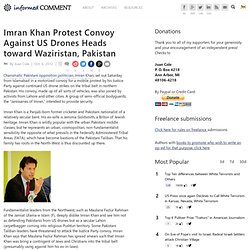 Charismatic Pakistani opposition politician, Imran Khan, set out Saturday from Islamabad in a motorized convoy for a mobile protest by his Justice Party against continued US drone strikes on the tribal belt…
Imran Khan Protest Convoy Against US Drones Heads toward Waziristan, Pakistan
Empire's Ways of Knowing
During the run up to the invasion of Afghanistan, three burly American classmates jeered at me. They said, "We're gonna kill Osama." Presumably, I would be especially aggrieved at Osama's death, since I am a Muslim, and therefore, an Osama sympathizer if not also a bomb-carrying terrorist. My classmates were full of assurance and triumphalist pride. They said: "We can hit even a coffee mug in a cave."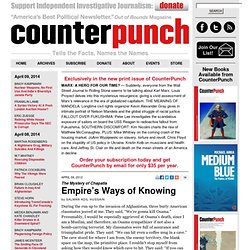 US / Pakistan relations...
Filmmaker: Michael Glawogger "Work is often difficult to see, and therefore difficult to depict.Physical labour is probably the only real kind of work."Michael Glawogger In today's technological age is heavy manual labour disappearing or is it just becoming invisible?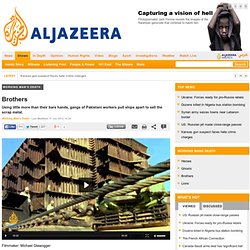 Brothers - Working Mans Death
"First winter in Islamabad?" "I moved here a few weeks ago. Before that I was in Pakpattan, but I've spent some time in Multan and Khanewal as well. My mamoo taught me well; he works at an auto workshop in the main Bahawalnagar civil lines bazaar.
The Seen and the Unseen In Pakistan's Economy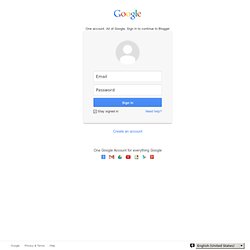 Pakistan: Reading / Resources
THE ROVING EYE Pakistan 'punished' in Pipelineistan By Pepe Escobar Before the end of 2011, Pakistan will start working on its stretch of the IP (Iran-Pakistan) gas pipeline - according to Asim Hussain, Pakistan's federal minister for petroleum and natural resources. The 1,092 kilometers of pipeline on the Iranian side are already in place. IP, also known as "the peace pipeline", was originally IPI (Iran-Pakistan-India). Although it badly needs gas for its economic expansion, faced with immense pressure by the George W Bush - and then Barack Obama - administrations, India still has not committed to the project, even after a nearly miraculous agreement for its construction was initialed in 2008. More than 740 million cubic feet of gas per year will start flowing
Pakistan 'punished' in Pipelineistan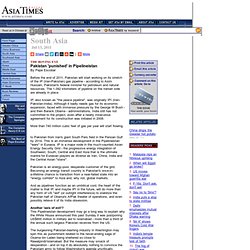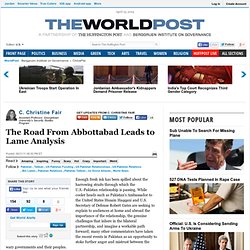 Enough fresh ink has been spilled about the harrowing straits through which the U.S.-Pakistan relationship is passing. While cooler heads such as Pakistan's Ambassador to the United States Husain Haqqani and U.S. Secretary of Defense Robert Gates are seeking to explain to audiences at home and abroad the importance of the relationship, the genuine challenges that inhere in the bilateral partnership, and imagine a workable path forward; many other commentators have taken the recent events in Pakistan as an opportunity to stoke further anger and mistrust between the wary governments and their peoples. While the Pakistani press is rife with caricatures of U.S. policy, distorted versions of history, and outright falsehoods, American journalists are capable of equal chicanery. Mr.
C. Christine Fair: The Road From Abbottabad Leads to Lame Analysis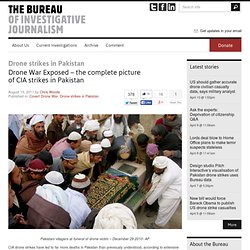 Pakistani villagers at funeral of drone victim – December 29 2010- AP CIA drone strikes have led to far more deaths in Pakistan than previously understood, according to extensive new research published by the Bureau. Some 175 children are among at least 2,347 people reported killed in US attacks since 2004. There are credible reports of at least 392 civilians among the dead.
Drone War Exposed – the complete picture of CIA strikes in Pakistan
Local people gather at the site of an October 2010 drone attack in North Waziristan/ Noor Behram Two major investigations have provided fresh evidence that civilians are continuing to be killed in Pakistan's tribal areas by CIA drones – despite aggressive Agency denials. In a study of ten major drone strikes in Pakistan since 2010, global news agency Associated Press deployed a field reporter to Waziristan and questioned more than 80 local people about ten CIA attacks. The results generally confirm the accuracy of original credible media reports – and in two cases identify previously unrecorded civilian deaths. In a further case, in which an anonymous US official had previously attacked the Bureau's findings of six civilian deaths in a 2011 strike, AP's report has confirmed the Bureau's work.
Fresh evidence of CIA civilian deaths in Pakistan revealed