And more to sort
This is not another article about Christopher Hitchens. This may come as something of a relief, given the spilling of ink occasioned by Hitchens' untimely death last week, with Neal Pollock's fine parody hopefully bringing this outpouring to an end. After an initial set of hagiographies, it was encouraging to see a number of pieces reminding readers of Hitchens' role in forcefully and bloodthirstily advocating for the war on Iraq, and for the "war on terror" more generally, as part of a deeply racist and Islamophobic current in his work over the past decade (or more).
On Being "Wrong" on Iraq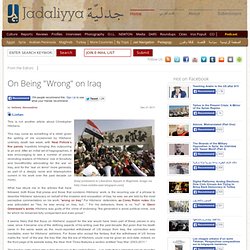 By The Numbers: Today's Military
The social world starts with social individuals. So how do we get more complex social outcomes out of the actions and thoughts of independent individuals? How do the actions and thoughts of individuals aggregate into larger social happenings? How did the various religious, political, and relational attitudes of rural Kenyans aggregate to widespread ethnic violence a few years ago? What sorts of conditions lead to interactions that bring about unexpected outcomes?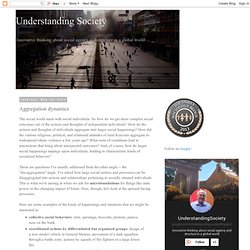 Aggregation dynamics
Tim Harford - Failure: It's everywhere
I wrote this essay for the Freakonomics blog. In 1982, the management consultants Tom Peters and Robert Waterman published In Search of Excellence, a colossally popular business title. The book aimed to learn lessons from the world's best companies, and Peters and Waterman produced a list of 43.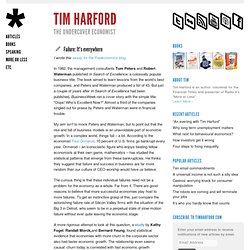 Podcasts » Glenn Greenwald, Presentation, 8 March 2011 – Video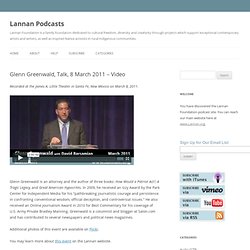 Recorded at the James A. Little Theater in Santa Fe, New Mexico on March 8, 2011. Glenn Greenwald is an attorney and the author of three books: How Would a Patriot Act?, A Tragic Legacy, and Great American Hypocrites. In 2009, he received an Izzy Award by the Park Center for Independent Media for his "pathbreaking journalistic courage and persistence in confronting conventional wisdom, official deception, and controversial issues."
LinkedIn Weak Links
"I know a guy..." Is LinkedIn anything more than a resume warehouse? Is it simply a web-based Rolodex to make it easier to stay up with your business contacts? I don't know the business model for the company, and don't have any basis to comment on its long-term prospects, but in a somewhat stream-of-conciousness mode, I hear the "linked" in LinkedIn, and it starts me thinking about network theory, and the place LinkedIn most naturally fills in that space, which is to establish weak links.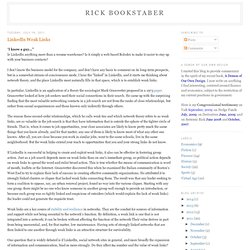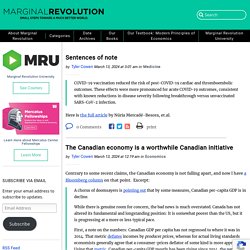 The Census Bureau, the authoritative source of health insurance data for more than three decades, is changing its annual survey so thoroughly that it will be difficult to measure the effects of President Obama's health care law in the next report, due this fall, census officials said.The changes are intended to improve the accuracy of the survey, being conducted this month in interviews with tens of thousands of households around the country. But the new questions are so different that the findings will not be comparable, the officials said.An internal Census Bureau document said that the new questionnaire included a "total revision to health insurance questions" and, in a test last year, produced lower estimates of the uninsured. Thus, officials said, it will be difficult to say how much of any change is attributable to the Affordable Care Act and how much to the use of a new survey instrument.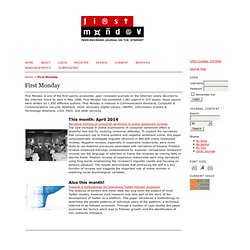 First Monday
First Monday is one of the first openly accessible, peer–reviewed journals on the Internet, solely devoted to the Internet. Since its start in May 1996, First Monday has published 1,361 papers in 215 issues; these papers were written by 1,850 different authors. First Monday is indexed in Communication Abstracts, Computer & Communications Security Abstracts, DoIS, eGranary Digital Library, INSPEC, Information Science & Technology Abstracts, LISA, PAIS, and other services. Announcements
Despite the fact that political blogs seem to be just as dominated by elites as traditional journalism, networks of individuals play an essential role in spreading arguments in the political blogosphere. The hyperlinking economy of political blogs is powered by competition, elevation, and access. This economy values networks of individuals just as much as — if not more than — it values elite top–tier bloggers.
Swift