And more to sort
This is not another article about Christopher Hitchens. This may come as something of a relief, given the spilling of ink occasioned by Hitchens' untimely death last week, with Neal Pollock's fine parody hopefully bringing this outpouring to an end. After an initial set of hagiographies, it was encouraging to see a number of pieces reminding readers of Hitchens' role in forcefully and bloodthirstily advocating for the war on Iraq, and for the "war on terror" more generally, as part of a deeply racist and Islamophobic current in his work over the past decade (or more).
On Being "Wrong" on Iraq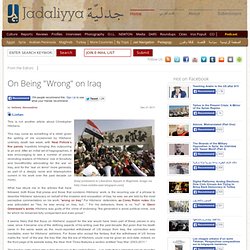 By The Numbers: Today's Military
The social world starts with social individuals. So how do we get more complex social outcomes out of the actions and thoughts of independent individuals? How do the actions and thoughts of individuals aggregate into larger social happenings? How did the various religious, political, and relational attitudes of rural Kenyans aggregate to widespread ethnic violence a few years ago? What sorts of conditions lead to interactions that bring about unexpected outcomes?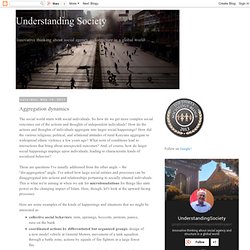 Aggregation dynamics
Tim Harford - Failure: It's everywhere
I wrote this essay for the Freakonomics blog . In 1982, the management consultants Tom Peters and Robert Waterman published In Search of Excellence, a colossally popular business title. The book aimed to learn lessons from the world's best companies, and Peters and Waterman produced a list of 43.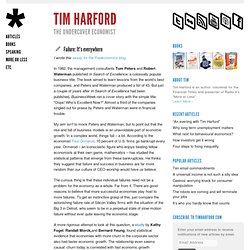 The world is less peaceful for the third straight year Due to an increased threat of terrorist attacks in 29 nations A greater likelihood of violent demonstrations in 33 countries Arab Spring unrest heralds biggest ever change in rankings, Libya tumbles 83 spots Iceland bounces back from economic woes to top ranking Somalia displaces Iraq as world's least peaceful nation Violence cost the global economy more than $8.12 trillion in 2010 US peacefulness shows minimal change See the results and interactive map About the Global Peace Index (GPI) The GPI, produced by the Institute for Economics and Peace, is the world's leading measure of global peacefulness.
Global Peace Index 2011 « Vision of Humanity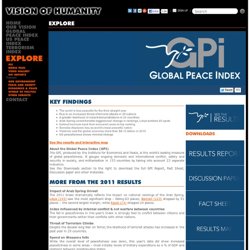 Podcasts » Glenn Greenwald, Presentation, 8 March 2011 – Video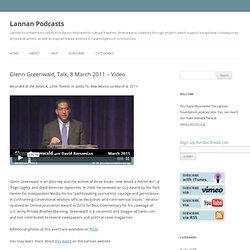 Recorded at the James A. Little Theater in Santa Fe, New Mexico on March 8, 2011. Glenn Greenwald is an attorney and the author of three books: How Would a Patriot Act?, A Tragic Legacy, and Great American Hypocrites. In 2009, he received an Izzy Award by the Park Center for Independent Media for his "pathbreaking journalistic courage and persistence in confronting conventional wisdom, official deception, and controversial issues."
LinkedIn Weak Links
" I know a guy..." Is LinkedIn anything more than a resume warehouse? Is it simply a web-based Rolodex to make it easier to stay up with your business contacts? I don't know the business model for the company, and don't have any basis to comment on its long-term prospects, but in a somewhat stream-of-conciousness mode, I hear the "linked" in LinkedIn, and it starts me thinking about network theory, and the place LinkedIn most naturally fills in that space, which is to establish weak links.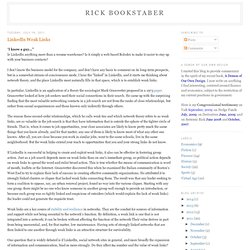 First Monday
Swift