Money in politics..
Empire - US Democracy: The Power of Money
Infographic: What's the Cost of Getting Into Congress? (Scaling)
Wal-Mart took part in lobbying campaign to amend anti-bribery law
The effort has intensified in the past two years, drawing on the backing of several large companies and trade groups such as the Retail Industry Leaders Association, where one of Wal-Mart's top executives serves as a director. It also has involved high-powered lobbyists, including former attorney general Michael B.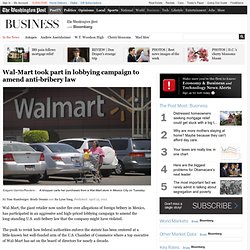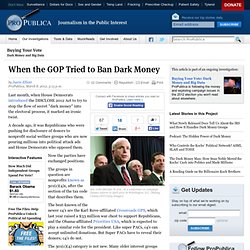 When the GOP Tried to Ban Dark Money
For a brief moment a decade ago, it was Republicans who wanted disclosure of anonymous political donations that Democrats now decry. Last month, when House Democrats introduced [1] the DISCLOSE 2012 Act to try to stop the flow of secret "dark money" into the electoral process, it marked an ironic twist.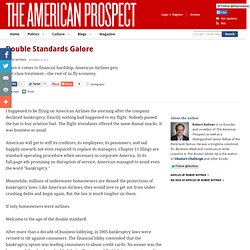 Double Standards Galore
I happened to be flying on American Airlines the morning after the company declared bankruptcy. Exactly nothing bad happened to my flight. Nobody passed the hat to buy aviation fuel.
Money in politics - curators...
Photo: Jay Fram
The Man Behind Citizens United Is Just Getting Started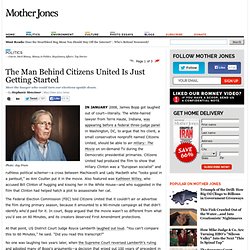 How Dependent are Super PACs on Top Contributors?
Are the new funding groups bad for democracy?
Not so super PACs
Photograph by Tim Sloan/AFP/Getty Images. Most of what you hear about Citizens United v.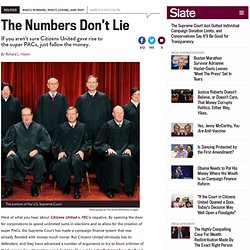 The Supreme Court's Citizens United decision has led to an explosion of campaign spending
The Dark Money Shakedown
Sugar Daddies
Editor's note appended.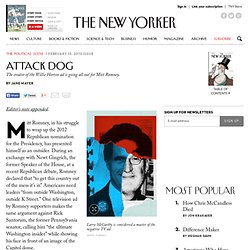 Larry McCarthy, Mitt Romney, and Restore Our Future Super PAC
the road to political dictatorship
Is US democracy being bought and sold
Has money corrupted US politics beyond repair?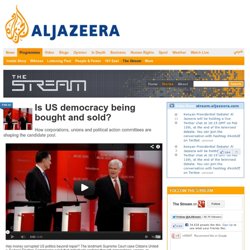 The Corruption Of Our Entire Political Class Explained In One Paragraph
Ari Berman: The politics of the super rich
A few days ago we presented a roster of the top contributors to Mitt Romney's 2012 presidential campaign as reported by OpenSecrets.
Guess The Politician... And Follow The Money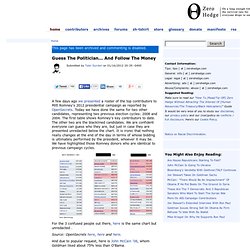 Simon Johnson, the former chief economist at the International Monetary Fund, is the co-author of "13 Bankers." The American ideal of equal and impartial justice under law has repeatedly been undermined by attempts to concentrate power. Our political system has many advantages, but it also provides motive and opportunity for resourceful people to become so strong they can elude the legal constraints that bind others. The most obvious example is the oil and railroad trusts at the end of the 19th century. A version of the same process is happening again today, but what has become concentrated is not a vital energy source or the nation's transport arteries but rather something much more abstract – financial sector risk. In early 2009, Treasury Secretary Timothy F.
Simon Johnson: No One Is Above the Law, Even Megabanks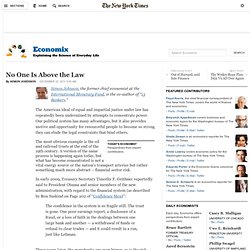 Tom Ferguson: The Devil and Rick Santorum – Dilemmas of a Holy Owned Subsidiary
By Thomas Ferguson, Professor of Political Science at the University of Massachusetts, Boston.
At first, the outraged members of the Occupy Wall Street movement in New York were mainly met with ridicule. They didn't seem to stand a chance and were judged incapable of going up against their adversaries, Wall Street's bankers and financial managers, either intellectually or in terms of economic knowledge.
The Second Gilded Age: Has America Become an Oligarchy? - SPIEGEL ONLINE - News - International
Jeffrey Sachs: Paul Ryan, American Values, and Corporatocracy
My new book, The Price of Civilization, describes why America needs a "mixed economy," one where a more effective federal government regulates business and invests alongside the business sector. In his review of my book, Congressman Paul Ryan, an avowed libertarian, describes my book as anti-American in its values. Ryan is wrong: my book describes how we can restore politics to the true mainstream of American values, rescuing democracy from the clutches of corporate power that Ryan champions in deeds if not in words.
Zhang Jun/Xinhua/ZUMAPRESS.com
Barack Obama Has, on Average, Attended a Fundraiser Every Five Days in 2011
Jeff Connaughton: Obama and the Rule of Law
National Institute on Money in State Politics
influenceexplorer
Rootstrikers - Fighting the corrupting influence of money in politics
Is Our Republic Lost?
American society / economy / politics