Tech
How to Stay Below Your Data Cap on Android
Consultant News (tech republic)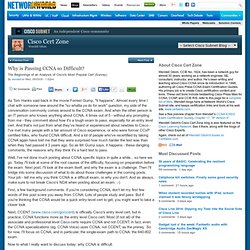 Why is CCNA so Difficult? - pt1
As Tom Hanks said back in the movie Forrest Gump, "It happens". Almost every time I chat with someone new around the "so whatta ya do for work" question, my side of the conversation commonly comes around to the CCNA exam. And when the other person is an IT person who knows anything about CCNA, 4 times out of 5 - without any prompting from me - they comment about how it's a tough exam to pass, especially for an entry level cert. And that's not just from what they've heard or experienced about newbies to Cisco - I've met many people with a fair amount of Cisco experience, or who were former CCxP certified folks, who found CCNA difficult.
One of the things many new freelancers don't realize is how much paperwork (either digital or actual paper) is created and used by successful design firms. There are forms and documents for every stage of the design process. And while only one is really required (a contract) you can benefit from knowing about the other types of documents.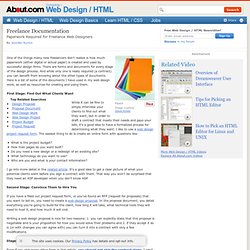 Freelance Documentation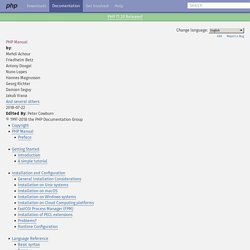 downloads | documentation | faq | getting help | mailing lists | licenses | wiki | reporting bugs | php.net sites | conferences | my php.net s earch for in the [ edit ] Last updated: Fri, 29 Mar 2013 view this page in
PHP mySQL
What do I need? - PHP Manual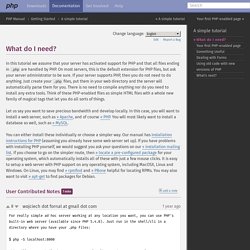 In this tutorial we assume that your server has activated support for PHP and that all files ending in are handled by PHP. On most servers, this is the default extension for PHP files, but ask your server administrator to be sure. If your server supports PHP, then you do not need to do anything. Just create your files, put them in your web directory and the server will automatically parse them for you. There is no need to compile anything nor do you need to install any extra tools.
Learn VB.NET programming including ASP.NET, ADO.NET, and VS.NET.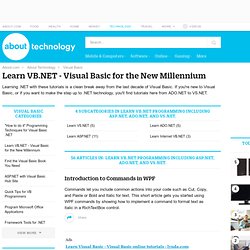 Learning .NET with these tutorials is a clean break away from the last decade of Visual Basic. If you're new to Visual Basic, or if you want to make the step up to .NET technology, you'll find tutorials here from ADO.NET to VS.NET. Commands let you include common actions into your code such as Cut, Copy, and Paste or Bold and Italic for text. This short article gets you started using WPF commands by showing how to implement a command to format text as italic in a RichTextBox control. .NET 4.0 is only days away from being "officially" launched and with it, a new version of WPF.
Updated November 14, 2011 What's this course all about? Microsoft has made it as easy as they can for you to learn .NET by giving away a really great Visual Studio based development system absolutely free: Visual Basic .NET 2010 Express Edition . Really.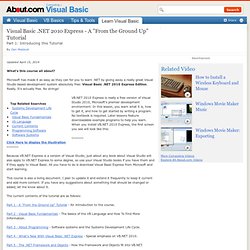 Visual Basic .NET 2010 Express - A "From the Ground Up" Tutorial
iSeries info center
HP Cloud Certifications and Certification Program Restructuring | GoCertify
Published December 26, 2011 By Linda Musthaler We promised you more information on the big doings over at HP's certification program, and here it is!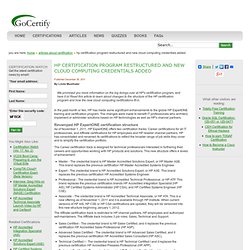 Guide to the Cloud Presentations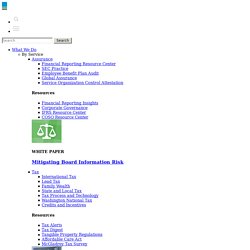 What is Cloud Computing? Cloud computing is more than just another buzzword – it's reshaping the technology marketplace and streamlining the day-to-day operations of businesses from Main Street to Wall Street. Join Bill Kracunas, managing director of technology solutions, as he provides an overview of what cloud computing is and how it's driving a more entrepreneurial economy by creating new, more agile and flexible business models. He also defines terms such as Software as a Service (SaaS), Platform as a Service (PaaS) and Infrastructure as a Service (IaaS).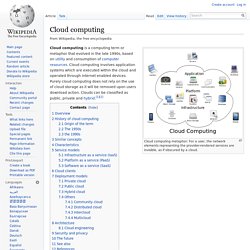 Cloud computing logical diagram Cloud computing is the use of computing resources (hardware and software) that are delivered as a service over a network (typically the Internet ). The name comes from the use of a cloud -shaped symbol as an abstraction for the complex infrastructure it contains in system diagrams. Cloud computing entrusts remote services with a user's data, software and computation.
AS/400 FAQ - AS/400 Questions and Answers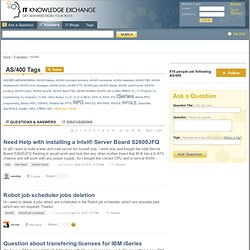 How to read from flat file How to read from flat file For eg: The data in one flat file is like this D|EMPN0001_001_01|C55BFIT|.00|.00|GBP|Y|1.00|20030101|20130301|IT|||||LC|100 D|EMPN0002_001_01|C55BFIT|.00|.00|GBP|Y|1.00|20030101|20130301|ECE|||||LC|100 The data in another flat file is like this: D|EMPN0001|N||.048448|.048448|100.0000|0.0000|100.0000|77.7782|EMP02|CME02|LM D|EMPN0002|N||1.000000|1.000000|100.0000|0.0000|100.0000|35.8566|EMP02|CME02| D|EMPN0003|N||.025600|.025600|100.0000|0.0000|100.0000|100.0000|EMP02|CME02|L I want to read these two files and stores these values in a separate Physical files. Main purpose is that to compare the values [...] Answer Question | March 28, 2013 5:49 AM AS/400 , as/400 files
Introduction to the AS/400 The IBM Application System/400 popularly known as AS/400 is a family of mid-range business computing systems, that supersedes IBM's highly successful System/3X family. The AS/400 is available in three different types the 9402, 9404, and the 9406. Currently, here at Minnesota State University, Mankato, the Computer Services is supporting a dual processor IBM AS/400 9406 model D80, that contains 192 Megabytes of primary memory and 7.1 Gigabytes of mirrored secondary storage. The AS/400 systems exclusively use the IBM Operating System/400 (OS/400). It is a multi-user operating system that works with the Licensed Internal Code (LIC) instructions to implement the functions that are basic to the AS/400 architecture.
Introductory Reference to the IBM AS/400
Martin O Sullivan's IBM as400 page
Psychology Of Color