IT
Its been a good while since I got out of all of this, and due to statutes of limitations and a number of other things, I feel I can speak safely on this subject for once. A little background; From 2003ish to 2009, I was a member and supplier of a group responsible for over 500+ pre-dvd movie releases online, in all flavors (cam/ts/dvd/scr/tc/etc), spanning over 5 years, 3 release formats, and to much mother fucking time. During my time I was a cammer, a sound guy, an encoder, and more specifically, became quite efficient at butchering the MPAA's watermarking techniques. I saw 6 close associates get arrested, 2 serve prison time, 2 become informants, and one who killed himself. Ask Away......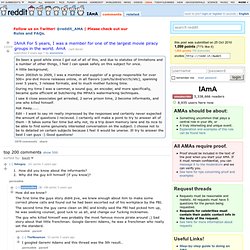 IAmA For 5 years, I was a member for one of the largest movie piracy groups in the world. AmA : IAmA
The term 'geek', once used to label a circus freak, has morphed in meaning over the years. What was once an unusual profession transferred into a word indicating social awkwardness. As time has gone on, the word has yet again morphed to indicate a new type of individual: someone who is obsessive over one (or more) particular subjects, whether it be science, photography, electronics, computers, media, or any other field. A geek is one who isn't satisfied knowing only the surface facts, but instead has a visceral desire to learn everything possible about a particular subject. A techie geek is usually one who knows a little about everything, and is thus the person family and friends turn to whenever they have a question.
70 Things Every Computer Geek Should Know. | Arrow Webzine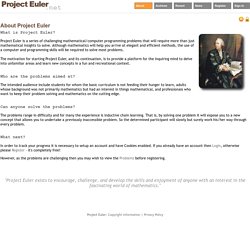 What is Project Euler? Project Euler is a series of challenging mathematical/computer programming problems that will require more than just mathematical insights to solve. Although mathematics will help you arrive at elegant and efficient methods, the use of a computer and programming skills will be required to solve most problems. The motivation for starting Project Euler, and its continuation, is to provide a platform for the inquiring mind to delve into unfamiliar areas and learn new concepts in a fun and recreational context. Who are the problems aimed at?
Project Euler
Those of you running recent versions of Safari, Chrome, or Firefox 4 may have noticed some changes to tree browsing on GitHub. For everyone else, here's a video of our new Tree Slider: The new HTML5 History API (which really has nothing to do with HTML — it's a JavaScript API) allows us to manage the URL changes while CSS3 transitions handle the sliding. Permalinks are always maintained, your back button works as expected, and it's much faster than waiting for a full page load.
The Tree Slider - GitHub
The Power User's Guide to the Windows 7 Taskbar
SExpand It seems like every week we learn about a new tip to enhance the Windows 7 taskbar, and it's hard to keep them all straight. Here's the complete power user's guide to tweaking and using your taskbar like a pro.P Learn to Use the Taskbar Like a ProP