Storyline
Storyline learning. Book Chapter. Within the intelligent tutoring systems community, narrative is emerging as an effective medium for contextualizing learning.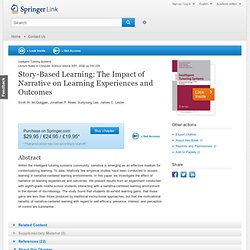 To date, relatively few empirical studies have been conducted to assess learning in narrative-centered learning environments. In this paper, we investigate the effect of narrative on learning experiences and outcomes. We present results from an experiment conducted with eighth-grade middle school students interacting with a narrative-centered learning environment in the domain of microbiology. The study found that students do exhibit learning gains, that those gains are less than those produced by traditional instructional approaches, but that the motivational benefits of narrative-centered learning with regard to self-efficacy, presence, interest, and perception of control are substantial.
STORIES IN LEARNING: story telling in Experiential Education. Design - Teaching / Learning Method. The History of the Storyline Method » How the Storyline Method came to be Integrating curriculum The Topic Web and the Storyline Method Answers to questions about the Storyline Method Why the Storyline Method makes sense It's the principle of the thing How the Storyline Method came to be...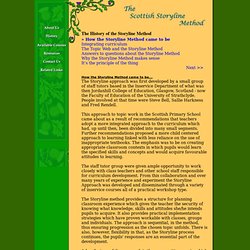 The Storyline approach was first developed by a small group of staff tutors based in the Inservice Department of what was then Jordanhill College of Education, Glasgow, Scotland - now the Faculty of Education of the University of Strathclyde. People involved at that time were Steve Bell, Sallie Harkness and Fred Rendell.
---