Bath, Body, & Beauty
How to Make Your Own Beauty Products from Scratch - Lifestyle - GOOD - (Private Browsing) Let's keep things simple this week.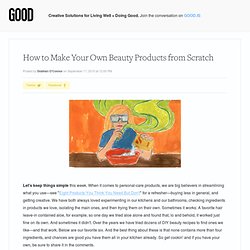 When it comes to personal-care products, we are big believers in streamlining what you use—see "Eight Products You Think You Need But Don't" for a refresher—buying less in general, and getting creative. We have both always loved experimenting in our kitchens and our bathrooms, checking ingredients in products we love, isolating the main ones, and then trying them on their own. Sometimes it works: A favorite hair leave-in contained aloe, for example, so one day we tried aloe alone and found that, lo and behold, it worked just fine on its own. And sometimes it didn't. DIY Toner - Homemade Facial Toner Recipe. Natural Benefits: Apple vinegar and aspirin is a one-two exfoliating punch to clear acne scars and smooth bumpy, dry skin.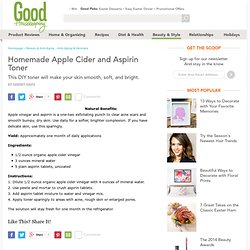 Use daily for a softer, brighter complexion. If you have delicate skin, use this sparingly. Yield: Approximately one month of daily applications Ingredients: She's Crafty: DIY Multi-Chain & Ribbon Necklace | M.I.S.S. Due to the resounding success of her last She's Crafty, my friend Pandora from Accessory Source is back with another lovely necklace DIY tutorial that would make a fantastic christmas present for a friend or relative!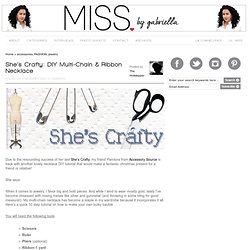 She says: When it comes to jewelry, I favor big and bold pieces. 9 Charmingly Delightful Beauty Techniques from All Over the World … - (Private Browsing) Beauty techniques are highly beneficial, but some of them are incredibly recycled.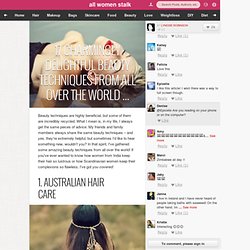 What I mean is, in my life, I always get the same pieces of advice. My friends and family members always share the same beauty techniques – and yes, they're extremely helpful, but sometimes I'd like to hear something new, wouldn't you? In that spirit, I've gathered some amazing beauty techniques from all over the world! Soap Making Instructions | Soap Making Recipes and Tutorials | Teach Soap - (Private Browsing)
PIN IT UP, GIRL - (Private Browsing) Photo: justin coit for thebeautydepartment.com post designed by kristin ess Our email box is literally flooded with requests for updos so here's a fun one to get us all going!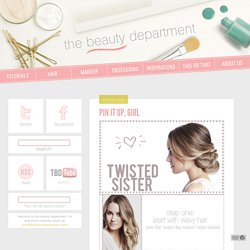 This is always a favorite for attending an event. This updo looks gorgeous on any hair color but particularly amazing with hilighted hair because it gives the hair lots of depth and dimension. For lack of a better word, I love the way it becomes "swirly". Indie, Retro, Vintage Dresses & Cute Clothing | ModCloth - (Private Browsing) How to Make Bath Fizzies. All it takes to make delicately scented tablets is a little mixing, some gradual spritzing, and a few minutes of molding.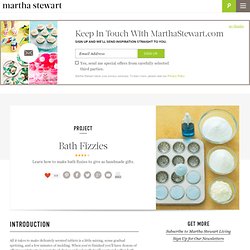 When you're finished you'll have dozens of effervescent treats in a variety of shapes and colors that will scent and soften bath water as they bubble. Stuff stockings with cellophane bags filled with stacks of the colorful blocks. They make great gifts for all the ladies on your list, including mothers, grandmothers, aunts, and grown-up nieces. Experiment with colors and scents; mix yellow and red to make orange, for example, and try blending lemon with lavender. Dorm Room Spa: 3 Easy DIY Beauty Recipes to Try – College Fashion - (Private Browsing) Photo Credit It's that taxing in-between time of the semester again – spring break is over, papers and projects are coming due, and finals are looming ahead.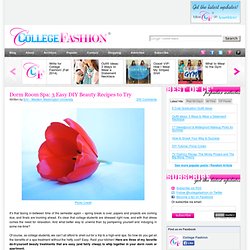 It's clear that college students are stressed right now, and with that stress comes the need for relaxation. And what better way to unwind than by pampering yourself and indulging in some me-time? Of course, as college students, we can't all afford to shell out for a trip to a high-end spa. So how do you get all the benefits of a spa treatment without the hefty cost?
Travel & Exploration
Homemade Lip Balm - How to Make Lip Balm with Beeswax, Honey and Cocoa Butter. The Science of a Beautiful You.
---