Winniet4ng
winnie tang
i do v love taylor swift, TW and 1D.
Pond97. Strawberry ~ ! Le arance dimenticate. Exotic Fruit (Explore FP) Cardamom, Coriander Carrot Soup and Pistachios. Sunkist. The simple things in life... (1/2) Hippo42. Freshness!!! Do you love the fruit?
A Morning After. Jelly Belly. Sunkist. Eating Healthily. Ellielovesbieberconda. Fireheart16th. People I know. Mrs_clooney. Dinosaurrawr. Gemma. Sophiecomer. Jadeerz. Winniet4ng. Eating Healthily. Leahatthedisco. Healthy Eating. How Eating Healthy & Unhealthy Foods Affects Your Body. Your body runs on fuel in the form of food, and if the fuel you put in your body is not high-grade, you should not expect your body to give you peak performance.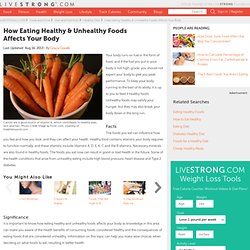 To keep your body running to the best of its ability, it is up to you to feed it healthy foods. Unhealthy foods may satisfy your hunger, but they may also break your body down in the long run. A balanced diet - Live Well. Despite what you see in some diet books and TV programmes, healthy eating can be really straightforward.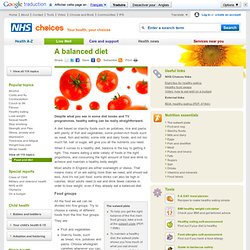 Food groups All the food we eat can be divided into five groups. Try to choose a variety of different foods from the first four groups. Health: Healthy living essentials. 19 April 2013Last updated at 18:07 It is possible to live a longer and healthier life Some aspects of our health and vitality are governed by our genes and how our mother behaves during pregnancy, but many lifestyle factors, including fitness, diet and weight all impact on our ability to live a long and healthy life.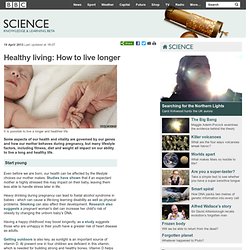 Even before we are born, our health can be affected by the lifestyle choices our mother makes. Studies have shown that if an expectant mother is highly stressed this may impact on their baby, leaving them less able to handle stress later in life. Heavy drinking during pregnancy can lead to foetal alcohol syndrome in babies - which can cause a life-long learning disability as well as physical problems. Healthy eating. A healthy diet can help reduce your risk of developing coronary heart disease and stop you gaining weight - reducing your risk of diabetes and high blood pressure.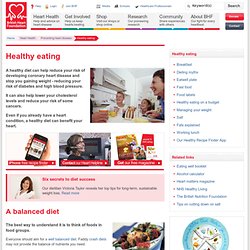 It can also help lower your cholesterol levels and reduce your risk of some cancers. Even if you already have a heart condition, a healthy diet can benefit your heart. Six secrets to diet success Our dietitian Victoria Taylor reveals her top tips for long-term, sustainable weight loss. Newsmap. Healthy food & activity tips for you & your kids | Change4Life | Change4Life. WeightWatchers.co.uk - Official Site - Lose Weight the Healthy Way with Weight Watchers. Healthy eating pyramid. How Eating Healthy & Unhealthy Foods Affects Your Body. BBC NI - Schools - It's Up To You! - Home Page. Healthy eating - recipes. Eating healthily can be hard when you've got a family to feed on a budget but goodtoknow is here to show you how to make healthy meals - without it costing the earth.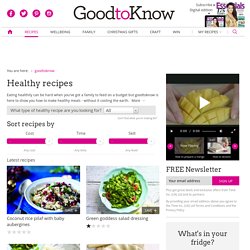 Our healthy recipes section has hundreds of different recipes, so we can guarantee you will find something delicious to feed your family. If you want to make sure you stick to your healthy eating plan (this time!) We have some easy things you can do to make it a little bit easier: Don't forget breakfast! We know everyone always says it but breakfast really is the most important meal of the day. Healthy food & activity tips for you & your kids | Change4Life | Change4Life. Unhealthy Eating Habits. There are several key reasons why people develop unhealthy eating habits, most of it can be attributed to lack of planning and awareness.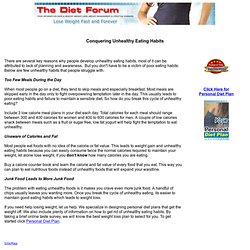 But you don't have to be a victim of poor eating habits. Below are few unhealthy habits that people struggle with. Too Few Meals During the Day When most people go on a diet, they tend to skip meals and especially breakfast. Most meals are skipped early in the day only to fight overpowering temptation later in the day. Healthy Recipes. A balanced diet - Live Well. How Eating Healthy & Unhealthy Foods Affects Your Body. Veggie Belly | Vegetarian & Vegan recipes food blog.
Nutrition Glossary. This nutrition glossary includes definitions of both common nutritional terms and terms specific to the Nutrition Data Web site.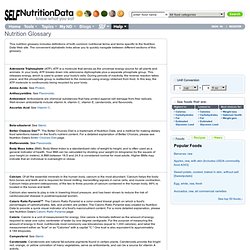 The convenient alphabetic links allow you to quickly navigate between different sections of this glossary. Adenosine Triphosphate (ATP): ATP is a molecule that serves as the universal energy source for all plants and animals. In your body, ATP breaks down into adenosine diphosphate plus a separate phosphate group. This releases energy, which is used to power your body's cells. Fatfree Vegan Recipes. Healthy diet and exercise suggestions | Change4Life. Nutrition Glossary. Health: Nutrition.
19 April 2013Last updated at 17:51 The human body needs a balanced diet to deliver vital nutrients What's your idea of a perfect meal?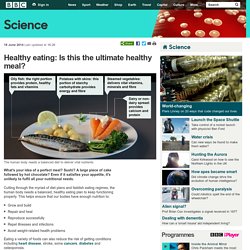 Sushi? A large piece of cake followed by hot chocolate? Healthy eating - Live Well. Kathsomerville.
Balanced diet
Thaiunicorn. Food. Fruits From All Over The World - Exotic And Common Fruit. IMG_0340. Smile! Rainbow puddings... Exotic Fruit (Explore FP)
---