Connections
HTTP RFC Spec 2616 Section 8.1.4 ( http://www.w3.org/Protocols/rfc2616/rfc2616-sec8.html ) says A single-user client SHOULD NOT maintain more than 2 connections with any server or proxy.
Mobile apps and number of concurrent connections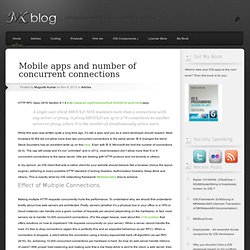 iOS Framework: Introducing MKNetworkKit | MKBlog
This article is available in Serbo-Croatian and Japanese .
javapns - Apple Push Notification Service Provider for Java
notnoop/java-apns - GitHub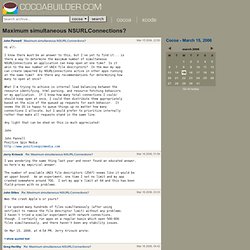 Maximum simultaneous NSURLConnections? | Cocoabuilder
Hi Greg-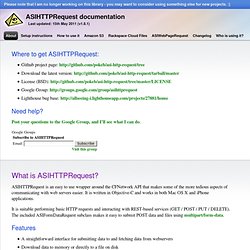 ASIHTTPRequest Documentation - All-Seeing Interactive
ASIHTTPRequest is an easy to use wrapper around the CFNetwork API that makes some of the more tedious aspects of communicating with web servers easier. It is written in Objective-C and works in both Mac OS X and iPhone applications. It is suitable performing basic HTTP requests and interacting with REST-based services (GET / POST / PUT / DELETE). The included ASIFormDataRequest subclass makes it easy to submit POST data and files using multipart/form-data .
download.macromedia.com/pub/labs/amf/amf3_spec_121207.pdf
opensource.adobe.com/svn/opensource/flex/sdk/trunk/frameworks/projects/rpc/src/mx/messaging/messages/MessagePerformanceInfo.as
opensource.adobe.com/svn/opensource/blazeds/tags/4.0.0/modules/core/src/flex/messaging/messages/MessagePerformanceUtils.java
rs/SDURLCache - GitHub
iphone - NSURLConnection leak
iphone - Does -dataWithContentsOfURL: of NSData work in a background thread