Au boulot !
The 10x developer is NOT a myth. Last night, I tweeted the following: I'm confused by the claim that "10x" or "rockstar developers" are a myth.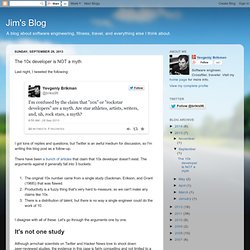 Are star athletes, artists, writers, and, uh, rock stars, a myth? Why Generation Y Yuppies Are Unhappy. Say hi to Lucy.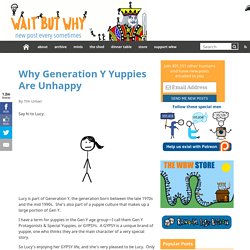 Lucy is part of Generation Y, the generation born between the late 1970s and the mid 1990s. She's also part of a yuppie culture that makes up a large portion of Gen Y. I have a term for yuppies in the Gen Y age group—I call them Gen Y Protagonists & Special Yuppies, or GYPSYs. A GYPSY is a unique brand of yuppie, one who thinks they are the main character of a very special story. 7 astuces enseignées à Harvard pour bien négocier son salaire. Des études montrent que la plupart des jeunes diplômés ne négocient pas leur salaire lors de leur première embauche.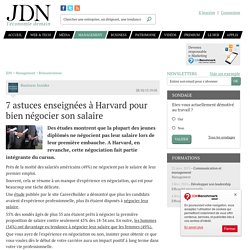 A Harvard, en revanche, cette négociation fait partie intégrante du cursus. Près de la moitié des salariés américains (49%) ne négocient pas le salaire de leur premier emploi. Souvent, cela se résume à un manque d'expérience en négociation, qui est pour beaucoup une tâche délicate. Une étude publiée par le site CareerBuilder a démontré que plus les candidats avaient d'expérience professionnelle, plus ils étaient disposés à négocier leur salaire.
Méthode SCORE ou Chercher les causes profondes. Méthode SCORE ou Chercher les causes profondes Posted on 7 février 2010 by phgarin SCORE est un acronyme pour S ymptômes C auses.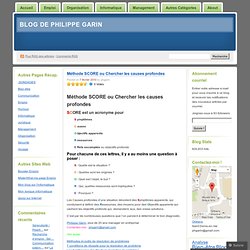 The Two Types of Speed. A 26 ans, la France m'a déjà fait perdre toute ambition professionnelle. Je vis dans un pays qui aime cantonner les gens dans des secteurs sans jamais les laisser en explorer d'autres, quand bien même une forte passion existerait pour un tout autre domaine.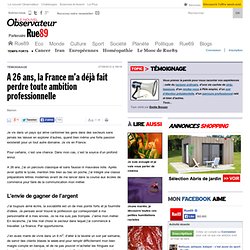 Je vis en France. Pour certains, c'est une chance. Dans mon cas, c'est la source d'un profond ennui. A 26 ans, j'ai un parcours classique et sans fausse ni mauvaise note. Après avoir quitté le lycée, mention très bien au bac en poche, j'ai intégré une classe préparatoire lettres modernes avant de me lancer dans la course aux écoles de commerce pour faire de la communication mon métier. The 7 Habits of Highly Effective Mediocre Entrepreneurs. [Editor's note: James Altucher is an investor, programmer, author, and entrepreneur.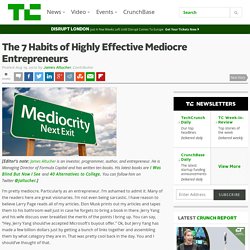 He is Managing Director of Formula Capital and has written ten books. His latest books are I Was Blind But Now I See and 40 Alternatives to College. You can follow him on Twitter @jaltucher.] I'm pretty mediocre. Particularly as an entrepreneur. Work. The Post-Employee Economy: Why Sky-High Profits Are Here to Stay - Conor Sen. The end of the age of consumption and the decreasing need for labor are more related than you think Reuters Robots have come to destroy our way of life, just as we saw in Terminator 2: Judgment Day, though not as we expected.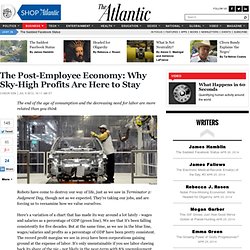 They're taking our jobs, and are forcing us to reexamine how we value ourselves. Here's a variation of a chart that has made its way around a lot lately - wages and salaries as a percentage of GDP (green line). We see that it's been falling consistently for five decades. It's the 21st century – why are we working so much? | Owen Hatherley. If there's one thing practically all futurologists once agreed on, it's that in the 21st century there would be a lot less work.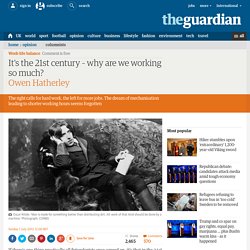 What would they have thought, if they had known that in 2012, the 9-5 working day had in the UK become something more like 7am to 7pm? They would surely have looked around and seen technology take over in many professions which previously needed heavy manpower, they would have looked at the increase in automation and mass production, and wondered – why are they spending 12 hours a day on menial tasks? Les phrases les plus agaçantes dans la bouche d'un chef. Autoritaires, maladroits, condescendants...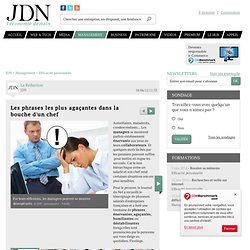 Les managers se montrent parfois extrêmement énervants aux yeux de leurs collaborateurs. Et quelques mots lâchés par les premiers peuvent suffire pour mettre en rogne les seconds. Car le lien hiérarchique entre un salarié et son chef rend certaines situations encore plus sensibles. Pour le prouver, le Journal du Net a recueilli le témoignage de plusieurs salariés d'entreprises françaises et a listé une trentaine de phrases énervantes, agaçantes, humiliantes ou déstabilisantes lorsqu'elles sont prononcées par la personne qui vous dirige au quotidien. Florilège. What makes a good engineering culture. Management Secrets: Core Beliefs of Great Bosses.
A few years back, I interviewed some of the most successful CEOs in the world in order to discover their management secrets.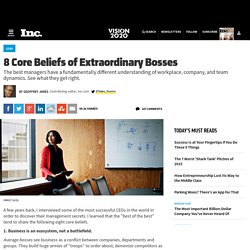 I learned that the "best of the best" tend to share the following eight core beliefs. 1. Project Management. Nigel Marsh: How to make work-life balance work. Recruiting: 8 Qualities Your Best Employees Should Have. Great employees are reliable, dependable, proactive, diligent, great leaders and great followers... they possess a wide range of easily-defined—but hard to find—qualities.
A few hit the next level. Some employees are remarkable, possessing qualities that may not appear on performance appraisals but nonetheless make a major impact on performance. 5 ways to keep your rockstar employees happy. Half Sigma: Why a career in computer programming sucks. Temporary nature of knowledge capital Let's being by reviewing what I previously wrote about the four types of human capital.
Computer programming is a job that's heavily dependent on temporary knowledge capital. It's temporary because the powers that be keep changing the languages and tools that programmers need to do their jobs. In nearly all other professions, knowledge capital increases as you grow older because you keep learning more about your field. But in computer programming, the old knowledge becomes completely obsolete and useless.
---