Cocktail Recipes
Herb Infused Simple Syrup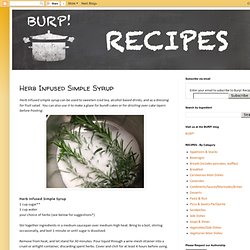 Herb Infused simple syrup can be used to sweeten iced tea, alcohol based drinks, and as a dressing for fruit salad. You can also use it to make a glaze for bundt cakes or for drizzling over cake layers before frosting. Herb Infused Simple Syrup 1 cup sugar** 1 cup water your choice of herbs (see below for suggestions*)
Infuse Your Booze: Making Fruit-Flavored Liquors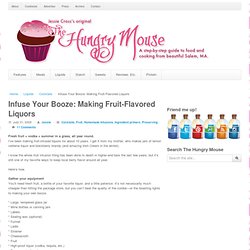 Fresh fruit + vodka = summer in a glass, all year round. I've been making fruit-infused liquors for about 10 years. I get it from my mother, who makes jars of lemon verbena liquor and blackberry brandy (and amazing Irish Cream in the winter). I know the whole fruit infusion thing has been done to death in higher-end bars the last few years, but it's still one of my favorite ways to keep local berry flavor around all year. Here's how. Gather your equipment You'll need fresh fruit, a bottle of your favorite liquor, and a little patience.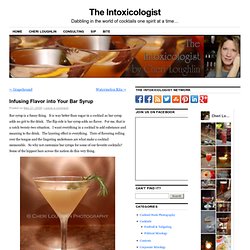 Bar syrup is a funny thing. It is way better than sugar in a cocktail as bar syrup adds no grit to the drink. The flip side is bar syrup adds no flavor. For me, that is a catch twenty-two situation.
Infusing Flavor into your Bar Syrup « The Intoxicologist Is In
Let's face it, even Trekkies like to get all crunk on spacejuice and get into Vulcan Death Grip fights at the bar. Completely understandable. These are only two of ten Star Trek inspired cocktails, so be sure to hit the jump to see eight more. Then make one. However, I was a little sad to see there was no Red Shot (with significantly increased chance of death).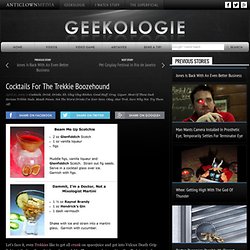 Cocktails For The Trekkie Boozehound - Geekologie