iPad
Whether you're the parent of a child with a reading disability or an educator that works with learning disabled students on a daily basis, you're undoubtedly always looking for new tools to help these bright young kids meet their potential and work through their disability. While there are numerous technologies out there that can help, perhaps one of the richest is the iPad, which offers dozens of applications designed to meet the needs of learning disabled kids and beginning readers alike. Here, we highlight just a few of the amazing apps out there that can help students with a reading disability improve their skills not only in reading, writing, and spelling, but also get a boost in confidence and learn to see school as a fun, engaging activity, not a struggle. Note: See also 15 Of The Best Educational Apps For Improved Reading Comprehension & 20 iPad Apps To Teach Elementary Reading Helpful Tools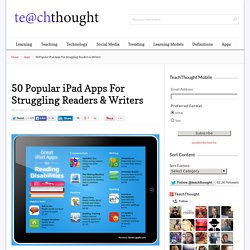 Nu är det snart dags att starta ett nytt läsår med nya möjligheter, nya tankar och idéer och visioner om hur detta läsår kommer att bli. Det har kommit en del nya appar… flödet är stort och ibland kan det vara svårt att se skogen för alla träd, men jag har försökt välja ut mina 100 favoritappar; både gamla och nya som jag tror på (just idag, imorgon kan det ha kommit något ännu bättre;) Det är svårt att kategorisera apparna eftersom de ofta passar i fler än en kategori, jag har ändå valt att bara ta med dem i en kategori; så för säkerhets skull-titta igenom alla kategorier även om du inte hade tänkt det. Det kan gömma sig en godbit där du minst anar det. Hoppas du hittar appar som du inte sett eller appar som du laddat ner men glömt av. Är du intresserad av en appgenomgång på din förskola/skola?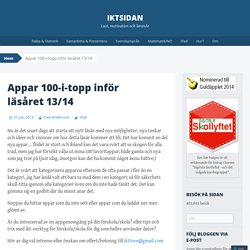 colAR
The iPad is a great tool for a classroom . It will soon be the case that any educator will feel as though the iPad is entirely necessary. One of the reasons for this is because it is a tool that quashes inequality in the classroom. Children with disabilities have been able to use iPads and work at the same speed as the other children. Another reason for the popularity of this machine is because it makes the educator's job easier.
When I received the invitation from the new Lee Kong Chian School of Medicine at the Nanyang Technological University in Singapore, I decided to completely upgrade two seminar workshops. Dr Ian Green from the School of Education here at Adelaide and I have used Padagogy101 (introduction to iPad in HE) and Padagogy201 (more advanced use for L&T) to train over 600 faculty from universities in Australia. For Singapore, Ian wasn't going to be with me and I was solo, as well I needed a better way to leave resources in place for people to revisit. However I was completely surprised at what else happened.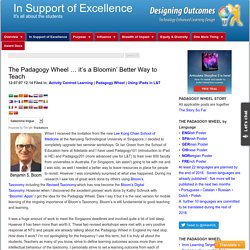 Bloom's Taxonomy Paint Palette
Featured Post What it is: As I mentioned a few days ago, I am starting a virtual classroom/club for digital storytelling. I have been on the lookout for great resources, I listed my favorites here, and now I am remembering a lot of tools I left off of my original list (like Toon Doo!). Today as I was going through my Google Reader, I learned about this gem from Richard Byrne's Free Tech for Teachers. The Delaware Art Museum has provided a great website dedicated to storytelling. The tagline is "bringing visual art to life through stories".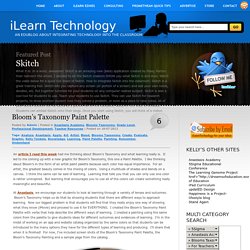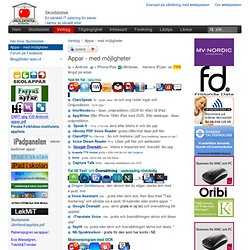 = Android, = IPhone/iPad, =Windows. Hantera iPrylar- se TIPS längst på sidan Text till Tal - talsyntes
Appar - med möjligheter
Description Teacher's Pick gives you the ability to randomly and uniquely choose students without having to rely on memory, cups of craft sticks or flash cards. Just add your class names and the students in each class. Teacher's Pick keeps track of which students are active, inactive (already chosen) or absent and gives you options to pick a student from the active group or pick from the full group (active or inactive). At the end of the day or week just touch a button and all of the students present are returned to active status.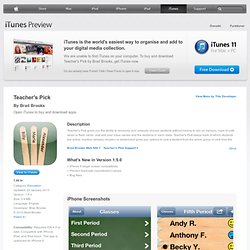 Teacher's Pick for iPhone, iPod touch and iPad on the iTunes App Store
Tips på utomhusappar | LekMiT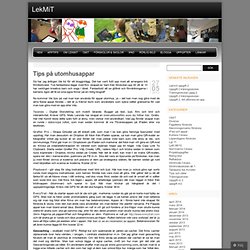 Så har jag äntligen lite tid för ett blogginlägg. Det har varit fullt upp med att arrangera två filmfestivaler. Två fantastiska dagar med film skapad av barn från förskolan upp till 26 år. Vi har verkligen kreativa barn och unga i länet. Fantastiskt att se glittret och förväntningarna i barnens ögon att få se sina egna filmer på en riktig biograf!
visesiskolan: @opedagogen @Korlingsord
Twitter Malin Larsson ‏ @ visesiskolan 5 Jul @ opedagogen @ Korlingsord @ ljavestad @ Arian_Asinger @ Wimsis13 APP-tips http://www. flippatklassrum.blogspot.com pic.twitter.com/ZEWzclEIWu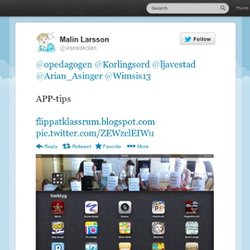 Twitter Malin Larsson ‏ @ visesiskolan 5 Jul @ opedagogen @ Korlingsord @ ljavestad @ Arian_Asinger @ Wimsis13 Flera appar som jag använder. # flippatklassrum pic.twitter.com/5QgYMG6xdD 8 Favorites
visesiskolan: @opedagogen @Korlingsord