AppiPhonePad
Voyages-sncf. Description Avec l'appli Voyages-sncf, votre mobile se transforme en billet de train !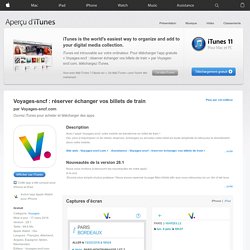 Oui, plus d'impression ni de retrait, réservez ou échangez votre billet en toute simplicité et retrouvez le directement dans votre appli ! Plus de 4 millions d'applications téléchargées, et vous ? # Réservez votre billet de train • Votre paiement est sécurisé.• Votre billet, sous forme d'un code-barres, est enregistré dans votre application* ou sur votre carte de fidélité Voyageur.• Accédez à plus de 3 000 gares en France et en Europe. • Voyagez seul, à plusieurs ou avec votre animal de compagnie.• Voyagez à petits prix avec Ouigo et iDTGV.
Trip Journal. VIDAL 2011. Conseils aux Voyageurs. Description Merci pour vos commentaires qui nous aident à améliorer cette application.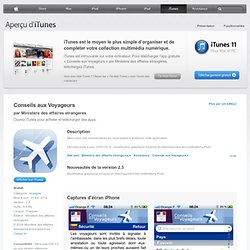 Dernière mise à jour: 23/07/2012 - modification graphique mineure et rétablissement des notifications Push. Aelios Weather. Meteogram. Photogene. Description Photogene is the ultimate tool for all your photo editing needs:- It's a full featured photo editor. - Powerful collage maker.- Supports uploading multiple photos. - Includes tools for editing and exporting metadata and IPTC.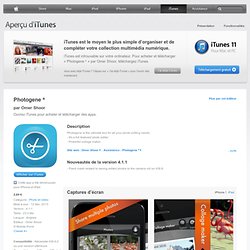 WIRED Magazine: "Photogene has long been one of the better photo-editing apps for the iPad, but a new update — version 2.0 — turns it into arguably the best around. " Main features: - With Photogene you can easily browse, improve and export multiple photos. - Full featured photo editor: crop, straighten, color adjustments (including histogram and curves), sharpen and denoise, retouch tools and more. - Export or upload several photos at once. Photogene supports a wide selection of export destinations, including Flickr, Dropbox, Facebook, Twitter, Picasa, FTP and e-mail. - Special effects: center focus, tilt-shift, vignette, frames, reflection, text boxes and much more. - Presets: large collection of predefined presets.
Instagram. Description Instagram Plus de 150 millions d'utilisateurs aiment Instagram !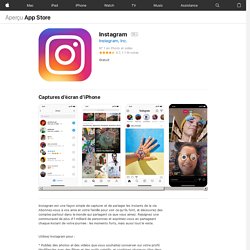 C'est une manière simple de capturer et partager les moments du monde entier sur votre iPhone. Snapseed. Description ** Meilleure application photo mobile 2012 ** (TIPA)** Application iPad de l'année !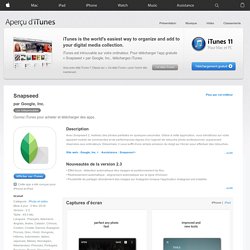 ** Snapseed est désormais gratuit et comprend de nouvelles fonctions, notamment le nouveau filtre Rétrolux, un filtre Bordures mis à jour ainsi que l'intégration à Google+. Snapseed est la seule application photo que vous utiliserez tous les jours. FX Photo Studio. Description FX Photo Studio est GRATUIT AUJOURD'HUI grâce à AppsUtiles, l'application qui négocie pour vous les meilleures apps utiles de l'App Store!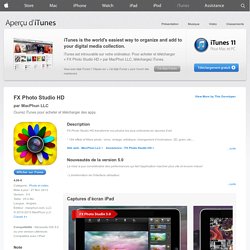 FX Photo Studio HD transforme vos photos les plus ordinaires en œuvres d'art * 194 effets et filtres photo : lomo, vintage, artistique, changement d'inclinaison, 3D, grain, etc… * Outil de masquage * Outil éclaboussure de couleur * Importation à partir de Facebook * Partage sur Instagram et autres réseaux sociaux courants * Et bien d'autres fonctionnalités formidables… Masque. TiltShift Generator. Description The biggest hit from the runaway best-selling ToyCamera series, the award-winning TiltShift Generator for iPhone has been downloaded more than 170,000 times.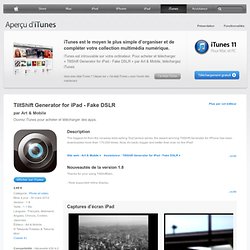 Now, it's back--bigger and better than ever on the iPad! "My favorite photo manipulation app on the face of the Earth." - Creative Applications "The whole 'screen as canvas' idea ... is sure to make the iPad a photographer's dream toy." - CNNGo. Phoster. Description This is a user-friendly application to create stylish posters and various invitation cards. * Phoster has been selected by AppleiPhone APP OF THE WEEK in US, canada, japan store!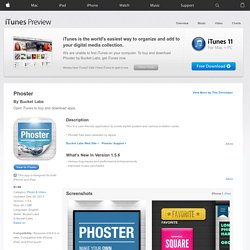 PolyMagic. Description Build an awesome photo and video collage with PolyFrame!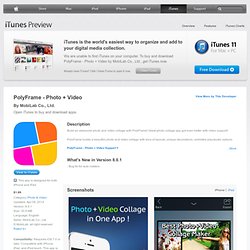 Great photo collage app got even better with video support! PolyFrame builds a beautiful photo and video collage with tons of layouts, unique decorations, unlimited play/audio options, background music, beautiful filters, texts and stickers. [Photo Collage]• 172 rectangular and polygonal layouts with up to 36 photos• Load multiple photos at once• Unique decoration with rounded corner, margin, border, shadow, outer shapes• Background colors and patterns• Powerful text editor and beautiful stickers• Edit photo with aviary photo editor• Easy width and height ratio• Portrait and landscape mode• Save and share in HD (up to 2400x2400)
iMovie. Description iMovie vous met au bout des doigts tout ce dont vous avez besoin pour raconter vos histoires.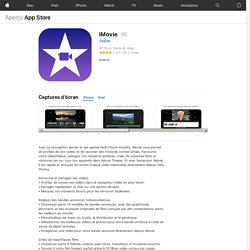 Son interface aux lignes épurées et les gestes Multi-Touch vous permettent de profiter de vos vidéos comme jamais auparavant. Parcourez votre vidéothèque, partagez vos moments préférés et créez de superbes films HD et bandes-annonces hollywoodiennes. GarageBand. Description GarageBand transforme votre iPad, iPhone ou iPod touch en une collection de Touch Instruments et en un véritable studio. Utilisez des gestes Multi-touch pour jouer du piano, de la guitare ou de la batterie : ils sonnent comme de vrais instruments, mais vous permettent de réussir des exploits impossibles sur de vrais instruments.
Branchez une guitare électrique à votre iPad, iPhone ou iPod touch et jouez avec des amplis classiques et des pédales d'effets*. Stereolizer. KORG iELECTRIBE. Description Korg's ELECTRIBE·R has been coveted by dance musicians for ten years running. Today, this indispensable instrument has been reborn as a dedicated iPad app – the KORG iELECTRIBE virtual analog beatbox! With the iELECTRIBE, sound creation is easy, fun and intuitive – just as on a vintage analog synthesizer. KORG iKaossilator. Description Le célébre Kaossilator arrive pour l'iPhone, iPod touch et iPad! Korg a révolutionné le monde des instruments de musique avec leur gamme de produits dynamique Kaoss, en utilisant un pad XY intuitive pour fournir un contrôle musical expressive.
Le synthétiseur KAOSSILATOR permet de faire de la musique à l'aide de son doigt sur le pavé tactile en conséquence celui-ci est utilisé par des milliers de musiciens et de non-musiciens. Maintenant les mêmes possibilités sont possibles avec l'application iKaossilator pour iPhone! Looptastic. Description Create your own non-stop remixes and electronic compositions in an incredibly intuitive way.
Simply drag and drop some loops, mix it up with a DJ-style mixer and add effects with Touch Pad control. Magic Piano. Pages. Description Pages est le plus beau traitement de texte jamais vu sur un appareil mobile. Ce puissant traitement de texte vous aide à créer en quelques minutes de magnifiques rapports, CV et documents.
Pages a été conçu exclusivement pour l'iPad, l'iPhone et l'iPod touch, avec la prise en charge des gestes Multi-Touch et du zoom intelligent. Keynote. Noteshelf. Dropbox. PhotoSync. Evernote. GoodReader. iCompta 2. FileMaker Go. Bento. iSort.
---