Loh!L
Scared Bros At A Haunted House
Is This Man The Oldest Male Prostitute In The World?
The 15 Best Twitter Reactions To The Death Of Muammar Gaddafi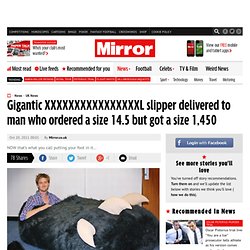 NOW that's what you call putting your foot in it... Tom Boddingham ordered a special slipper to fit his oversized foot but was sent a size 1,450 – after manufacturers failed to spot a decimal point in his order. The 27-year-old takes a size 13 right shoe size while his left is slightly bigger and measures 14-and-a-half. But when he ordered his custom-fit slipper, manufacturers in China misread size 14.5 and accidently made one that's a whopping 7ft long – size 1,450, or XXXXXXXXXXXXXXXXL. It is almost as big as a Smart car and is more than large enough to act as a sleeping bag for two.
Gigantic XXXXXXXXXXXXXXXXL slipper delivered to man who ordered a size 14.5 but got a size 1,450
15 Amazon Products With Amazing User Reviews
American caught having sex with picnic table
The most pointless clip of 2011 is…
The Most WTF Newspaper Article You'll Read This Year
4 NERDS ONLY: My tweets ABOUT Twitter...
A MAN who defecated on a dead hedgehog in the street in the middle of the day coolly gave the arresting officer his reason. "When you've got to go, you've got to go," said Victor Ford. The 34-year-old was squatting over the grass verge with his jeans around his knees when a police officer drove along Balmoral Avenue, Spalding, at 1.20pm on July 3.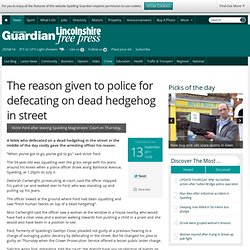 The reason given to police for defecating on dead hedgehog in street - News - Spalding Guardian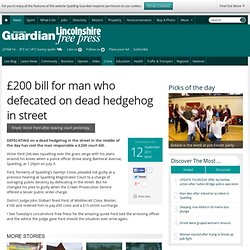 £200 bill for man who defecated on dead hedgehog in street - Crime - Spalding Guardian
DEFECATING on a dead hedgehog in the street in the middle of the day has cost the man responsible a £200 court bill.
Handmade Plush Squid Hats Photography & by ObeyMyBrain on Etsy
Rock-Paper-Scissors: You vs. the Computer
Vote For Me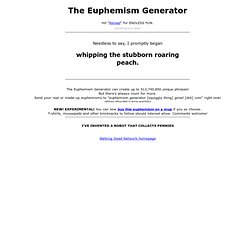 The Always Amusing Euphemism Generator
The Euphemism Generator can create up to 513,740,850 unique phrases! But there's always room for more. Send your real or made-up euphemisms to "euphemism.generator [squiggly thing] gmail [dot] com" right now!(address obfuscated to annoy spambots) NEW! EXPERIMENTAL!
selfcontrolfreak
A new video series created by Playbill answers the question, "What if the characters of Broadway's The Importance of Being Earnest traveled through a time warp and woke up on the beach with Snooki, The Situation and the rest of the gang of MTV's Jersey Shore?" Brilliance, that's what! These mustachioed actors managed to give the gang's moronic quips such gravitas that we're almost convinced Oscar Wilde really did say, "If you leave, I'm going to stuff your nose with tampons!"
The Victorian Jersey Shore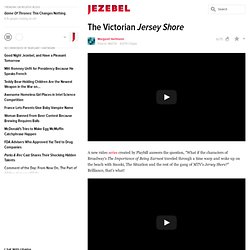 15 Most Popular Autocorrects From April 2011