Secondary Sports Uniform Sites
UniformViolation.com - The Sports Fashion Police. ColorWerx. The Football Uniform Site. Elcome to the new and vastly improved football uniform site.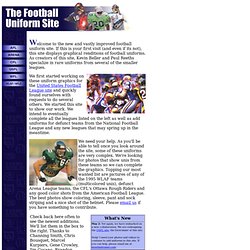 If this is your first visit (and even if its not), this site displays graphical renditions of football uniforms. As creators of this site, Kevin Beller and Paul Reeths specialize in rare uniforms from several of the smaller leagues. We first started working on these uniform graphics for the United States Football League site and quickly found ourselves with requests to do several others. The Hockey Uniform Database. Ultimate Mets Database - Mets Uniform History. 1962Original uniform design Team Colors: Royal Blue and Orange HOME UNIFORMJersey: Design Description: Original design combines aspects of the uniforms of the New York Yankees, Brooklyn Dodgers and New York Giants.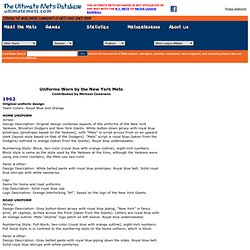 White button-down jersey with royal blue pinstripes (pinstripes based on the Yankees), with "Mets" in script across front on an upward slant (layout style based on that of the Dodgers). "Mets" script is royal blue (taken from the Dodgers) outlined in orange (taken from the Giants). Royal blue undersweater. Numbering Style: Block, two-color (royal blue with orange outline), eight-inch numbers. Helmetpix. Mets by the Numbers. LogoServer: Preserving Logos. Preserving History. Infinite Helmets- abode. 2012 - A new year, a new version of IH.
FOR RESEARCH! FOR REFERENCE! FOR FUN! Illustrated NFL- Chuck Ren & Other Notable Artists. Helmet Hut. Greenxoblue: NFL Seahawks Game Used Equipment & Vintage Memorabilia Portal. Football Uniforms Past and Present. 2000's Though we are in the infint stages of the 2000's it is apparent that this is the golden age of uniforms in the NFL.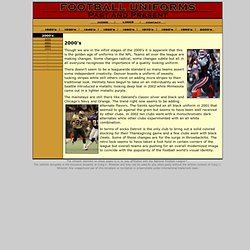 Teams all over the league are making changes. Some changes radical, some changes subtle but all in all everyone recognizes the importance of a quality looking uniform. There doesn't seem to be a leaguewide standard so many teams assert some independent creativity. NFL PROTOTYPES. Here are three radically different proposed Falcons helmets.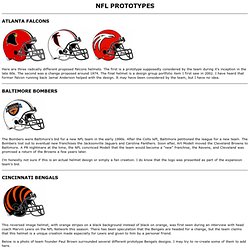 The first is a prototype supposedly considered by the team during it's inception in the late 60s. The second was a change proposed around 1974. The final helmet is a design group portfolio item I first saw in 2002. Throwbacks, Throwback Jerseys, Vintage Flannels, Vintage Jerseys, Baseball Caps | Ebbets Field. WSI's FlyingSock.com News System. By George Bova In 1900, Charles Comiskey moved his St.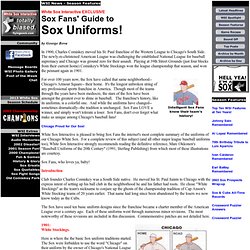 Paul franchise of the Western League to Chicago's South Side. The newly-re-christened American League was challenging the established National League for baseball supremacy and Chicago was ground zero for their assault. Playing at 39th Street Grounds (just four blocks from their current home) Comiskey's White Stockings won the league championship that season, and won the pennant again in 1901. For over 100 years now, the Sox have called that same neighborhood--Chicago's Armour Square-- their home.
History of the Chicago Bears Uniform - Chicago Bears. Uniform History The Chicago Bears, originally called the Decatur Staleys when founded in 1920, wore blue jerseys with tan colored vertical striping in their inaugural season.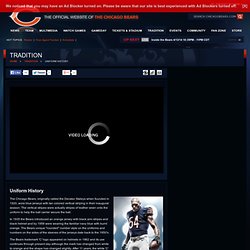 The vertical stripes were actually stripes of leather sewn onto the uniform to help the ball carrier secure the ball. BucTracker. Super Bowl Cartoon Art and Sports History. Every year since the inception of the Super Bowl, editorial cartoonists from newspapers and magazines throughout the nation have hyped that year's Super Bowl.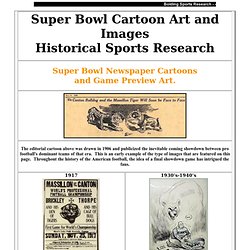 Since my childhood, I have collected these and assembled them below. Each year I find my favorites. Remember the ABA: Uniform and Warmup Galleries. Uniform and Warmup Gallery I (Kentucky Colonels, Washington Caps, Virginia Squires) Uniform and Warmup Gallery II (Denver Rockets, Denver Nuggets, Minnesota Muskies, Miami Floridians,The Floridians) Uniform and Warmup Gallery III (Dallas Chaparrals, Texas Chaparrals, San Antonio Spurs)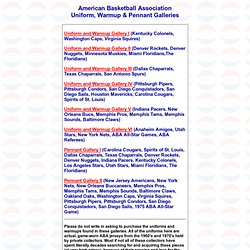 ---