Amazonaws
AWS OpsWorks - Flexible Application Management in the Cloud Using Chef
It's been over six years since we launched Amazon EC2.
At 3scale we find Amazon to be a fantastic platform for running APIs due to the complete control you have on the application stack.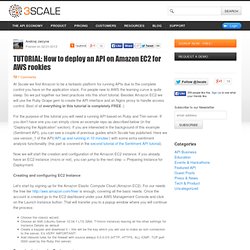 Quickstart tutorial on how to deploy an API on Amazon EC2 for Amazon Web Services (AWS) rookies - 3scale API Management Platform & Infrastructure
Broken PMTUD on Amazon EC2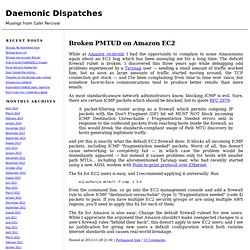 While at Amazon re:invent I had the opportunity to complain to some Amazonians again about an EC2 bug which has been annoying me for a long time: The default firewall rulset is broken. I discovered this three years ago while debugging odd problems experienced by a Tarsnap user — sending a small amount of traffic worked fine, but as soon as large amounts of traffic started moving around, the TCP connection got stuck — and I've been complaining from time to time ever since; but somehow face-to-face communications tend to produce better results than mere emails. As most standards-aware network administrators know, blocking ICMP is evil.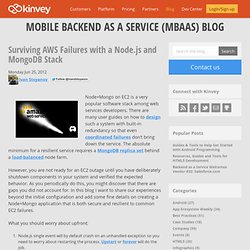 Surviving AWS Failures with a Node.js and MongoDB Stack | Kinvey Backend as a Service Blog
Node+Mongo on EC2 is a very popular software stack among web services developers. There are many user guides on how to design such a system with built-in redundancy so that even coordinated failures don't bring down the service.
Amazon Elastic Compute Cloud
Connecting to Instances - Amazon Elastic Compute Cloud