NewhousePRSM
Curb these top five annoying Twitter habits. Your followers will thank you. Flickr/liewcf
Twitter Tips: 5 Reasons People Un-Follow You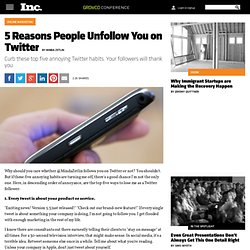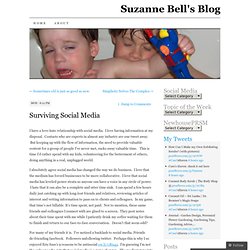 I have a love-hate relationship with social media. I love having information at my disposal. Contacts who are experts in almost any industry are one tweet away. But keeping up with the flow of information, the need to provide valuable content for a group of people I've never met, sucks away valuable time. This is time I'd rather spend with my kids, volunteering for the betterment of others, doing anything in a real, unplugged world. I absolutely agree social media has changed the way we do business.
Surviving Social Media | Suzanne Bell's Blog
Thoughts on the Referee for the US v Canada Women's Olympic Soccer Game (with images, tweets) · wilkinsoncharlo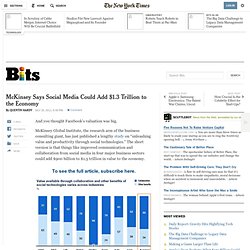 Facebook Twitter Google+ Save E-mail Share Print And you thought Facebook's valuation was big. McKinsey Global Institute, the research arm of the business consulting giant, has just published a lengthy study on "unleashing value and productivity through social technologies." The short version is that things like improved communication and collaboration from social media in four major business sectors could add $900 billion to $1.3 trillion in value to the economy. The value is mostly through added productivity.
McKinsey Says Social Media Could Add $1.3 Trillion to the Economy
Will Cheating at a Young Age Lead To Cheating as an Adult? #highered #infographic By OnlineColleges.net I look 4Ward to your feedback. Keep Digging for Worms! Guest post by Brianne Boysen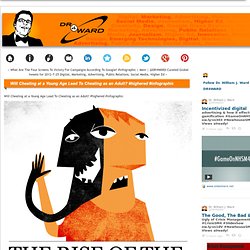 Will Cheating at a Young Age Lead To Cheating as an Adult? #highered #infographic
More than ever, people are using Twitter , Facebook and other social media sources to learn about what's happening in the world as traditional news outlets become increasingly less relevant to the digital generation. American forces' raid on Osama Bin Laden , Whitney Houston 's death, the Hudson River plane landing — these are just a few of many major news stories ordinary citizens broke on Twitter first. Professional journalists, meanwhile, use Twitter all the time to break news quickly before writing up full articles. And the business side is going digital too. Online news now generates more revenue than print newspapers. But the trend toward Internet and social media-based news — and the accompanying rush to be first to report a story — also comes with pitfalls.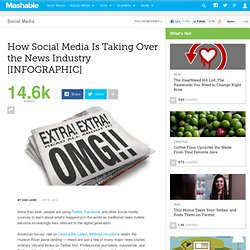 Tumblr Devoted to Advertising Erotica Takes All Comers
Before today, when you typed an equation into Google — say, "15 x 7" — the answer (105, if you must know) would appear in bold above you actual search results. Now Google has gone one step further, giving you your answer on a virtual calculator. The blue-hued calculator appears above your results, as before, and has 34 buttons, including standard trigonometric functions, exponents and buttons for the transcendental numbers, pi and e. Bonus: It also works on mobile. In our quick test, it appeared in both Safari and Chrome on iOS and of course on Android as well.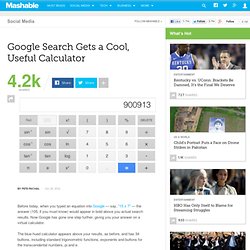 Google Search Gets a Cool and Useful Calculator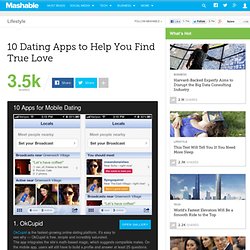 Right now, more than 40 million singles use top online personals platforms such as Match.com and eHarmony as well as niche dating websites to find love. Online dating, however, is evolving. More and more, connected singles are using dating apps to improve their chances of meeting that special someone. Singles can connect online and test their web-based love connections in person. In some cases, it's only a few minutes after virtually chatting, thanks to location-based features.
10 Dating Apps to Help You Find True Love
Social Learning & Education
Sustainability & Cause Marketing
Sustainability & Cause Marketing / How Green Is The iPad? #infographic