Web
Sobre Super Banda Ancha de Entel y ampliacion de velocidades a 4 Mb maximo | NOTICIAS DE TECNOLOGIA Y TELECOMUNICACIONES DE BOLIVIA. Promocion: Super Banda Ancha Empresa: Entel Servicio.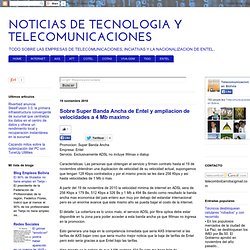 Exclusivamente ADSL no incluye Wimax o dialup Caracteristicas: Las personas que obtengan el servicio y firmen contrato hasta el 19 de noviembre obtendran una duplicacion de velocidad de su velocidad actual, supongamos que tengan 128 Kbps contratados y por el mismo precio se les dara 256 Kbps y asi hasta velocidades de 1 Mb o mas. A partir del 19 de noviembre de 2010 la velocidad minima de internet en ADSL sera de 256 Kbps a 179 Bs, 512 Kbps a 326 Bs y 1 Mb a 494 Bs dando como resultado la banda ancha mas economica del pais entero aun muy por debajo del estandar internacional pero es un enorme avance que este mismo año se pueda bajar el costo de la internet.
El detalle: La cobertura es lo unico malo, el servicio ADSL por fibra optica debe estar disponible en tu zona para poder acceder a esta banda ancha ya que Wimax no ingresa en la promocion. Discurso de la secretaria Clinton sobre la libertad en Internet. Cartilla de compuración e internet, coordinadora de la muejr. The World Wide Web project.
The WorldWideWeb (W3) is a wide-area hypermedia information retrieval initiative aiming to give universal access to a large universe of documents.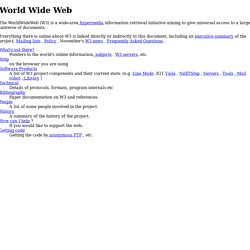 Everything there is online about W3 is linked directly or indirectly to this document, including an executive summary of the project, Mailing lists , Policy , November's W3 news , Frequently Asked Questions . What's out there? Pointers to the world's online information, subjects , W3 servers, etc.
---