UAlbany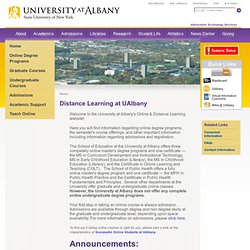 Welcome to the University at Albany's Online & Distance Learning website! Here you will find information regarding online degree programs, the semester's course offerings, and other important information including information regarding admissions and registration. The School of Education at the University at Albany offers three completely online master's degree programs and one certificate — the MS in Curriculum Development and Instructional Technology, MS in Early Childhood Education (Literacy), the MS in Childhood Education (Literacy), and the Certificate in Online Learning and Teaching (COLT). Several other departments at the University offer graduate and undergraduate online classes.
Online & Distance Learning - University at Albany-SUNY
Course Modules Menu - askIT - University at Albany
TCCL | Just another WordPress site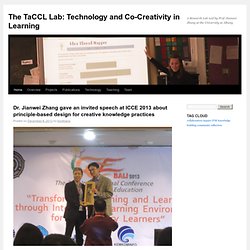 The rise of a knowledge-based economy and society calls upon schools to produce a citizenry with collaborative and creative capabilities and other "21st century skills." The Technology and Co-Creativity in Learning (TaCCL) Reseaerch Lab, directed by Dr. Jianwei Zhang at the University at Albany-SUNY, is dedicated to exploring new possibilities of engaging students in collaborative and creative knowledge work within and across disciplinary areas with the support of new technologies. Our current work focuses on: Pedagogical innovation to foster knowledge-building processes that are essential to real-world knowledge communities; Technological design and application to support sustained creative work and collaboration; Learning analytics and assessment tools to trace learning interactions and progress; Teacher learning and collaboration to sustain classroom innovation.
Dept. of Educational Theory & Practice at UAlbany
University at Albany Libraries | Home
AERA Annual Meeting 2012
MyUAlbany Sign-In - University at Albany - SUNY -
<div class="noscript">You need JavaScript enabled to correct display page</div> {*style:<b> </b>*}
Welcome to Knowledge Forum
Welcome to the University at Albany's Institute for Teaching, Learning & Academic Leadership. We exist to serve the faculty and teaching staff through programs of instructional, curriculum and faculty development. Our focus is support for advanced learning at both the undergraduate and graduate levels. Students come to the university to develop perspectives, attitudes, skills, knowledge and habits of thought that contribute to their success in a complex world. They need to be increasingly adept in the analysis, evaluation, and management of expanding information. They also need to commit to professional practices guided by ethics and high standards.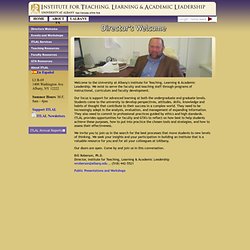 ITLAL - Director's Welcome
Blackboard Learn