REVIEW! Good reminders
I have no doubt that Twitter offers a new world of possibilities for business use. At the core, it's potentially a leveler, offering a trade-off between buying attention through more traditional marketing methods and earning attention instead, by generating credible interesting content. Search Google for " Twitter for business " and you'll get more than a million hits. And with Twitter, unlike some related methods like blogging or Facebook, you can generate content by uncovering good content and linking to it, which can be a lot easier than generating your own with your blog.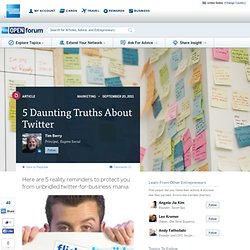 5 Daunting Truths About Twitter
A Template for Killer Website Content
In This Article Exhibit: Five dimensions of centered leadership Audio is available for this article. For the past six years, we have been on a journey to learn from leaders who are able to find the best in themselves and in turn inspire, engage, and mobilize others, even in the most demanding circumstances. And the business environment has become more demanding: the global financial crisis and subsequent economic downturn have ratcheted up the pressure on leaders already grappling with a world in transformation.
How centered leaders achieve extraordinary results - McKinsey Quarterly - Organization - Talent
Changing companies' minds about women - McKinsey Quarterly - Organization - Talent
Despite significant corporate commitment to the advancement of women's careers, progress appears to have stalled. The percentage of women on boards and senior-executive teams remains stuck at around 15 percent in many countries, and just 3 percent of Fortune 500 CEOs are women. The last generation of workplace innovations—policies to support women with young children, networks to help women navigate their careers, formal sponsorship programs to ensure professional development—broke down structural barriers holding women back. The next frontier is toppling invisible barriers: mind-sets widely held by managers, men and women alike, that are rarely acknowledged but block the way.