Geographic
UK Pillbox, Pillboxes, Bunkers, Anti-tank traps and other Anti-Invasion Defences built in World War 2.
Bruges. The Hive Group | World Population Application. AA Route Planner: Routes, maps and directions. This recommended route is designed as a guide to help you get to your destination safely and easily.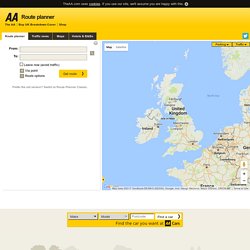 If you find an error or omission, please let us know (routeplannerfeedback@theaa.com) so we can correct it for future users. Always use your mobile phone safely – park legally before dialling or checking text messages. You must not use this route in a way that interferes with your control of your vehicle, or otherwise endangers your safety or the safety of others. No representation is made or guarantee given as to the content or usability of these directions. HSL - Ajoneuvojen sijainnit. Geocaching Resources for the UK and Ireland - Welcome. Welcome to my Follow the Arrow resource site.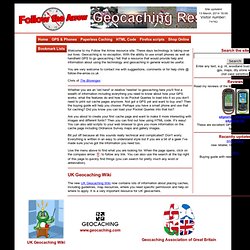 These days technology is taking over our lives. Geocaching is no exception. With the ability to use smart phones as well as handheld GPS to go geocaching I felt that a resource that would provide help and information about using the technology and geocaching in general would be useful. You are very welcome to contact me with suggestions, comments or for help chris @ follow-the-arrow.co.uk. McMackers » Blog Archive » Dartmaps to Appear in MOMA Exhibition. Posted: February 22nd, 2008 | Tags: Dartmaps, Hacking, Highlights | 13 Comments » Dartmaps is a Google Maps real-time DART mashup and has appeared in print in The National Geographic, on the radio on NPR and even on television.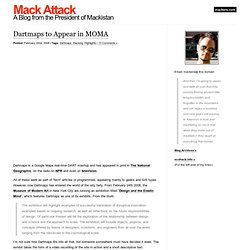 All of these were as part of "tech" articles or programmes, appealing mainly to geeks and GIS types. However, now Dartmaps has entered the world of the arty farty. From February 24th 2008, the Museum of Modern Art in New York City are running an exhibition titled "Design and the Elastic Mind", which features Dartmaps as one of its exhibits. UK Attraction Search. Pier Webcams | the-pier.co.uk. Webcams provide a fantastic window for people around the world to see what is happening at the camera location at a given point.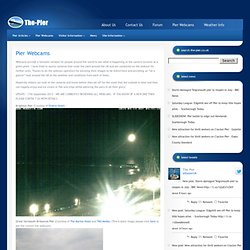 I have tried to source cameras that cover the piers around the UK and am constantly on the lookout for further ones. Thanks to all the webcam operators for allowing their images to be linked here and providing an "at a glance" look around the UK at the weather and conditions from each of them. Hopefully visitors can look at the cameras and know before they set off for the coast that the outlook is clear and they can happily enjoy and ice cream or fish and chips whilst admiring the piers in all their glory! UPDATE : 17th September 2013 – WE ARE CURRENTLY REVIEWING ALL WEBCAMS.
Islands in new zealand. Google Maps Mania. My favorite map of this week wasn't even a map.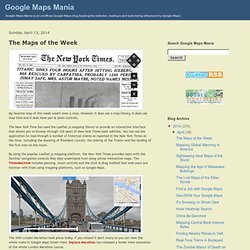 However it does use a map library, it does use map tiles and it does have pan & zoom controls. The New York Time has used the Leaflet.js mapping library to provide an interactive interface that allows you to browse through 129 years of New York Times back editions. You can use the application to read through a number of historical events as reported in the New York Times at the time, including the shooting of President Lincoln, the sinking of the Titanic and the landing of the first men on the moon.
England Travel Guide - Interesting facts about England. Land & People England is 74 times smaller than the USA, 59 times smaller than Australia and 3 times smaller than Japan.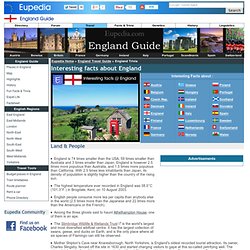 England is however 2.5 times more populous than Australia, and 1.5 times more populous than California. With 2.5 times less inhabitants than Japan, its density of population is slightly higher than the country of the rising sun.The highest temperature ever recorded in England was 38.5°C (101.3°F ) in Brogdale, Kent, on 10 August 2003.English people consume more tea per capita than anybody else in the world (2.5 times more than the Japanese and 22 times more than the Americans or the French).Among the three ghosts said to haunt Athelhampton House, one of them is an ape. The Slimbridge Wildlife & Wetlands Trust is the world's largest and most diversified wildfowl centre.
---