Wiens.jacob
jacob wiens
im a very hard baller.
Tutorial: Rocket Science! (plus special announcement)
Revolutionary Girl Utena: Adolescence Apocalypse would be my movie of the decade This decade is a very meaningful one for my anime fandom. I started watching anime several years ago so naturally, vast majority of shows I have consumed were products of this decade.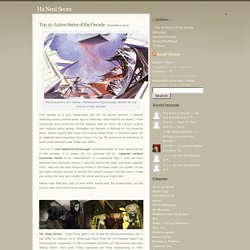 Top 50 Anime Series of the Decade « Ha Neul Seom
Millennium Web Catalog
Millennium Web Catalog
Millennium Web Catalog
Millennium Web Catalog
Home :: BrainSpan: Atlas of the Developing Human Brain
LUAKA BOP
auraria library
► Closer by Spiralmouth | Fuck Me, Please | vironsusi | 8tracks
Mermaid - short film by Aleksandr Petrov If you're looking for the best websites on the web, you've come to the right place. MakeUseOf has been reviewing the best websites and the coolest websites for years now, so we've decided to offer a comprehensive list of which websites we consider to be the best of the best. All of the websites on this page are organized into categories, and we've selected only those we believe to be the best ones - those which will most likely be useful to you.