Wiens.jacob
jacob wiens
im a very hard baller.
Tutorial: Rocket Science! (plus special announcement)
Revolutionary Girl Utena: Adolescence Apocalypse would be my movie of the decade This decade is a very meaningful one for my anime fandom. I started watching anime several years ago so naturally, vast majority of shows I have consumed were products of this decade.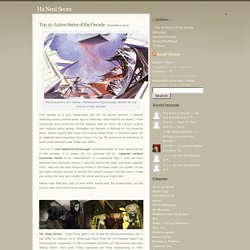 Top 50 Anime Series of the Decade « Ha Neul Seom
Millennium Web Catalog
Millennium Web Catalog
Millennium Web Catalog
Millennium Web Catalog
Home :: BrainSpan: Atlas of the Developing Human Brain
LUAKA BOP
auraria library
► Closer by Spiralmouth | Fuck Me, Please | vironsusi | 8tracks
Mermaid - short film by Aleksandr Petrov