Web 2.0 Stuff
Pinterest EdTech
Evernote tips, tricks and how to's
Wordle is a toy for generating "word clouds" from text that you provide. The clouds give greater prominence to words that appear more frequently in the source text. You can tweak your clouds with different fonts, layouts, and color schemes. The images you create with Wordle are yours to use however you like. You can print them out, or save them to the Wordle gallery to share with your friends. Create your own.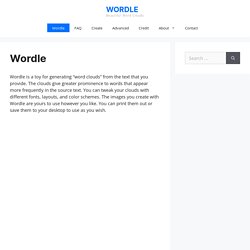 Social Media Workshop - Educational Technology Tools
CTL Workshop April 29, 2011 Are you thinking about using social media in your classes? Do you currently use social media in your teaching? Do you wonder how or why you would use social media for teaching? If you answered yes to any of the above, please join us for a workshop to learn how social media is being used to facilitate student engagement and enhance learning. You will also learn about how DU is using social media to communicate with and engage the DU community.
How-to Week, Using Wikispaces