Twitter in Education
Twitter may be a great way to keep up with what's happening, but it's not so good at keeping track of what's happened. That's because Twitter itself offers no way to keep an archive of your tweets. It's true that you can search your own postings (from your Twitter page). But those searches are limited to the last 3,200 tweets you have made.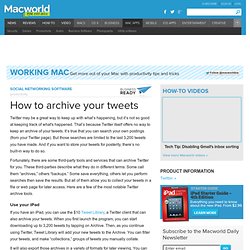 How to archive your tweets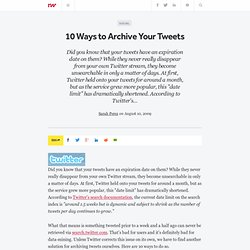 Did you know that your tweets have an expiration date on them? While they never really disappear from your own Twitter stream, they become unsearchable in only a matter of days. At first, Twitter held onto your tweets for around a month, but as the service grew more popular, this "date limit" has dramatically shortened. According to Twitter's search documentation, the current date limit on the search index is "around 1.5 weeks but is dynamic and subject to shrink as the number of tweets per day continues to grow."
Backchannel Tools
djainslietech - PLN Development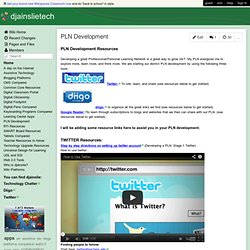 PLN Development Resources Developing a great Professional/Personal Learning Network is a great way to grow 24/7. My PLN energizes me to explore more, learn more, and think more. We are starting our district PLN development by using the following three tools: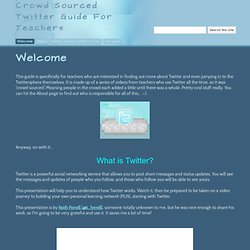 Crowd Sourced Twitter Guide For Teachers
This guide is specifically for teachers who are interested in finding out more about Twitter and even jumping in to the Twittersphere themselves. It is made up of a series of videos from teachers who use Twitter all the time, so it was 'crowd sourced.' Meaning people in the crowd each added a little until there was a whole. Pretty cool stuff really. You can hit the About page to find out who is responsible for all of this... :-) Anyway, on with it...
Educators on Twitter - Google Docs
Why Educators should be using Twitter - Justin Tarte
Massachusetts educators now have the ability to easily access a wealth of information on individual students that will assist with early interventions and supports so that students are able to meet academic goals. The Massachusetts Early Warning Indicator System (EWIS) is intended to be used as a "starting point" for identifying and supporting students who may be at-risk, or in need of additional support. The Massachusetts Department of Elementary and Secondary Education (DESE) worked closely with the national research organization American Institutes for Research (AIR) in developing risk models. The system identifies students as high, moderate, or low risk based on several contributing factors. These factors include attendance, income level, gender, special education status, age, residency category, Massachusetts Comprehensive Assessment System (MAS) status, core academic course status, and other indicators.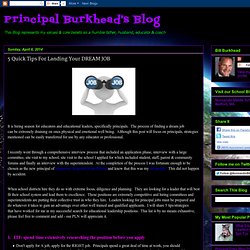 The Burkie Blog
cc flickr photo by eldh How can you squander even one more day not taking advantage of the greatest shifts of our generation? How dare you settle for less when the world has made it so easy for you to be remarkable? – Seth Godin Just for fun, I decided to create a blog post about the benefits of Twitter for educators using passages that do not exceed 140 characters.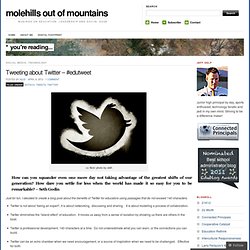 Tweeting about Twitter – #edutweet
ssajabiru
Hashtags on Twitter: How do you follow them?
HashTracking.com (Beta) | Twitter Hashtag Tracking and Analytics
One of the most complex features of Twitter for new users to understand is the hashtag, a topic with a hash symbol ("#") at the start to identify it. Twitter hashtags like #followfriday help spread information on Twitter while also helping to organize it. The hashtag is a favorite tool of conferences and event organizers, but it's also a way for Twitter users to organize themselves: if everyone agrees to append a certain hashtag to tweets about a topic, it becomes easier to find that topic in search, and more likely the topic will appear in Twitter's Trending Topics. So how do you disseminate and make sense of all this hashtag madness? By going through the art of the hashtag step-by-step, of course.