Scoopit Pages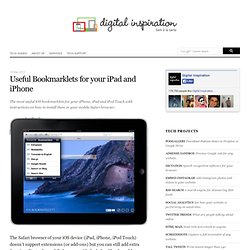 The most useful iOS bookmarklets for your iPhone, iPad and iPod Touch with instructions on how to install them in your mobile Safari browser. The Safari browser of your iOS device (iPad, iPhone, iPod Touch) doesn't support extensions (or add-ons) but you can still add extra functionality to the mobile browser with the help of bookmarklets .
untitled
Pearltrees in Education
Blended Learning - Flip The Classroom?
Edmodo Classroom Practice
GoogleInEducation
Tweet Education
GBL - Games Based Learning
Digital Pedagogy
Web 2.0 In EdNT
EdTechNT
Blogging For Teachers