Scoopit Pages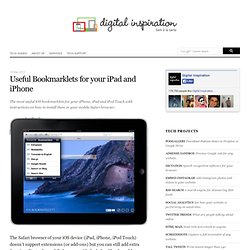 18 Mar 2013 The most useful iOS bookmarklets for your iPhone, iPad and iPod Touch with instructions on how to install them in your mobile Safari browser. couch mode print story The Safari browser of your iOS device (iPad, iPhone, iPod Touch) doesn't support extensions (or add-ons) but you can still add extra functionality to the mobile browser with the help of bookmarklets. Bookmarklets, if you are new, are like regular bookmarks but instead of opening new websites, bookmarklets are often used to perform actions. For instance, you can shorten long URLs, translate web pages, find word meanings, save pages and more with a single click.
untitled
Blended Learning - Flip The Classroom?
Edmodo Classroom Practice
GoogleInEducation
Tweet Education
GBL - Games Based Learning
Digital Pedagogy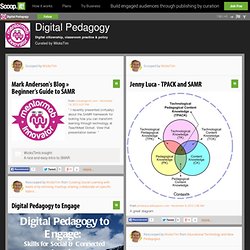 Even if you have a 21st Century classroom(flexible and adaptable); even if you are a 21st Century teacher ; (an adaptor, a communicator, a leader and a learner, a visionary and a model, a collaborator and risk taker) even if your curriculum reflects the new paradigm and you have the facilities and resources that could enable 21st century learning – you will only be a 21st century teacher if how you teach changes as well.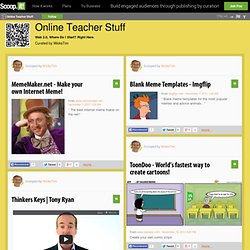 Web 2.0 In EdNT
"There is also a lot to like about iOS. It's a lean, mean operating system. It's use of sandboxing keeps it relatively clutter free. iOS doesn't do a lot, but it's pretty good at what it does do. That said, deploying iPads at any kind of scale is just short of maddening. While the process of tapping around to install one app on one iPad isn't too bad, installing a dozen apps on hundreds iPads isn't a particularly appealing way to spend a month. If you are going to deploy iPads at scale, you need a strategy.
Blogging For Teachers