Hangouts in Education
How are Educators Using Google Plus Hangouts? Digital Tools Phillip Torrone As more people join Google's new social network, Google+, they're figuring out how to take advantage of some of the innovative uses for the site.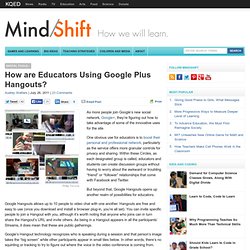 One obvious use for educators is to boost their personal and professional network, particularly as the service offers more granular controls for privacy and sharing. Within these Circles, as each designated group is called, educators and students can create discussion groups without having to worry about the awkward or troubling "friend" or "follower" relationships that come with Facebook and Twitter. But beyond that, Google Hangouts opens up another realm of possibilities for educators. How to Use Google+ Hangouts for Teaching: 9 steps. Edit Article Edited by Shyamsunder Panchavati, Flickety, Teresa, Zareen and 11 others Google+ is the latest social media platform which has caught the imagination of professionals in all walks of life.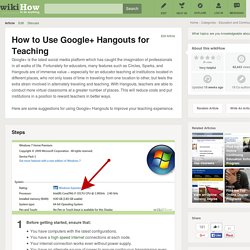 Fortunately for educators, many features such as Circles, Sparks, and Hangouts are of immense value – especially for an educator teaching at institutions located in different places, who not only loses of time in travelling from one location to other, but feels the extra strain involved in alternately travelling and teaching. Google Hangouts: Now with Google Docs Integration, Now Even Better for Edu. When Google launched its new social network, Google Plus earlier this summer, there was a flurry of stories about the site's potential for education.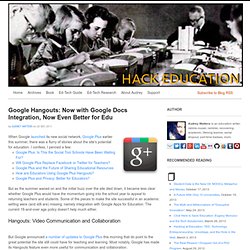 I confess, I penned a few: But as the summer waned on and the initial buzz over the site died down, it became less clear whether Google Plus would have the momentum going into the school year to appeal to returning teachers and students. Some of the pieces to make the site successful in an academic setting were (and still are) missing: namely integration with Google Apps for Education. The current 18-and-over age policy doesn't help much either. Use Google+ Hangouts for Teaching. Use Google+ Hangouts for Teaching Google+ Hangouts are proving to be a proficient platform for teaching and communicating in real time with others.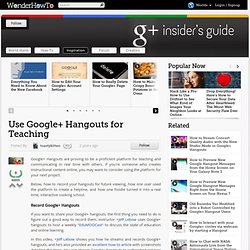 If you're someone who creates instructional content online, you may want to consider using the platform for your next project. Below, how to record your hangouts for future viewing, how one user used the platform to create a helpline, and how one foodie turned it into a real time, interactive cooking school. Learning with Google+ Hangouts OnAir. Yesterday we hosted a Google+ Hangout OnAir to promote the Google Apps for Education California Summit in Santa Clara, July 12 & 13.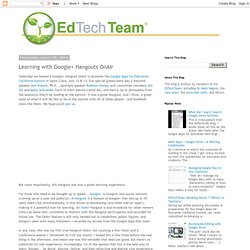 Our special guests were Day 2 Keynote Speaker Dan Russell, Ph.D. , spotlight speaker Rushton Hurley, and committee members Jim Sill and Molly Schroeder. Each of them shared a brief bio, and then a tip or philosophy from the session(s) they'll be leading at the summit. It was a great Hangout, and I think, a great taste of what it will be like to be at the summit with all of these people - and hundreds more like them. We hope you'll join us. But more importantly, this Hangout was also a great learning experience. 3 Great Ways to Use Google+ Hangouts to Learn & Connect. Google+ Hangouts: Six Practical Uses for Online Education by Jeremy Vest. "If seeing, hearing, or sharing with your online students could help the learning process, then Google+ Hangouts could be a great, engaging venue for your students.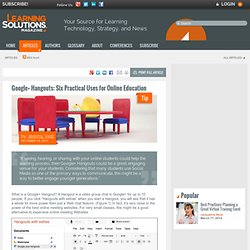 Considering that many students use Social Media as one of the primary ways to communicate, this might be a way to better engage younger generations." What is a Google+ Hangout? A Hangout is a video group chat in Google+ for up to 10 people.
---