Google Sites in Ed
Get flash to fully experience Pearltrees
Tue, 7 Jul 2009 • 1 comments This one was way harder than it should have been to figure out - if you want to publish a Google Spreadsheets Form and you use Google Apps For Your Domain, make sure these radio buttons in your Docs service management settings are like this -
I am posting here for your enlightenment a walkthrough tutorial for creating pages and setting up a navigation bar.
Screen Shots ( click for larger images ) Multiple File Uploads - Progress Bars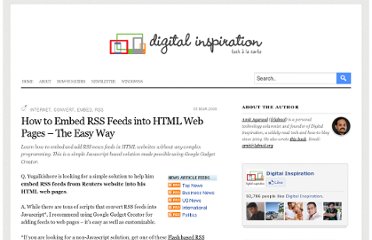 Learn how to embed and add RSS news feeds in HTML websites without any complex programming. This is a simple Javascript based solution made possible using Google Gadget Creator. Q. Yugalkishore is looking for a simple solution to help him embed RSS feeds from Reuters website into his HTML web pages . A.
About Gadgets What is a Custom Gadget? Google offers a programming interface for building custom gadgets that can be embedded and used in your website.
This web page provides information on common software tools available on personal computers and/or the Internet to facilitate assessment FOR learning (classroom-based assessment) in electronic portfolios.
Why should I create an electronic portfolio?
What's a digital or electronic portfolio? How can I develop a student or teacher portfolio? How can text, photos, diagrams, audio, video and other multimedia elements be integrated into a portfolio?
Levels of ePortfolio Development in K-12 Schools