Education
Tech Support
Special Needs. Education Devices. Make App Ideas Happen - Crowdfunding Platform for Mobile apps. Share your App Idea through to your friends and their friends and enthuse people to make your App Idea Happen.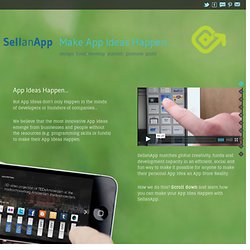 Organize offline and online gatherings and meetups to generate traction. If people like your App Idea, they can pledge money in return for rewards you offer. With SellanApp you can even reward a share of any revenue your App will make in the the App Store! People can also give feedback to improve and validate your Idea during the funding process. Selected & funded! iBuildApp :: Create Free iPhone App Using Online Interface Builder| Android, iPad.
NT DET
Online Learning Environments. Innovative Schools. Subject Areas. Blogging In Ed. Webconferencing. Digital Media.
Digital Equipment. Steiner Education. Digital Pedagogy.
---