Edmodo
edmodoteacherhub.wikispaces.com/file/view/Edmodo+Tips2.pdf
EduMooc 2011: Week#7 MOOCast - August 10, 2011
More Inspiration: 7 brand new ideas from teachers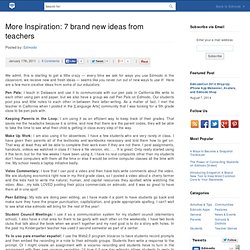 We admit, this is starting to get a little crazy — every time we ask for ways you use Edmodo in the classroom, we receive new and fresh ideas — seems like you never run out of new ways to use it! Here are a few more creative ideas from some of our educators: Pen Pals: I teach in Delaware and use it to communicate with our pen pals in California.We write to each other using pen and paper, but we also have a group we call Pen Pals on Edmodo.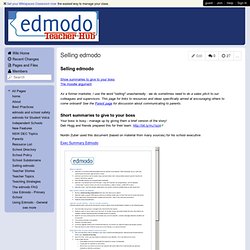 EdmodoTeacherHub - Selling edmodo
Show summaries to give to your bossThe moodle argumentAs a former marketer, I use the word "selling" unashamedly : we do sometimes need to do a sales pitch to our colleagues and supervisors. This page for links to resources and ideas specifically aimed at encouraging others to come onboard! See the Parent page for discussion about communicating to parents.
www.tcea2012.org/2012/Custom/Handout/Speaker6734_Session1219_1.pdf
Edmodo – A Social Network For Teachers & Students
Fortunately, the situation has slowly shifted for the better.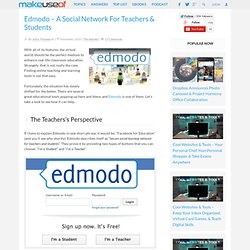 Goals of the class:
techtools4teaching.wikispaces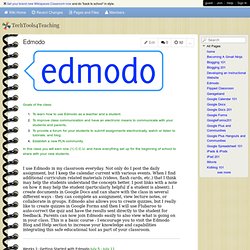 Edmodo describes itself as a "social learning network," enabling collaboration and information and file sharing among teachers, students, and school administrators.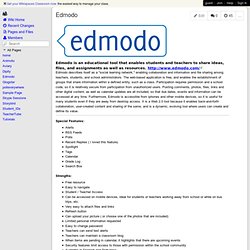 suweb20.wikispaces
We are pleased to announce the launch of the Help Center, powered by the Edmodo Community. Whether you are a classroom teacher looking for introductory videos to show your students how to get started, a tech director at a school district who wants to make the case for rolling out Edmodo to all of your schools, or a school media specialist looking for helpful hints on effective ways to ensure all of the teachers at your school are registered, this will serve as a resource center for all of the tools you need to introduce Edmodo to your community.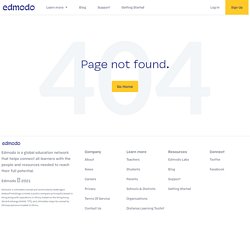 The Help Center, powered by the Edmodo Community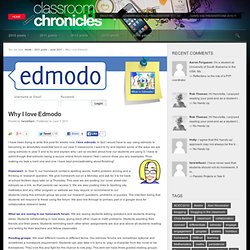 Why I love Edmodo
The nine phases of teaching → I read a post the other day that really resonated with me. Titled The pedagogy of merriment it was well written and interesting.
EdmodoTeacherHub - About
Simon Haughton's Blog: Edmodo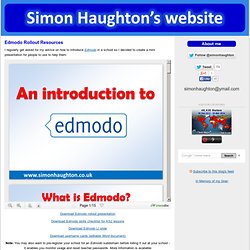 Last week my deputy head put a writing task on Edmodo for KS2 - within four days, 42 children had chosen, in their own free time at break or at home, to complete it!
Getting Started with Edmodo