Introductory modules
B Simplifying algebraic expressions - Maths for science and technology. How do you feel about the mathematics in your course materials?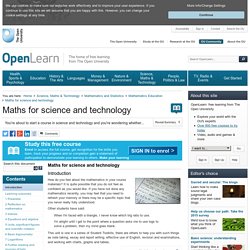 It is quite possible that you do not feel as confident as you would like. If you have not done any mathematics recently, you may feel that you need to refresh your memory or there may be a specific topic that you never really fully understood. Other students have said: When I'm faced with a triangle, I never know which trig ratio to use.I'm alright until I get to the point where a question asks me to use logs to solve a problem, then my mind goes blank. 1.1.3 Health issues of studying online - Living with the internet: Learning online. This unit provides an introduction to learning online.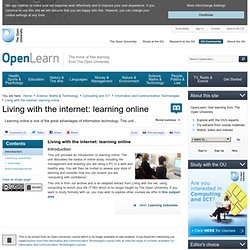 The unit discusses the basics of online study, including file management and ensuring you are using a PC in a safe and healthy way. You will then be invited to assess your style of learning and consider how you can ensure you are 'computing with confidence'. This unit is from our archive and is an adapted extract from Living with the net: using computing to enrich your life (T180) which is no longer taught by The Open University. 9.1 Reflection and the four main phases of learning how to learn - Learning how to learn.
6.3 Making a self-assessment - Learning how to learn. 6.2 Monitoring your performance - Learning how to learn. 5.3 Monitoring your progress - Learning how to learn. 3.2 A summary of the phases and activities of learning how to learn - Learning how to learn. Join in with Extending and developing your thinking skills.
---