Technology & Networks
For those who have about an hour to kill, the Dave Hickey lecture above is worth a gander both for his ideas on the development of art viewing, and his thoughts on the Internet. To begin, Hickey describes the American art discourse as informed by a conflict between ideas proffered by the 15th century church — that the existence of an image needed to be validated by god — and Paganism, which at its heart is about imbuing objects with power.
Failing By Faction: How Diverse Are Internet Communities?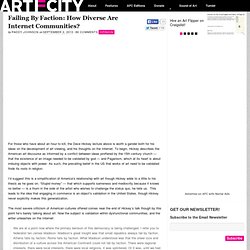 At four-thirty in the afternoon on Monday, February 1, 1960, four college students sat down at the lunch counter at the Woolworth's in downtown Greensboro, North Carolina. They were freshmen at North Carolina A. & T., a black college a mile or so away. "I'd like a cup of coffee, please," one of the four, Ezell Blair, said to the waitress.