Ed Tech Tools
Student Discovery Sets - For Teachers. The new Library of Congress Student Discovery Sets bring together historical artifacts and one-of-a-kind documents on a wide range of topics, from history to science to literature.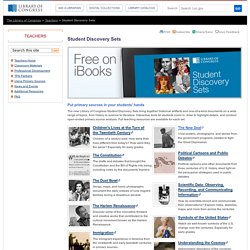 Interactive tools let students zoom in, draw to highlight details, and conduct open-ended primary source analysis. Full teaching resources are available for each set. The Constitution The drafts and debates that brought the Constitution and the Bill of Rights into being, including notes by the documents' framers. Twitter Exec Reports that Educators Dominate the Twitter sphere. 60 Inspiring Examples of Twitter in the Classroom. Social media offers some great opportunities for learning in the classroom, bringing together the ability to collaborate, access worldwide resources, and find new and interesting ways to communicate in one easily accessible place.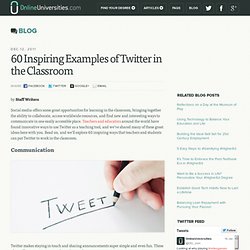 Teachers and educators around the world have found innovative ways to use Twitter as a teaching tool, and we've shared many of these great ideas here with you. Read on, and we'll explore 60 inspiring ways that teachers and students can put Twitter to work in the classroom. Communication Twitter makes staying in touch and sharing announcements super simple and even fun. How to Create Social Media Guidelines for Your School. What would happen if social media were seen as a powerful tool rather than a threat to student learning?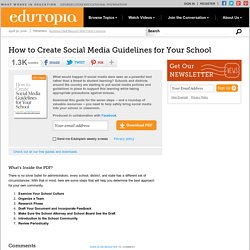 Schools and districts around the country are starting to put social media policies and guidelines in place to support this learning while taking appropriate precautions against misuse. Download this guide for the seven steps -- and a roundup of valuable resources -- you need to help safely bring social media into your school or classroom. Remind101 | Free and Safe Text Messaging for Teachers. How do we teach Digital Citizenship? Everyone- parents, teachers and students- can agree that being a "good citizen" is important.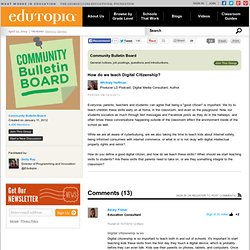 We try to teach children these skills early on at home, in the classroom, and even on the playground. Now, our students socialize as much through text messages and Facebook posts as they do in the hallways, and often times these conversations happening outside of the classroom effect the environment inside of the school as well. While we are all aware of cyberbullying, are we also taking the time to teach kids about internet safety, being informed consumers with internet commerce, or what is or is not okay with digital intellectual property rights and remix?
How do you define a good digital citizen, and how do we teach these skills? When should we start teaching skills to students? How Teachers Are Hacking Their Own Digital Textbooks. March's issue of Wired Magazine included a fascinating interview* with Clayton Christensen, Business professor at Harvard University and author of several books, including The Innovator's Dilemma and Disrupting Class: How Disruptive Innovations Will Change the Way the World Learns .
Since these books were published, the world of education has seen an influx of technology with tablets leading the way. While it's difficult to know exactly how many schools have deployed 1 to 1 initiatives, one thing remains certain: there were will be more schools with 1 to 1 technology disrupting the classroom tomorrow than there are today. The disruptive device of choice these days seems to be the iPad.
Perhaps you've seen one of the gazillion articles written about how iPads are disrupting the learning environment. The gist of the conversation usually highlights both positive and negative benefits to learning and inevitably reaches the question "when will iPads replace textbooks?" Piktochart | Infographic App & Presentation Tool. Nets Standards. NETS for Teachers. VoiceThread - Conversations in the cloud. 10,000s Cool FREE Seamless Patterns for Blogger and Twitter Backgrounds, Blog and Website Wallpapers.
Trend | Infographic: Social Media and College Admissions. Edtechdigest.com © 2010-2014 EdTech Digest.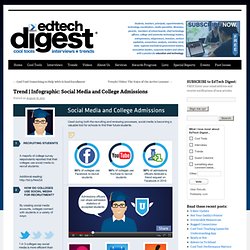 Skip to content ← Cool Tool | Something to Help With School Enrollment Trends | Video: The Voice of the Active Learner → Trend | Infographic: Social Media and College Admissions. The Top 10 Education APIs (And Why They're Important) First off, what is an API?
API stands for A pplication P rogram I nterface. It's a tool which allows web applications (websites and apps to the layman) to communicate with each other and share information stored in each other's databases. This information can then be incorporated into new and different projects. How APIs Work (Simple Version) We like to think about it in culinary terms. How to Teach Internet Safety to Younger Elementary Students. Back in October, I wrote a post about Teaching Digital Citizenship in the Elementary Classroom.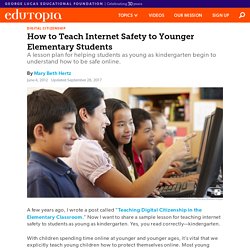 As it is Internet Safety Month, I want to share a sample lesson for teaching Internet Safety to students as young as kindergarten. Yes, you read correctly . . . kindergarten. With children spending time online at younger and younger ages, it is vital that we explicitly teach young children how to protect themselves online.
Pinterest for Educators? After hearing about all the hoopla surrounding Pinterest, I decided to check it out and see if it had any value to me as an educator.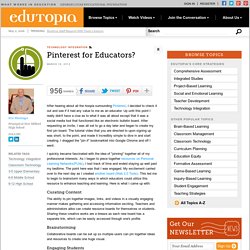 Up until this point I really didn't have a clue as to what it was all about except that it was a social media tool that functioned like an electronic bulletin board. After requesting an invite, I was all set to go a day later and began to create my first pin board. APPitic - 1,800+ EDUapps. MIT Now Granting Official Certificates For Their Free Online Courses. This is big.
M.I.T., the hub of education and technology where innovations seem to happen on an hourly basis… has just unveiled the future of online education. Basically, you can now earn official credits toward an M.I.T. certificate by taking their free and online courses. The school is calling the program "MITx" reminiscent of TEDx. 10 ways to change the minds of tech-reluctant staff. Start small, make training personally relevant, pair staff with knowledgeable co-workers—and keep it fun, readers recommend By Meris Stansbury, Online Editor Read more by Meris Stansbury November 18th, 2011 "Removing technology from its stature as something mystical and powerful is something I stress to whomever I'm working with," says one reader. We often hear about tech-savvy educators and administrators who have an array of best practices and whose love for technology is evident.
21 Things That Will Be Obsolete by 2020. Big Ideas Digital Tools Flickr: Corey Leopold Inspired by Sandy Speicher's vision of the designed school day of the future, reader Shelly Blake-Plock shared his own predictions of that ideal day. Education Restart. Get Your Webtools Resource Bundle – Vol. 1. 84% Discount Expiring In… 4 hours 22 minutes 7 seconds! " 10 Step-by-Step Webtool Videos That Make You Feel Like You Can Do It Too! " Watch these fun videos and YOU will learn 10 webtools that can improve your classroom Forever… and we have the Teacher Feedback to prove it! Why Educators Should Join Twitter. Plagiarism. You have something in common with the smartest people in the world.
You see, everyone has ideas. We use our minds to create something original, whether it's a poem, a drawing, a song, or a scientific paper. Unleashing the Potential of Technology in Education - Powered by Google Docs. K12_Teachers_open_Book_by_Dell. Forms. October 2011. The guys over at Filmmakeriq has put together an excellent list of 22 Apps for the really serious Filmmakers amongst us. These would be perfect for all those short film contests and competitions that students are eligible for. iMovie is the one App that we are all familiar with but that is really just the tip of the iceberg when it comes to Apps for making quality professional quality films on the iPad or iPhone.
Check out their article but make sure that you check out the rest of their Filmmakeriq site, it has some really interesting articles on pre and post production as well as the screenwriting process. Really Bad Powerpoint. 10 Ways to Use Google Plus in the Classroom.
Interactive Whiteboard resources and apps
Presentation tools. Video tools. Resource management.
---