Education
Scholarships
Why Stanfords Free Online Education Experiment Is Booming - News - GOOD. This fall, Stanford decided to experiment by offering its three most popular computer science classes to the public—for free.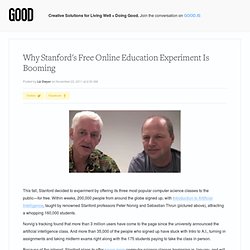 Within weeks, 200,000 people from around the globe signed up, with Introduction to Artificial Intelligence, taught by renowned Stanford professors Peter Norvig and Sebastian Thrun (pictured above), attracting a whopping 160,000 students. Norvig's tracking found that more than 3 million users have come to the page since the university announced the artificial intelligence class. And more than 35,000 of the people who signed up have stuck with Intro to A.I., turning in assignments and taking midterm exams right along with the 175 students paying to take the class in person. Because of the interest, Stanford plans to offer seven more computer science classes beginning in January, and will expand its offerings to two entrepreneurship courses.
10 Awesome Online Classes You Can Take For Free. 1. 7 of them are available via YouTube. 2. iTunes is free.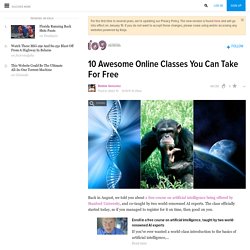 It's clunky, but who cares? Do you somehow lose geek-cred just by installing it specifically for this?
Writing
Websites for Educators - StumbleUpon. This collection of links, chosen and maintained by Gutman Library Research Services staff, provides links to freely available sites of interest to educators.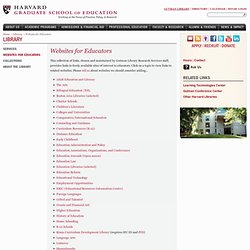 Click on a topic to view links to related websites. Please tell us about websites we should consider adding... Adult Education and Literacy. Flashcards: The worlds largest online library of printable flash cards - StumbleUpon.
---