Thesauri are go!
Schools Online Thesaurus
Rowing & Sculling Thesaurus :: Credits
Tim Craven - Freeware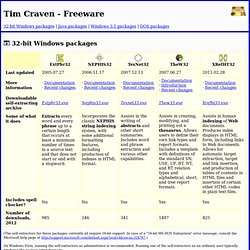 32-bit Windows packages (The self-extractors for these packages currently all require 16-bit support. In case of a "16-bit MS-DOS Subsystem" error message, consult the Microsoft help page at http://support.microsoft.com/default.aspx?scid=kb;en-us;324767 .) (In Windows Vista, running the self-extractors as administrator is recommended. Running one of the self-extractors as an ordinary user typically produces the useless error message
Thesauri & Controlled Vocabularies - The American Society For Indexing
For writers , it is a tool like Roget's — one with words grouped and classified to help select the right word to convey a specific nuance of meaning. For indexers and searchers , it is an information storage and retrieval tool: a listing of words and phrases authorized for use in an indexing system, together with relationships, variants and synonyms, and aids to navigation through the thesaurus. For more information on what a thesaurus is and what it contains, see: National Information Standards Institute. American National Standard Guidelines for the Construction, Format, and Management of Monolingual Thesauri . Bethesda, MD: NISO Press, 1994.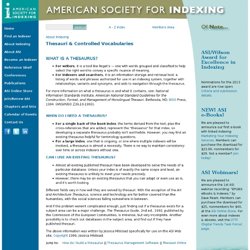 Thesaurus Management Software - The American Society For Indexing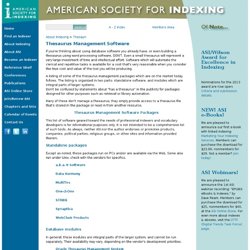 If you're thinking about using database software you already have, or even building a thesaurus using word processing software, DON'T. Even a small thesaurus will represent a very large investment of time and intellectual effort. Software which will automate the clerical and repetitive tasks is available for a cost that's very reasonable when you consider the true cost and value of the tool you will be producing.
Online Thesauri and Authority Files - The American Society For Indexing
There are many thesauri, authority files, and other controlled vocabularies available through the Internet. Below is a list of those that visitors to our site have found most useful. If you would like to suggest an addition to this page, please contact webmaster@asindexing.org . Astronomy Thesaurus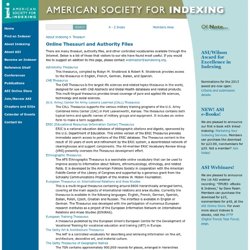 Software for building and editing thesauri
This page is rather out of date and is not being actively maintained. It is retained here because some of the information is still valid, but users should check with suppliers of software packages for current information. We are discussing the transfer of this page to someone else who will maintain it, and when that happens a link to the new site will be given here. - Leonard Will .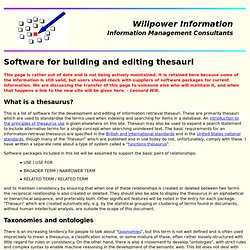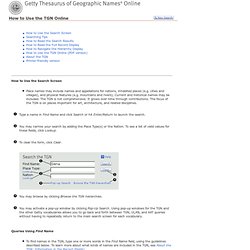 Each place is represented in the results list by its preferred name (in Vernacular or English, depending upon how the language is set; see #4 above) and place type . The preferred name is highlighted (in blue ). On the line below the name is the parent string for the place, listing broader contexts in descending order. The number in square brackets is the unique numeric identifier (Subject ID) for the place in the TGN database. All names that matched the query are in the results list. If a name that matched the query is not the preferred name, it will be listed under the parent string, in black letters.
How to Use the TGN Online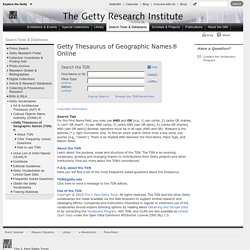 Thesaurus of Geographic Names
Search Tips For the Find Name field, you may use AND and OR [e.g., 1) san carlos, 2) carlos OR charles, 3) carl* OR charl*, 4) san AND carlos, 5) carlos AND (san OR saint), 6) (carlos OR charles) AND (san OR saint)] Boolean operators must be in all caps (AND and OR). Wildcard is the asterisk (*); right truncation only. To find an exact match rather than a key word, use quotes [e.g., "carlos"]. There is an implied AND between the Find Name, Place Type, and Nation fields. About the TGN Learn about the purpose, scope and structure of the TGN. The TGN is an evolving vocabulary, growing and changing thanks to contributions from Getty projects and other institutions.
Download The AIATSIS Thesauri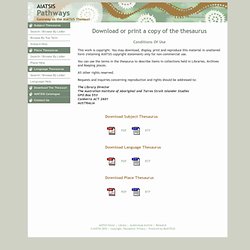 Conditions Of Use This work is copyright. You may download, display, print and reproduce this material in unaltered form (retaining AIATSIS copyright statement) only for non-commercial use.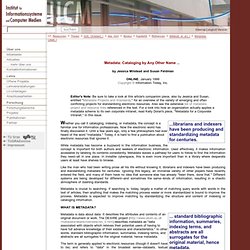 Metadata: Cataloging by Any Other Name ... by Jessica Milstead and Susan Feldman ONLINE , January 1999 Copyright © Information Today, Inc. Editor's Note : Be sure to take a look at this article's companion piece, also by Jessica and Susan, entitled " Metadata Projects and Standards ," for an overview of the variety of emerging and often conflicting projects for standardizing electronic resources. Also see the extensive list of metadata project and resource links referenced in the text. For a look into how an organization actually applies a metadata scheme to its own corporate intranet, read Kelly Doran's piece, "Metadata for a Corporate Intranet," in this issue.
Metadata: Cataloging by Any Other Name
Cathro
Australian Thesaurus of Education Descriptors
Thesaurus Construction - Glossary
Broader term The superordinate term in a hierarchical relation . A symbol used in a thesaurus to identify the following terms as broader terms to the heading term. Chain A sequence of terms in which the class represented by each term includes all the classes represented by the terms that follow that term. Controlled indexing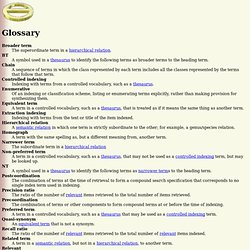 LC Thesaurus of Graphic Materials - About
No images are digitized | No jpegs/tiffs display outside Library of Congress | View All The Thesaurus for Graphic Materials is a tool for indexing visual materials by subject and by genre/format. The thesaurus includes more than 7,000 subject terms and 650 genre/format terms to index types of photographs, prints, design drawings, ephemera, and other pictures. In 2007, the subject and genre/format vocabularies, previously maintained separately, were merged into a single list and migrated to new software, MultiTes. Other minor changes are clarified in the links below. For questions about the thesaurus, contact TGM editors at: tgmed@loc.gov .
Course: Principles of Controlled Vocabulary and Thesaurus Design (The Digital Library Environment (Cat21)). Catalogers Learning Workshop, Program for Cooperative Cataloging, Library of Congress.
Back to Workshop Course Materials Download the Adobe Acrobat Reader to view PDF documents. Course Description
TGM I. Summary of Features: I.A. Scope and Purpose: LC Thesaurus for Graphic Materials
Thesaurus for Graphic Materials I: Subject Terms (TGM I) INTRODUCTION (1995 printed edition) I. TGM I: Summary of Features The Thesaurus for Graphic Materials I: Subject Terms ( TGM I ) provides a substantial body of terms for subject indexing of pictorial materials, particularly the large general collections of historical images which are found in many libraries, historical societies, archives, and museums.
Compiled by Prints and Photographs Division Library of Congress As of October 2007, the Thesaurus for Graphic Materials I: Subject Terms (TGM I) and the Thesaurus for Graphic Materials II: Genre and Physical Characteristic Terms (TGM II) were merged into a single vocabulary, the Thesaurus for Graphic Materials , and migrated to new software. The merged TGM is available for searching in the Prints & Photographs Online Catalog (PPOC). Application guidelines for subject indexing (TGM I) follow.
TGM I - LC Thesaurus for Graphic Materials I: Subject Terms (TGM I)
A thesaurus provides a standard language or set of terms with which to describe a subject area. Applied to indexing of a database, it indicates to a searcher which terms to use to retrieve the maximum number of relevant documents. The thesaurus terms are used by indexers to describe the contents of publications in a consistent, comprehensive and concise manner. These terms are listed in the Descriptors field (DE=) of each record added to the database. When logged into CSA Illumina, you may browse for terms via a hierarchical, alphabetical, or rotated index display using our interactive Thesaurus Search. These display formats allow you to navigate the thesaurus alphabetically or through the hierarchical relationships between terms.
ERIC Thesaurus
State Records of South Australia - Thesauri
Controlled Vocabulary: your site for information on Keyword, Hierarchical Classification, Thesauri, Taxonomy and Subject Heading systems used to describe images in databases (Thesaurus, facet classification, hierarchy)
UNESCO THESAURUS
British Museum Object Names Thesaurus
Welcome to APT - the Australian Pictorial Thesaurus
Thesaurus Design for Information Systems
Thesaurus construction tools & software
HILT Sources: Thesauri A-Z
about Thesauri
Publications on thesaurus construction and use