Interior design / elements
Accessoires – Design Katten(krab)bak (000421) Heb je een hippe kitten, kat, kater of poes dan hebben wij een bijzondere design kattenbak voor je gevonden.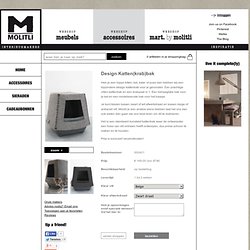 Een prachtige vilten kattenbak en een krabpaal in 1. Een behaaglijke bak voor je kat en een modebewuste bak voor het baasje. Je kunt kiezen tussen zwart of wit afwerkdraad en tussen beige of antraciet vilt. Italian Design Factory – Alessi products. Alessi - Gabriel Ross Canada. Furniture. Knoll. Furniture for the Home, Office, Home Office, and More at Pure Design Online!
BENSEN. Ligne Roset | North America | CANADA. Eva Zeisel Originals - Furniture and Collectibles. Philippe Starck - Official website. Stelton. Eames Foundation. Arne Jacobsen - Arne Jacobsen. Karim rashid.
---