Architecture
Special Collections. The Getty Research Institute's vaults hold rare and unique collections in selected areas of art history and visual culture.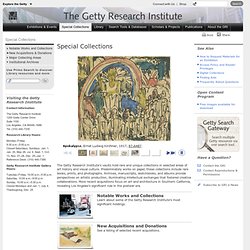 Predominately works on paper, these collections include rare books, prints, and photographs. Archives, manuscripts, sketchbooks, and albums provide perspectives on artistic production, illuminating intellectual exchanges that fostered creative collaborations. More recent acquisitions focus on art and architecture in Southern California, revealing Los Angeles's significant role in the postwar era. Living off the grid: simply prefab at TRENDWATCH DAILY. For you gentle people that read green blogs like Treehugger, magazines like Dwell, or liberal online newspapers such as the New York Times you've probably read an article or two about prefabricated homes.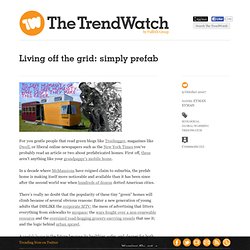 First off, these aren't anything like your grandpappy's mobile home. In a decade where McMansions have reigned claim to suburbia, the prefab home is making itself more noticeable and available than it has been since after the second world war when hundreds of dozens dotted American cities. There's really no doubt that the popularity of these tiny "green" homes will climb because of several obvious reasons: Enter a new generation of young adults that DISLIKE the corporate MTV; the mess of advertising that litters everything from sidewalks to myspace; the wars fought over a non-renewable resource and the oversized road-hogging grocery-carrying vessels that use it; and the logic behind urban sprawl.
CONTEMPORIST. Take a Seat with Sway.
Homes. Red dot online: home. Home. The Frank Lloyd Wright Foundation maintains its international headquarters at Taliesin West, in Scottsdale, Arizona.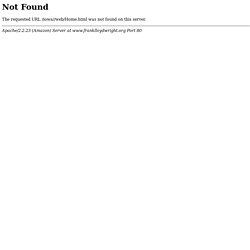 As the organization founded by Wright to be the repository of his life's work and ideas and the first to bear his name, the Foundation is engaged in a broad range of activities to preserve Wright's legacy; provide opportunities for the public to learn about the principle ideas embodied in his work; increase public awareness of the importance of architecture to society and the individual; and stimulate a demand for excellence in architecture and design.
---