Travel
Torres del Paine National Park. Torres del Paine National Park (Spanish: Parque Nacional Torres del Paine)[3] is a national park encompassing mountains, glaciers, lakes, and rivers in southern Chilean Patagonia.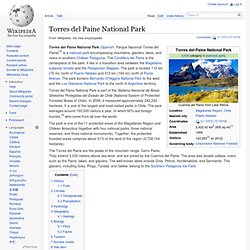 The Cordillera del Paine is the centerpiece of the park. It lies in a transition area between the Magellanic subpolar forests and the Patagonian Steppes. The park is located 112 km (70 mi) north of Puerto Natales and 312 km (194 mi) north of Punta Arenas. The park borders Bernardo O'Higgins National Park to the west and the Los Glaciares National Park to the north in Argentine territory. How to Make a Bug Out Bag. Editor's note: This is a guest post from Creek Stewart of Willow Haven Outdoor.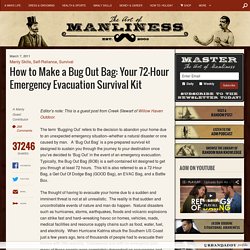 The term 'Bugging Out' refers to the decision to abandon your home due to an unexpected emergency situation–whether a natural disaster or one caused by man. A 'Bug Out Bag' is a pre-prepared survival kit designed to sustain you through the journey to your destination once you've decided to 'Bug Out' in the event of an emergency evacuation. Discount airlines in Europe. Boarding at Ryanair, no assigned seats This article is a travel topic This is one of several Wikitravel articles about Discount airlines.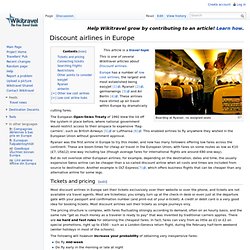 Europe has a number of low cost airlines, the largest and most established being easyJet [1], Ryanair [2], germanwings [3] and Air Berlin [4]. Rail travel in Europe travel guide. High speed railway lines in Europe A German ICE train This article is a travel topic Trains are a convenient mode of short, medium and long distance travel across Europe.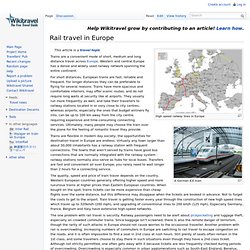 Western and central Europe has a dense and widely used railway network spanning the entire continent. For short distances, European trains are fast, reliable and frequent. Tips for hitchhiking. This article is a travel topic Hitchhiking is one of the cheapest ways of traveling.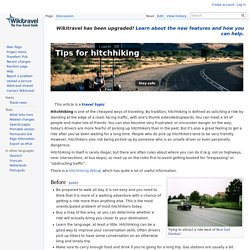 By tradition, hitchhiking is defined as soliciting a ride by standing at the edge of a road, facing traffic, with one's thumb extended/upwards. You can meet a lot of people and make lots of friends. You can also become very frustrated, or encounter danger on the way; today's drivers are more fearful of picking up hitchhikers than in the past. Europe travel guide. Europe encompasses an area of 10,180,000 km² (3,930,000 mi²), stretching from Asia to the Atlantic, and from Africa to the Arctic.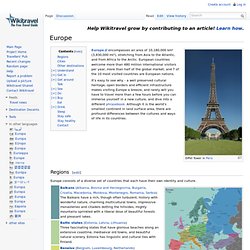 European countries welcome more than 480 million international visitors per year, more than half of the global market, and 7 of the 10 most visited countries are European nations. It's easy to see why - a well preserved cultural heritage, open borders and efficient infrastructure makes visiting Europe a breeze, and rarely will you have to travel more than a few hours before you can immerse yourself in a new culture, and dive into a different phrasebook. Although it is the world's smallest continent in land surface area, there are profound differences between the cultures and ways of life in its countries. Regions[edit] Europe consists of a diverse set of countries that each have their own identity and culture.
Free Worldwide Travel Guides. SERVAS - Home Page. America's 100 Best Adventures, State-by-State List. Wildernet - Hiking, Camping, Fishing and Many Other Activities Throughout America's Public Lands. GlobalFreeloaders.com / The Worldwide Free Accommodation Network. Free Accommodation world wide through Hospitality Exchange - Hospitality Club. Sorin Butnariu.
---