Art
Bespoke Letterpress Boutique. :::: The Inspired Bride™ :::: › Do It Yourself Project: Quilled Details by Ann Martin. Hello, everyone!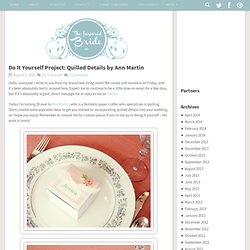 I write to you from my brand new living room! We closed and moved in on Friday, and it's been absolutely hectic around here. Expect me to continue to be a little slow on email for a few days, but if it's absolutely urgent, direct message me or reply to me on Twitter. Today I'm turning IB over to Ann Martin, who is a fantastic paper crafter who specializes in quilling. Tips. So after my last attempt at printing with my photopolymer plate, I was a bit down.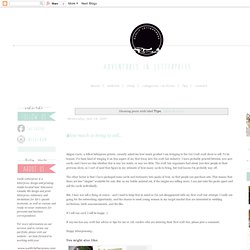 Not only was I not getting any impression, but the ink coverage was not good, and things were not going well. So, I fired off an email with my photos to my letterpress instructor (Jim Rimmer) to see what he could tell me. So far, I have learned the following:My design has some larger solid areas. This is not something I was thinking about when I designed it, but I should have. For my first ever run on my press, I should have kept to line art or text perhaps, for better results.The paper I purchased was a bit too textured, causing some uneven coverage.A printer has to ink specifically for light type and heavy illustrations, depending on the job at hand.So, Jim suggested that I cut up my plate into sections - one for the bird, one for the berries, and one for the text.
Daily inspiration. The Time Is Now handmade papercuts & illustration by thetimeisnow. Letterpress junkie — Home. Indie art and design - directory + blog for australian independe. Sanna Annukka : Projects. Littlewillow.com/wp-content/uploa. Labuat.