Savory Snacks
Crispy Eggplant Fries with Chipotle Aioli. Crispy Eggplant Fries?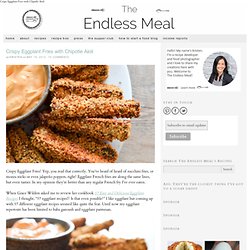 Yep, you read that correctly. You've heard of heard of zucchini fries, or mozza sticks or even jalapeño poppers, right? Eggplant French fries are along the same lines, but even tastier. Homemade Tortillas. Making soft delicious tortillas at home is surprisingly easy.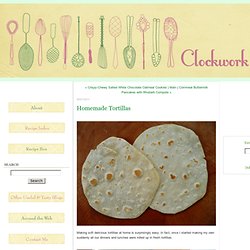 In fact, once I started making my own suddenly all our dinners and lunches were rolled up in fresh tortillas. The dough is made from flour, shortening, water, and salt. I had all the ingredients on hand but the shortening.. which ended up only costing two dollars and has lasted through many many batches of tortillas. Considering how cheap the ingredients are and how delicious they taste it just doesn't make sense to pay for the much more expensive packaged ones. To make the dough you first work the shortening into the flour. Vegan Snacks. Melt-in-your-mouth Homemade Cheese Crackers! & In the kitchen with Kath. By Kath Dedon a Cheese crackers!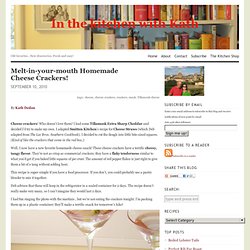 Who doesn't love them? I had some Tillamook Extra Sharp Cheddar and decided I'd try to make my own. We love soft pretzels! Elsie and I always loved going to the mall with our mom growing up, even before we loved fashion.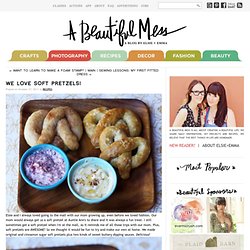 Our mom would always get us a soft pretzel at Auntie Ann's to share and it was always a fun treat. I still sometimes get a soft pretzel when I'm at the mall, as it reminds me of all those trips with our mom. Plus, soft pretzels are AWESOME! So we thought it would be fun to try and make our own at home. Flavored Popcorn Kit (gift idea) I love making popcorn at home.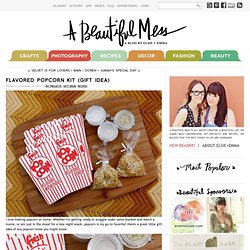 Whether I'm getting ready to snuggle under some blanket and watch a movie, or am just in the mood for a late night snack- popcorn is my go-to favorite! Here's a great little gift idea of any popcorn lover you might know. Pair little bags of dressed up popcorn kernels with disposable popcorn bags (or boxes) and flavored salts. I made three different flavor combinations. Easy, Cheesy Garlic Bread. I was looking at some recipes on a blog called Butter and Oven Mitts and found a cheese bread recipe that sounded really yummy!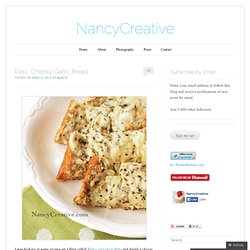 I made a few small changes–I used extra cheese (the more cheese the better, I say) and a loaf of French wheat bread instead of regular French bread, just because I like to eat wheat bread whenever I can. It turned out great! I love cheesy breads and they're the perfect thing to serve with salads and soups. This would also be good served with Three-Bean Veggie Chili or Chili from The Pioneer Woman. Here's my version of the bread if you want to try it…
---