Drinks
Homemade Chocolate Vodka & Bottle ∙ How To by Boberts Pod on Cut Out. Loose Leaf Tea? Make Your Own Tea Bags! Like many of you, I LOVE loose leaf tea.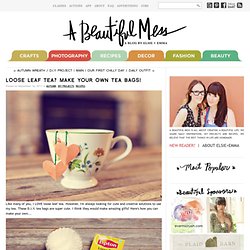 However, I'm always looking for cute and creative solutions to use my tea. These D.I.Y. tea bags are super cute. Bubble Tea Recipe: How to make Boba at home! For years we tried to make bubble tea at home with no luck.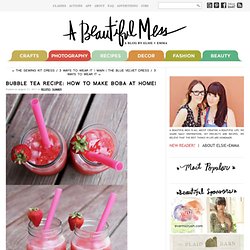 Since opening our own bubble tea business in Red Velvet we learned that most boba drinks made at restaurants or cafes use commercial grade syrups (or powders) to get that wonderful sweet, fruity flavor. But this leaves you in a pickle if you are wanting to make a delicious boba drink at home for yourself or your family, as most commercial grade syrups or powders are sold in large quantities and can be a really expensive option for someone just looking to make boba drinks for a casual get together. Emma developed this super tasty at-home recipe that you don't need any special supplies for (except boba pearls, of course!). Make Your Own Coffee Syrup (Gift Idea) Do you have any coffee lovers on your holiday gift list this year?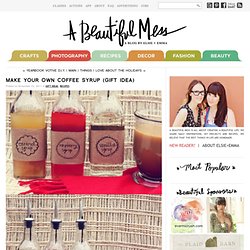 (If not, feel free to go ahead and put me on your list!) This is a cute little idea for making your own flavored coffee syrups that you can use at home to take your morning cup of joe to the next level. If you are making these as a gift I highly recommend making 2-3 flavors. We made vanilla, raspberry, and caramel flavored syrups. For the vanilla syrup you need: 2 cups water, 2 cups sugar and 1/2 teaspoon vanilla extract (the clear kind is much preferred here). 3 Easy Infused Water Recipes. Infused waters are one of my favorite warm weather beverages.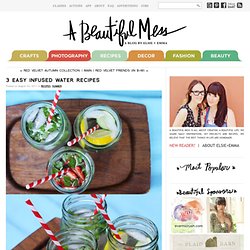 These fancy waters are perfect for parties or just a special treat to yourself! You can make a pitcher for a group of friends or single servings, like these. This summer I tried out lots of different flavor combinations. Here are a few favorites... Lemon and Cucumber Water.
---