Games/Entertaining
Fire fluid simulation. New version of fluid simulation sandbox, more realistic and accurate.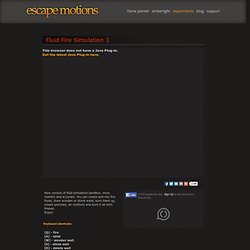 You can create and mix fire fluids, draw wooden or stone walls, burn them up, create particles, air emitters and burn it all with fireball. Enjoy! Keyboard shortcuts: [Q] - fire [A] - wind [W] - wooden wall [S] - stone wall [D] - delete wall [E] - fireball! [R] - particles of dust [F] - remove particles[T] - air emitter (visible only when edited)[G] - delete air emitter. °°°°°°°THEIR CIRCULAR LIFE°°°°°°° Create - Picassohead. Creation of Adam 80 Piece Classic Jigsaw Puzzle. Super Mario Crossover. Many Eyes: Thanksgiving Proclamation by George Washington.
Anaglyph ...doodle in 3D glasses. Home Sheep Home.
---