Military Tech
The Secret History of Iraq's Invisible War | Danger Room
In the early years of the Iraq war, the U.S. military developed a technology so secret that soldiers would refuse to acknowledge its existence, and reporters mentioning the gear were promptly escorted out of the country. That equipment – a radio-frequency jammer – was upgraded several times, and eventually robbed the Iraq insurgency of its most potent weapon, the remote-controlled bomb. But the dark veil surrounding the jammers remained largely intact, even after the Pentagon bought more than 50,000 units at a cost of over $17 billion. Recently, however, I received an unusual offer from ITT, the defense contractor which made the vast majority of those 50,000 jammers.
When trading ended Tuesday night at the New York Stock Exchange, the closing bell wasn't rung by a titan of finance or an imported celebrity. It was sounded by the CEO of an obscure defense firm with deep ties to the U.S. intelligence and special operations communities. The traders on the floor may not have recognized Mary Margaret "Peggy" Styer. But her company's products are well known by the small group of commandos and spies who hunt down top terrorists.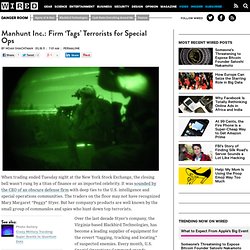 Manhunt Inc.: Firm 'Tags' Terrorists for Special Ops | Danger Room
The aircraft allowed the CIA to glide undetected beyond the boundaries that Pakistan has long imposed on other U.S. drones, including the Predators and Reapers that routinely carry out strikes against militants near the border with Afghanistan. The agency turned to the new stealth aircraft "because they needed to see more about what was going on" than other surveillance platforms allowed, said a former U.S. official familiar with the details of the operation. "It's not like you can just park a Predator overhead — the Pakistanis would know," added the former official, who, like others interviewed, spoke on the condition of anonymity, citing the sensitivity of the program. The monitoring effort also involved satellites, eavesdropping equipment and CIA operatives based at a safe house in Abbottabad, the city where bin Laden was found.
CIA flew stealth drones into Pakistan to monitor bin Laden house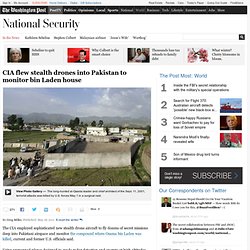 Hyperspectral Imaging Helped Kill Osama bin Laden. But What the Hell Is It?
If all of the bureaucratic and security hurdles can be overcome, the Army will soon launch its version of an app store, where soldiers can download Army-relevant software to their work computers and — with a little luck — mobile phones. This is what its homepage will look like. Called Army Marketplace, it'll start off featuring the few dozen applications that soldiers created last year during the Apps for the Army contest. Those early efforts ran the gamut from workout guides to digitized manuals for standard Army tasks.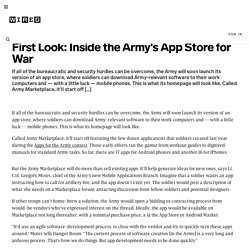 First Look: Inside the Army's App Store for War | Danger Room