Tumblrs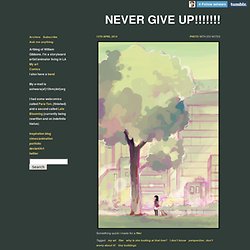 William's Great and Cool Place
3rd January 2014 Photoset with 91 notes Happy Fresh Friday Marcia!!!!!! I had a lot of fun drawing this character; actually, yellow-green and reddish-purple/magenta are my favorite colors to paint, and I don't know why I haven't made design with that scheme yet.
What are you doing.
To My Husband
hotel-papa-lima-charlie asked: Is it wrong that I read Gastro in Bobby Hill's voice? Also, Ornitho is supposed to be "played" by Duke Red, yes? It's not wrong.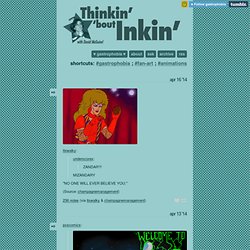 Thinkin' 'bout Inkin' (with David McGuire)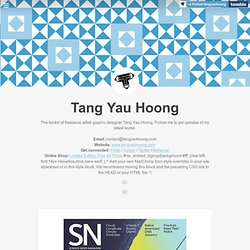 Tang Yau Hoong
Tang Yau Hoong Photo October 10, 2013 0 comments 15 notes MODUS Cover Art-September Issue on Flickr.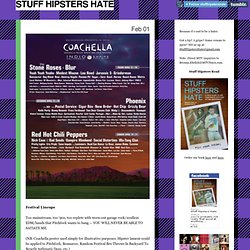 Stuff Hipsters Hate
GUEST POST: Customer Service Editor's Note: Our guest writer, Christiaan Van Vuuren, is Australian, so we can't really verify whether or not his assertions about Bondi Beach are correct. Also, they didn't teach "Australian" at my private school (and those Outback Steak House commercials were no help at all), so we basically have no idea what he's saying above or below.
see sam sketch!
pancake pancake pancake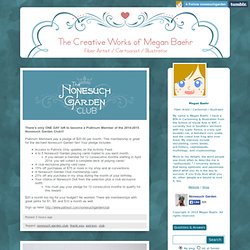 Letting chubby squid pick the next program… lithefider said: I tried patterning a cuttlefish in attempt for a simple thing but lol nope all those damn tentacles (and I refuse to make less then 6). This is super cuteee ahhhh. <3 Thank youuu~ :D I refuse to make a cephalopod without the proper number of tentacles. ò_ó
Nonesuch Garden
Nice Haircut, Buddy
Remember: leave a shiny nickel under your pillow tonight and the New Year's Elf will bring you a prosperous 2014. "Tyger, Tyger, burning bright in the forests of the night" Nature has unveiled the new batch of animals for 2014
Nedroid Fun Times
mrhipp.tumblr
bryankonietzko: Hey everyone, the network decided to move the show to a later time slot, now on FRIDAYS AT 8:30PM. The premieres are doing well against overall cable, but that earlier time slot is pretty much a ratings graveyard so the numbers are down compared to Book 1. I never worry about this stuff too much, but obviously the network needs to.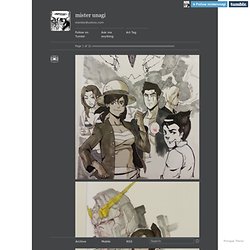 mister unagi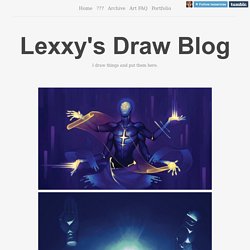 Lexxy's Art Blarg
Amethyst does not understand Together Breakfast. Someone asked in a reblog why I draw Pearl with teal skin instead of peach, and it's because that's what color she was in the pilot! I just find it more visually interesting that way. Colored some twitter sketches from yesterday!
Lesbians Who Look Like Justin Bieber
jephjacques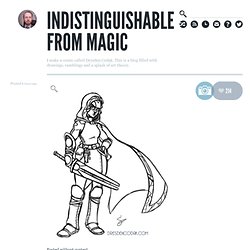 Indistinguishable From Magic
In his letters and also in Lost Tales/Unfinished Tales/Etc., Tolkien connects the crown of Numenor historically with the crown of Egypt. This was inspired by Plato's idea that Egypt, etc. were founded as colonies of Atlantis. (This is likely why the Numenorean language has semitic roots). Tolkien explicitly made Numenor his version of Atlantis, and it's no coincidence that the kingdom of Gondor roughly corresponds geographically with a Mediterranean/North African colony. Given the thousands of years involved, Gondor had to have been multiracial by the time of Lord of the Rings, but Aragorn, being of a direct line of Numenoreans and all but explicitly stated to be the ancestor of Egyptian royalty, would be what we would call Middle Eastern.
Illustration
Hark, a Vagrant (RSS Feed)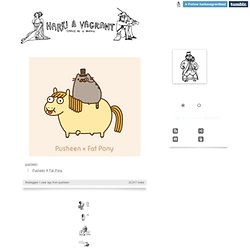 pusheen: Pusheen & Fat Pony Reblogged 1 year ago from pusheen 22,667 notes Hark, a Vagrant: velocipede Posted 2 years ago
BABYCAT
15th March 2012 Post There are some terms within the terminology associated with automobile fix which make drivers desire to examine back into your bed, as well as "transmission" is at the top checklist. There is something with that mystical container beneath your vehicle that incites concern.
granulac dot com - Page 1 of 2
goombas
fashion from old people
Evan Dahm
Creature Journal
charmanders in the moonlight
buttoven
▲▲ COMICS
Periscope Studio
GHOST PUNCH: Archive
PORTRAIT-DEX