Design
18th Century Swiss Farm House Is Reborn as Beautiful Live/Work Space. The Indestructible Concrete LED Lamp You'll Own For the Rest Of Your Life. Stunning Aquarium Bed Redefines Sleeping With the Fishes. Adjustable Slats Make This Outdoor Bed (Almost) An All-Weather Bed. Retro Arcade Light Switch Doesn't Require a Single Quarter. MMA Cage Bed: Wrestle Your Spouse For Sheet Supremacy. Cityscape Fireplace Appeals To Your Inner Arsonist. Lightning Bolt Power Strip Reminds You To Play It Safe.
Always Be Gaming: A Stylish Donkey Kong-Inspired Shelving Unit for Your Home. Tiny Toaster USB Hub Is So Adorable You'll Want To Vomit. Tiny Desktop Metropolis Gives You Four City Blocks of Extra USB Ports. You've Got to Be Crafty to Take Down the Empire With this LEGO Star Wars Chess Set. Bet Your Courtyard Doesn't Have Its Own Gondola. The Bug Light Is a Pest Worthy of Adoption. This Modern Wooden Beach House Was Built for Its Beautiful Views. Refrigerated Bathroom Drawers For When You Think You Might Be In There a While.
Someone Is Building the Batboat. You Have to Pass Through a Secret Passageway to Find This Amazing Home. Battlestar Galactica cufflinks are the perfect addition to your workplace wardrobe. This Bench Looks Like It Has Wheels for Legs. This Evil-Looking Mountain Fortress Is Really a Magnificent Fire Station. Zombie-Proof Condos Sell Out In Kansas. Faux Boombox Cabinet Won't Wake the Neighbors. Awesome Desert Stadium Built Right Into the Ground. P40 Tigershark Warbird Ceiling Fan, Piloted by Wrong-Way Corrigan. Stay Off Your Boss's Radar With This Stealth-Inspired Desk. Amazingly Detailed and Animated Terminator Busts Will Strike Fear In Sarah Connors Everywhere. You Can Get Your Face Frozen In Carbonite Now. Polish Architects Build Stereotype-Reinforcing Upside-Down House.
Make Texas-Sized Pancakes With the United States of Skillets. Stained Glass Iron Man Helmet Would Totally Class-Up Avengers HQ. Marvel Comics Pleather Gaming Chair Is the Nerd Throne You've Been Dreaming Of. Designer Fire Extinguishers Are a Property-Saving Fashion Accessory. Modern Home in Spain with Fantastic Sea Views: Punta Brava 2 Residence. The Punta Brava 2 Residence was designed by Barcelona-based studio DNA Barcelona Architectsand is located in Costa Brava, Catalonia, Spain.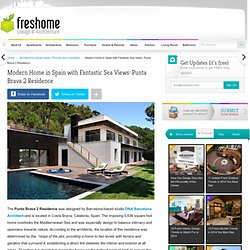 The imposing 5,636 square foot home overlooks the Mediterranean Sea and was especially design to balance intimacy and openness towards nature. According to the architects, the location of this residence was determined by the "slope of the plot, providing a home to two levels with terrace and gardens that surround it, establishing a direct link between the interior and exterior at all times.
Therefore it is decided to locate the house on the highest point of land, to ensure the views, while the pool and garden are at the bottom. At the top level are the entrances to the house and common areas like living room, kitchen and sun terrace. At the main entrance is accessed from the street above, either by car or on foot, through a majestic path across the garden. Natural Stone Bathtubs Combining Comfort with a Genuine Look.
We received some photos and information about a series of bathtubs from yourStoneBath, combining comfort with a feel for the natural.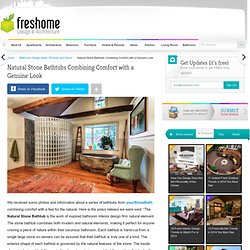 Here is the press release we were sent: "The Natural Stone Bathtub is the work of inspired bathroom interior design firm natural element. The stone bathtub combines both modern and natural elements, making it perfect for anyone craving a piece of nature within their luxurious bathroom. Each bathtub is hand-cut from a single large stone so owners can be assured that their bathtub is truly one of a kind. The exterior shape of each bathtub is governed by the natural features of the stone. Modern Hollywood Hills Dream Home Overlooking The City. This Modern Hollywood Hills Dream Home in LA's Hollywood Hills shelters a stunning collection of features ranging from architectural details to vivid colors and exceptional views.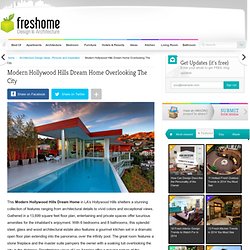 Gathered in a 13,699 square feet floor plan, entertaining and private spaces offer luxurious amenities for the inhabitant's enjoyment. With 6 bedrooms and 8 bathrooms, this splendid steel, glass and wood architectural estate also features a gourmet kitchen set in a dramatic open floor plan extending into the panorama, over the infinity pool. The great room features a stone fireplace and the master suite pampers the owner with a soaking tub overlooking the city in the distance. Breathtaking views of Los Angeles offer a moving picture of the surroundings, while the extensive walls can be used to showcase an art collection.
Custom built fixtures and European cabinetry adorn the modern spaces, while the outdoor dining pavilion pushed the limits of private luxury to the maximum. You'll Be Ashamed to Fill These Vintage-Inspired Fridges With Junk Food. Residential Observation Tower Overlooking Protected Habitats. Piercing the air with an impressive observation tower, this residential project is organized around a central stacked stone wall that acts as the building's spine.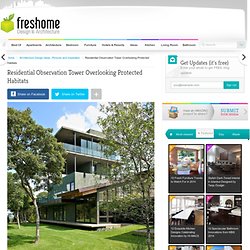 Measuring 182 feet long and 21 feet high, the impressive stone wall is visible from both the inside and the outside, creating a strong visual connection. Dallas-based Cunningham Architects designed the House On Cedar Hill and their talent is immortalized in the architectural details of this dream home. Named after its location in Cedar Hill, Texas, the 6,700 square foot contemporary residence is described by the architects: "A cantilevered concrete canopy serves as an interruption through the wall into and through the house, briefly allowing views through the dense brush of the site towards the open vista to the west. Nature-Oriented Family Home in Sweden: Håkansson Tegman House. Håkansson Tegman house was designed by Johan Sundberg and is located in Höllviken, south of Malmo, Sweden.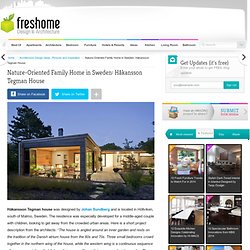 The residence was especially developed for a middle-aged couple with children, looking to get away from the crowded urban areas. Here is a short project description from the architects: "The house is angled around an inner garden and rests on the tradition of the Danish atrium house from the 60s and 70s. Ingenious Shelving Units: Hole in the Floor Series by Raw Edges. The collaboration between Yael Mer & Shay Alkalay led to the founding of Raw Edges, a design studio with a clever and original portfolio.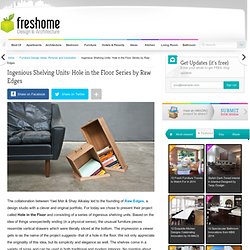 For today we chose to present their project called Hole in the Floor and consisting of a series of ingenious shelving units. Based on the idea of things unexpectedly ending (in a physical sense), the unusual furniture pieces resemble vertical drawers which were literally sliced at the bottom. The impression a viewer gets is-as the name of the project suggests- that of a hole in the floor.
Contemporary Use of Wood and Colored Glass Details. Architect Rajiv Saini was the one who designed this apartment on the upper level of a family home in New Delhi.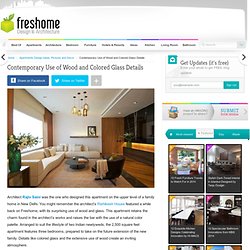 You might remember the architect's Rishikesh House featured a while back on Freshome, with its surprising use of wood and glass. This apartment retains the charm found in the architect's works and raises the bar with the use of a natural color palette. Arranged to suit the lifestyle of two Indian newlyweds, the 2,500 square feet apartment features three bedrooms, prepared to take on the future extension of the new family.
Details like colored glass and the extensive use of wood create an inviting atmosphere. Here is the description from the architect: "We tore down a spare bedroom to make space for a grand master suite, which on one end (at the couple's request) has a modern version of a traditional Indian 'gadda',which is essentially a large mattress to sit informally on and spend time together. Sleek & Stylish Bathrooms by Componendo. Italian company Componendo produces the most beautiful products for the bathroom made from the highest quality stainless steel in combination with other materials such as wood, Corian and glass.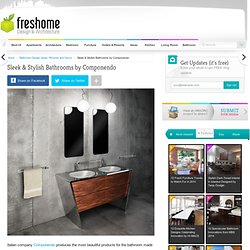 Using the very best technologies in combination with unrivalled Italian craftmanship, Componedo is able to offer unique, hande-made, high-design furniture pieces with a specific focus on quality. What do you think of these glamourous bathroom pieces? Do you love the shiny sophistication as much as we do? Interior Design Characterized by Geometry Shifting Floors in Seattle. The East Market House was designed by COOP15 and is located in Kirkland's East of Market neighborhood, in Seattle.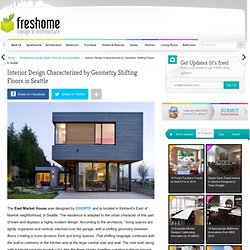 The residence is adapted to the urban character of this part of town and displays a highly modern design. According to the architects, "living spaces are tightly organized and vertical, stacked over the garage, with a shifting geometry between floors creating a more dynamic form and living spaces. That shifting language continues with the built-in cabinetry in the kitchen and at the large central stair and wall. Living Very Large. The latest project of Hyatt hotel heir Anthony Pritzker is a 49,300-square-foot building designed by an architecture firm in Paris.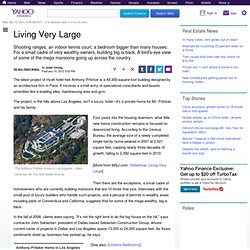 It involves a small army of specialized consultants and boasts amenities like a bowling alley, hairdressing area and gym. The project, in the hills above Los Angeles, isn't a luxury hotel—it's a private home for Mr. Highly Versatile Sofa for an Interior Constantly Changing Its Appearance. Milan-based designer Emanuele Magini created the "Sosia" sofa for Italian firm Campeggi. If you are a person always looking to change the way your apartment looks, this couch could turn out to be a good practical solution. With no less than nine different configurations, the sofa is highly versatile and ensures a high level of comfort. A modern penthouse which offers a modern lifestyle with luxury and relaxation.
Home » Apartments » A modern penthouse which offers a modern lifestyle with luxury and relaxation This is the House of the Tree. It's a striking space located at the 48th and 49th floor of a high-end residential tower in Shenzhen, China. It's a penthouse and it was designed by Kokaistudios architects. The interior design is the creation of Filippo Gabbiani, Andrea Destefanis, Sherry G and Zoe Lee. The penthouse has a total of 616 square meters of living space. 39 Attic Rooms Cleverly Making Use of All Available Space. Attic rooms are usually the most appealing interiors in the whole house, even though we can not tell for sure what draws us to them so much. Some people unconsciously correlate them with secret rooms, or even with large playgrounds. Either way, they have a special charm, and a warm feel that seems to follow you around, even after you leave them.
Modern Holiday Home Integrated in a Picturesque Swiss Landscape: Lumbrein Residence. Lumbrein Residence is a spectacular single family home especially designed by Hurst Song Architekten as a holiday retreat. The building is located at the periphery of a picturesque village and has unobstructed views of the mountain peaks in Graubunden, Switzerland. Here is a short project description from the architects: "Responding to the neighboring barns, the exterior is clad with vertical wooden planks treated with a dark protective coating. 30 Fresh Space-Saving Bunk Beds Ideas For Your Home.
Stylish bunk beds are hard to find in a world filled with amazing furniture options. This is why we prepared a list of 30 Fresh Space-Saving Bunk Beds For Your Home to help you guide your search for the best ideas on how to display bunk beds in your children's room. Space might be a problem for large families in urban dwellings, but the existing furniture market offers many opportunities to have a well-designed kids room with plenty of storage space and room for a restful, good night's sleep. Secluded Cottage Retreat Promising a Modern Lifestyle. Small, One Room Cabin in Massachusetts With an Impressive Layout. Modern Architecture Adapted to the Chihuahuan Desert Climate: Casa Camino. Inspired by Nature: Stunning Leaf House in Brazil. Batman-Inspired Motel Room in Taiwan for Your Inner Superhero. Wake Up or Start Your Day Sobbing: The Money Shredding Alarm Clock. Inspiring Home with One Garden per Level in Singapore. Astonishing Toothpick Sculpture: Rolling through the Bay by Scott Weaver [Video]
Hanging Infinity Pools in Bali at Ubud Hotel & Resort. Sculptural Staircase by Philip Watts Design. Adapted to a Challenging Terrain: Villa Midgård in Stockholm. I W A M O T O S C O T T . A R C H I T E C T U R E. The Expandable Mobile Mini House. The iPod Nano Pill Speaker: Good for What Ails You. The World's Most Secret Garage Entrance Is Like A Tunnel To Tron. McDonald's Outside of America Looks Way More Awesome.
This Is Where the Avengers Do All Their Paperwork. Soft Serve Cone Lamps: What? No Sprinkles? Stay As Warm As a Wookiee In This Hoodie. How a Bounty Hunter Battles the Cold. A Hidden Pool Table for the Modern Bachelor. Homes With Amazing Staircases. Workplace Wonderland. Romania's ice hotel Photos | Romania's ice hotel Pictures. America's Largest Luxury Home Sales of 2011. America's Biggest Mansions for Sale.
---