Design
Welcome to Los Angeles, Year 2112
18th Century Swiss Farm House Is Reborn as Beautiful Live/Work Space
The Indestructible Concrete LED Lamp You'll Own For the Rest Of Your Life
Stunning Aquarium Bed Redefines Sleeping With the Fishes
Adjustable Slats Make This Outdoor Bed (Almost) An All-Weather Bed
Retro Arcade Light Switch Doesn't Require a Single Quarter
MMA Cage Bed: Wrestle Your Spouse For Sheet Supremacy
Cityscape Fireplace Appeals To Your Inner Arsonist
Lightning Bolt Power Strip Reminds You To Play It Safe
Always Be Gaming: A Stylish Donkey Kong-Inspired Shelving Unit for Your Home
Tiny Toaster USB Hub Is So Adorable You'll Want To Vomit
Tiny Desktop Metropolis Gives You Four City Blocks of Extra USB Ports
You've Got to Be Crafty to Take Down the Empire With this LEGO Star Wars Chess Set
Bet Your Courtyard Doesn't Have Its Own Gondola
The Bug Light Is a Pest Worthy of Adoption
This Modern Wooden Beach House Was Built for Its Beautiful Views
Refrigerated Bathroom Drawers For When You Think You Might Be In There a While
Someone Is Building the Batboat
Mainly São Paulo and Rio de Janeiro, but I couldn´t say any of the host cities are really safe. The general tip is "Dont wear/hide valuable items when not needed and ask the locals (hotel employer, for example) before going to some new place. The beach and more touristic areas of RJ are usually very shielded by the law enforcements and probably will be even more during the World Cup, so if you don't get lost in the wrong neighborhood you will not have problems there. Dont forget to visit Ipanema, Leblon, Copacabana, Lagoa, Lapa and Morro de Santa Teresa. In SP things are a little bit different as the urban area is huge and is almost impossible to shield all the touristic areas, so avoid using public transportation (It's awful anyways), go for rent-a-car or Taxi, and use paid parking (SP, is not touristic anyways, most are business tourism).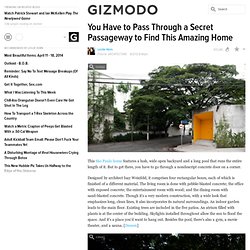 You Have to Pass Through a Secret Passageway to Find This Amazing Home
Battlestar Galactica cufflinks are the perfect addition to your workplace wardrobe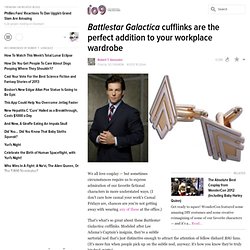 We all love cosplay — but sometimes circumstances require us to express admiration of our favorite fictional characters in more understated ways. (I don't care how casual your work's Casual Fridays are, chances are you're not getting away with wearing any of these at the office.) That's what's so great about these Battlestar Galactica cufflinks. Modeled after Lee Adama's Captain's insignia, they're a subtle sartorial nod that's just distinctive enough to attract the attention of fellow diehard BSG fans. (It's more fun when people pick up on the subtle nod, anyway; it's how you know they're truly kindred spirits).
This Bench Looks Like It Has Wheels for Legs
This Evil-Looking Mountain Fortress Is Really a Magnificent Fire Station
SExpand The volunteer fire station in the tiny Austrian town of Margreid is carved straight into a 300-foot sheer rock face on the side of a mountain. Designed by Italian architects Bergmeister Worlf, the unusual headquarters is a perfect aesthetic match for its alpine setting. Aside from its striking appearance, the fire station is a marvel of engineering. As Fast Company reports: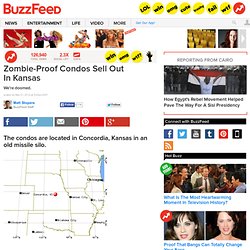 The silo was built to withstand a nuclear explosion and to this day is considered to be "one of the strongest structures built by man". This structure used to be an Atlas "F" missile base. The U.S. Army Corps of Engineers built these missile bases in the 1960's and there were only 72 of them built.
Zombie-Proof Condos Sell Out In Kansas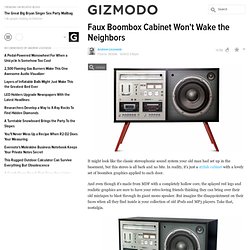 Faux Boombox Cabinet Won't Wake the Neighbors
Dear Gizmodo, I love you but you continuously abuse the "DESIGN" tag. Many of the articles you post in this realm aren't really "design," but more "gimmicks." Of the top of my head I recall posts about: a table that looks like it's floating, a desk lamp that looks like it's upside-down, a table that looks like a melting ice sculpture, a ceiling fan that looks like an upside-down helicopter, a glass cookie tray that looks like a pre-packaged plastic insert, etc. These things have their place, but I'd love to see more real design stories on Gizmodo.
Awesome Desert Stadium Built Right Into the Ground
P40 Tigershark Warbird Ceiling Fan, Piloted by Wrong-Way Corrigan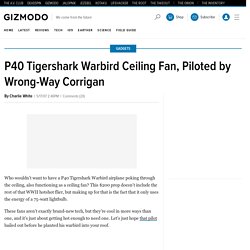 SExpand Who wouldn't want to have a P40 Tigershark Warbird airplane poking through the ceiling, also functioning as a ceiling fan? This $200 prop doesn't include the rest of that WWII hotshot flier, but making up for that is the fact that it only uses the energy of a 75-watt lightbulb. These fans aren't exactly brand-new tech, but they're cool in more ways than one, and it's just about getting hot enough to need one.
SExpand Some days you want your boss to be aware of all the great work you're doing. But other days you just want to slip beneath the radar, do what you gotta do, and get home. And we assume that's exacly what David Hsu's angled stealth desk is for. Inspired by the U.S. Air Force's retired F-117 Nighthawk stealth fighter—it's called the Desk 117 after all—the piece is as functional as it is lethally beautiful.
Stay Off Your Boss's Radar With This Stealth-Inspired Desk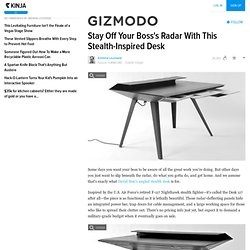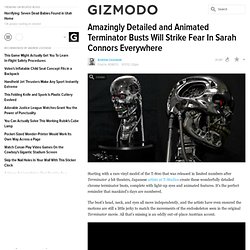 SExpand Starting with a rare vinyl model of the T-800 that was released in limited numbers after Terminator 2 hit theaters, Japanese artists at T-Studios create these wonderfully detailed chrome terminator busts, complete with light-up eyes and animated features. It's the perfect reminder that mankind's days are numbered. The bust's head, neck, and eyes all move independently, and the artists have even ensured the motions are still a little jerky to match the movements of the endoskeleton seen in the original Terminator movie. All that's missing is an oddly out-of-place Austrian accent. Each bust is custom made to order, and as a result are presumably priced well above what the average toy collector is willing to pay.
Amazingly Detailed and Animated Terminator Busts Will Strike Fear In Sarah Connors Everywhere
SExpand You no longer have to be a smuggler who drops his shipments at the first sign of an Imperial cruiser to be frozen in carbonite. As part of its Star Wars-themed weekends, Disney World is now offering that service to all of its guests.
You Can Get Your Face Frozen In Carbonite Now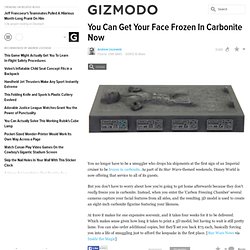 Polish Architects Build Stereotype-Reinforcing Upside-Down House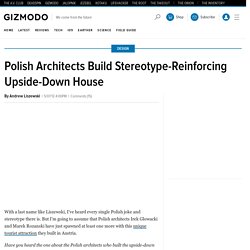 It's Austrian accented German. They're not saying much relevant... Translation: (muffled)
Make Texas-Sized Pancakes With the United States of Skillets
Stained Glass Iron Man Helmet Would Totally Class-Up Avengers HQ
Marvel Comics Pleather Gaming Chair Is the Nerd Throne You've Been Dreaming Of
Designer Fire Extinguishers Are a Property-Saving Fashion Accessory
Modern Home in Spain with Fantastic Sea Views: Punta Brava 2 Residence
Natural Stone Bathtubs Combining Comfort with a Genuine Look
Modern Hollywood Hills Dream Home Overlooking The City
You'll Be Ashamed to Fill These Vintage-Inspired Fridges With Junk Food
Residential Observation Tower Overlooking Protected Habitats
Nature-Oriented Family Home in Sweden: Håkansson Tegman House
Ingenious Shelving Units: Hole in the Floor Series by Raw Edges
Contemporary Use of Wood and Colored Glass Details
Sleek & Stylish Bathrooms by Componendo
Interior Design Characterized by Geometry Shifting Floors in Seattle
Living Very Large
Highly Versatile Sofa for an Interior Constantly Changing Its Appearance
A modern penthouse which offers a modern lifestyle with luxury and relaxation
39 Attic Rooms Cleverly Making Use of All Available Space
Modern Holiday Home Integrated in a Picturesque Swiss Landscape: Lumbrein Residence
30 Fresh Space-Saving Bunk Beds Ideas For Your Home
Secluded Cottage Retreat Promising a Modern Lifestyle
Small, One Room Cabin in Massachusetts With an Impressive Layout
Modern Architecture Adapted to the Chihuahuan Desert Climate: Casa Camino
Inspired by Nature: Stunning Leaf House in Brazil
Batman-Inspired Motel Room in Taiwan for Your Inner Superhero
Wake Up or Start Your Day Sobbing: The Money Shredding Alarm Clock
Inspiring Home with One Garden per Level in Singapore
Astonishing Toothpick Sculpture: Rolling through the Bay by Scott Weaver [Video]
Hanging Infinity Pools in Bali at Ubud Hotel & Resort
Sculptural Staircase by Philip Watts Design
Adapted to a Challenging Terrain: Villa Midgård in Stockholm
I W A M O T O S C O T T . A R C H I T E C T U R E
The Expandable Mobile Mini House
The iPod Nano Pill Speaker: Good for What Ails You
The World's Most Secret Garage Entrance Is Like A Tunnel To Tron
McDonald's Outside of America Looks Way More Awesome
This Is Where the Avengers Do All Their Paperwork
Soft Serve Cone Lamps: What? No Sprinkles?
Stay As Warm As a Wookiee In This Hoodie
How a Bounty Hunter Battles the Cold
A Hidden Pool Table for the Modern Bachelor
Workplace Wonderland
Romania's ice hotel Photos | Romania's ice hotel Pictures