Tutorials
Long Hair Styles: 2011 Casual, Prom, Wedding Hairstyles & Formal Updos Using Hair Sticks. Knitty.com. Putting it all together Seam (v) : to join by sewing You may be aware by now that I have a fondness for circular needles and patterns that don't require any sewing up.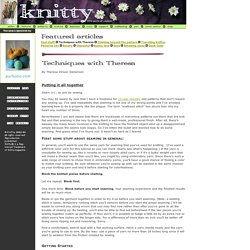 I've said repeatedly that seaming is not one of my strong points and I've avoided learning how to do it properly like the plague. The term "mattress stitch" has struck fear into my heart any number of times. How to Draw a Mandala: Learn How to Draw Mandalas for Spiritual Enrichment and Creative Enjoyment. Typographic Doppelgängers. Portrait Painting in Acrylics - Painting the Skin. The actual size detail above gives a close-up view of the painting technique used for the skin color.
A variety of small brushstrokes using stippling ( paint applied in dots ) and smudging techniques is used throughout the painting of the skin. Stippling gives you the greatest control over the distribution of color when applying paint over larger areas such as the cheeks.
---